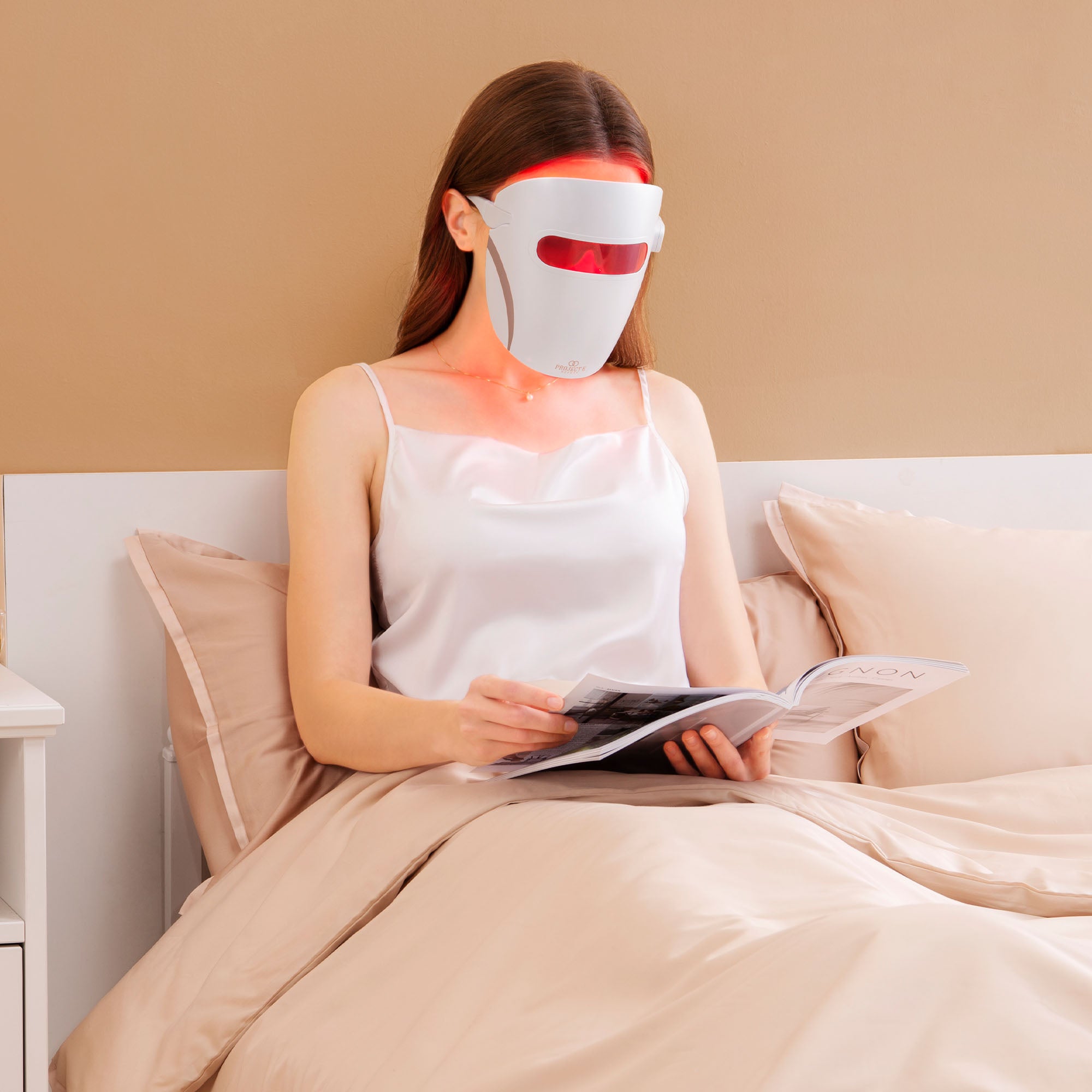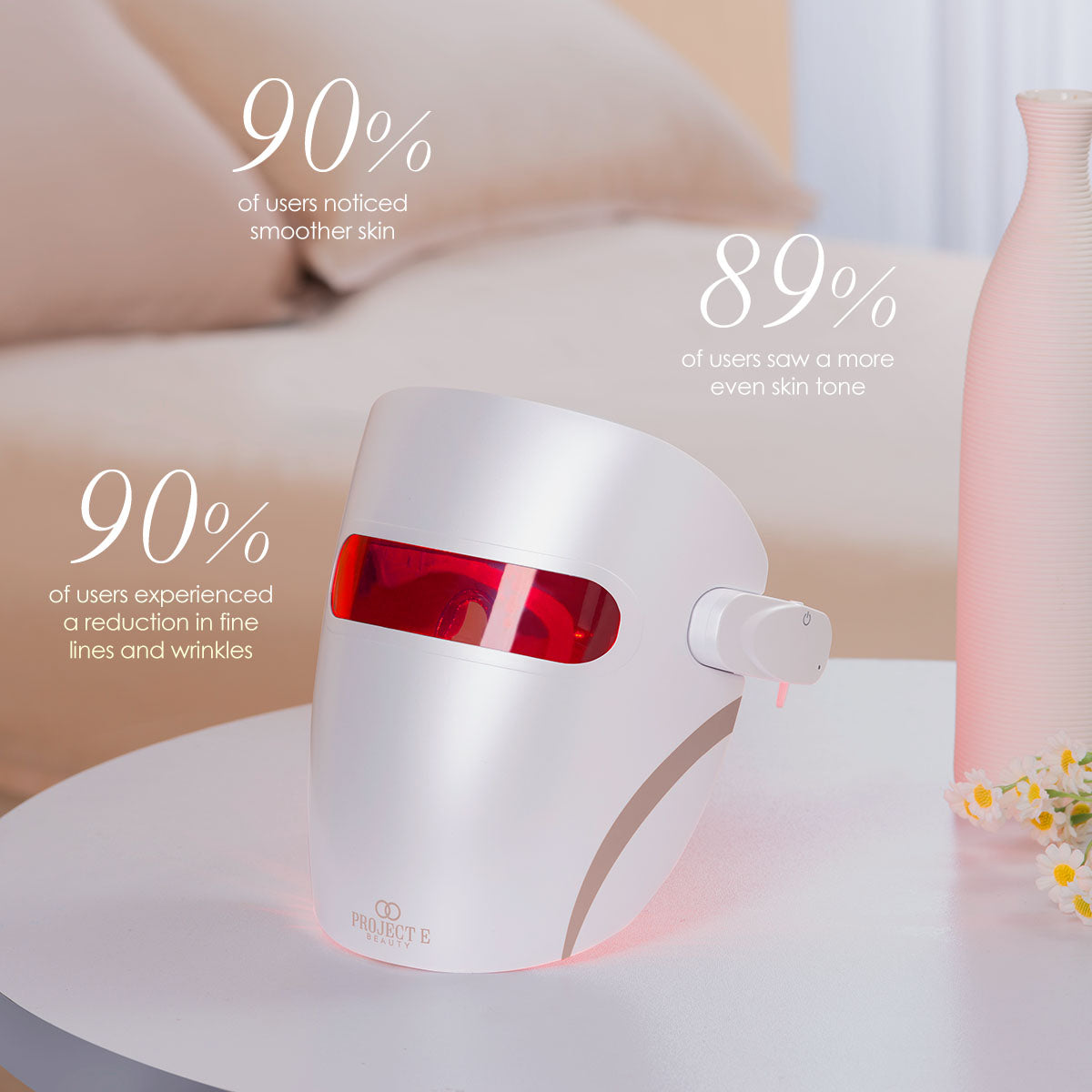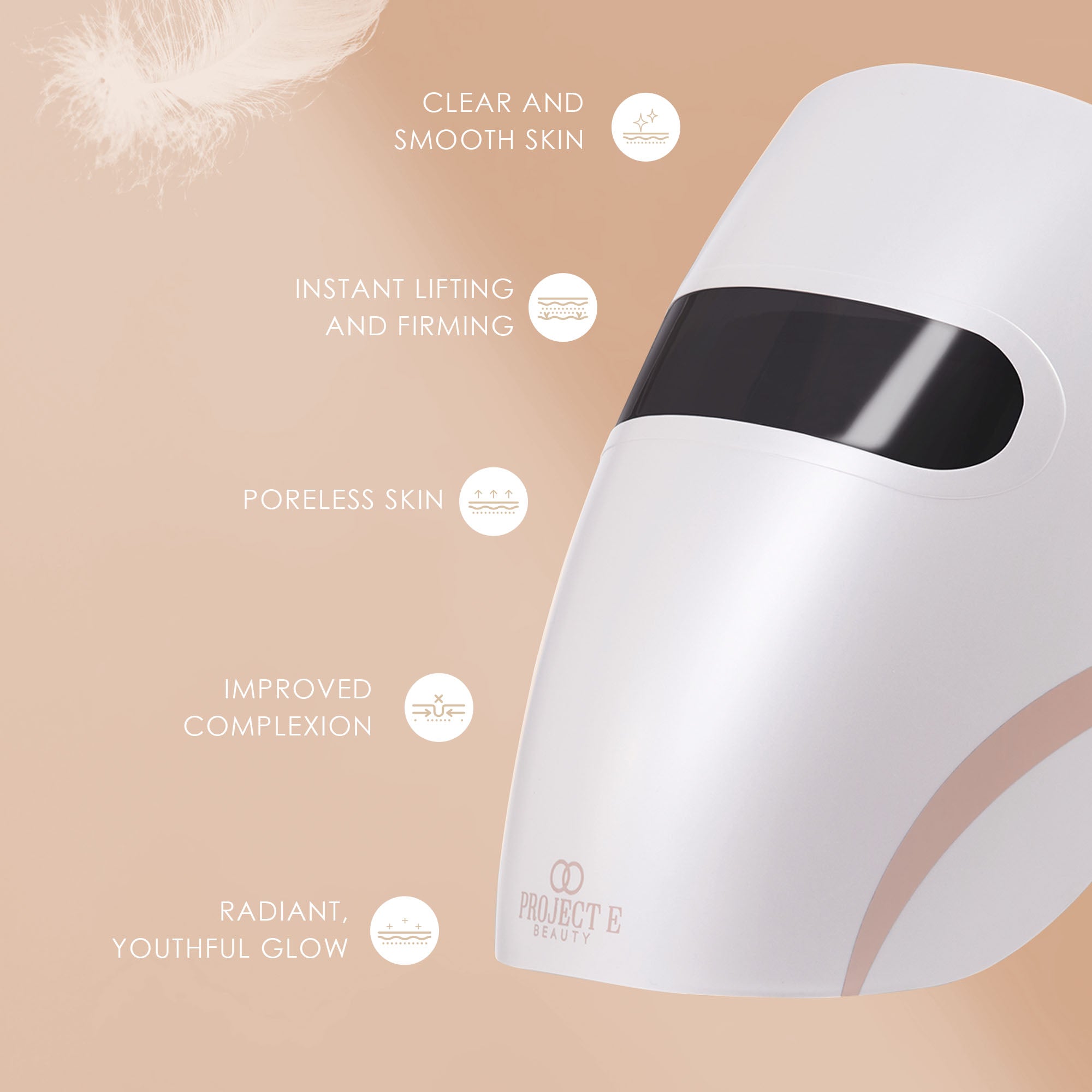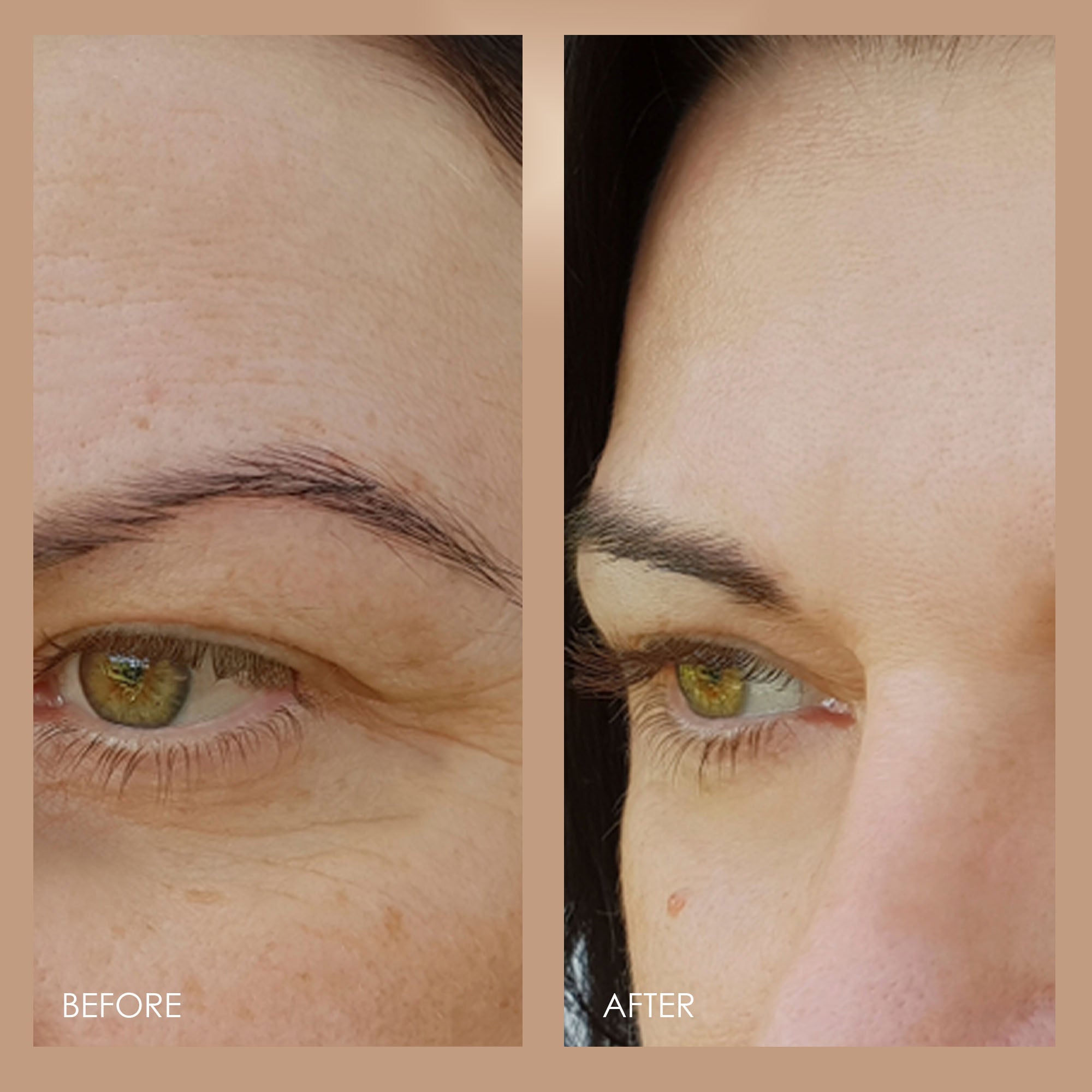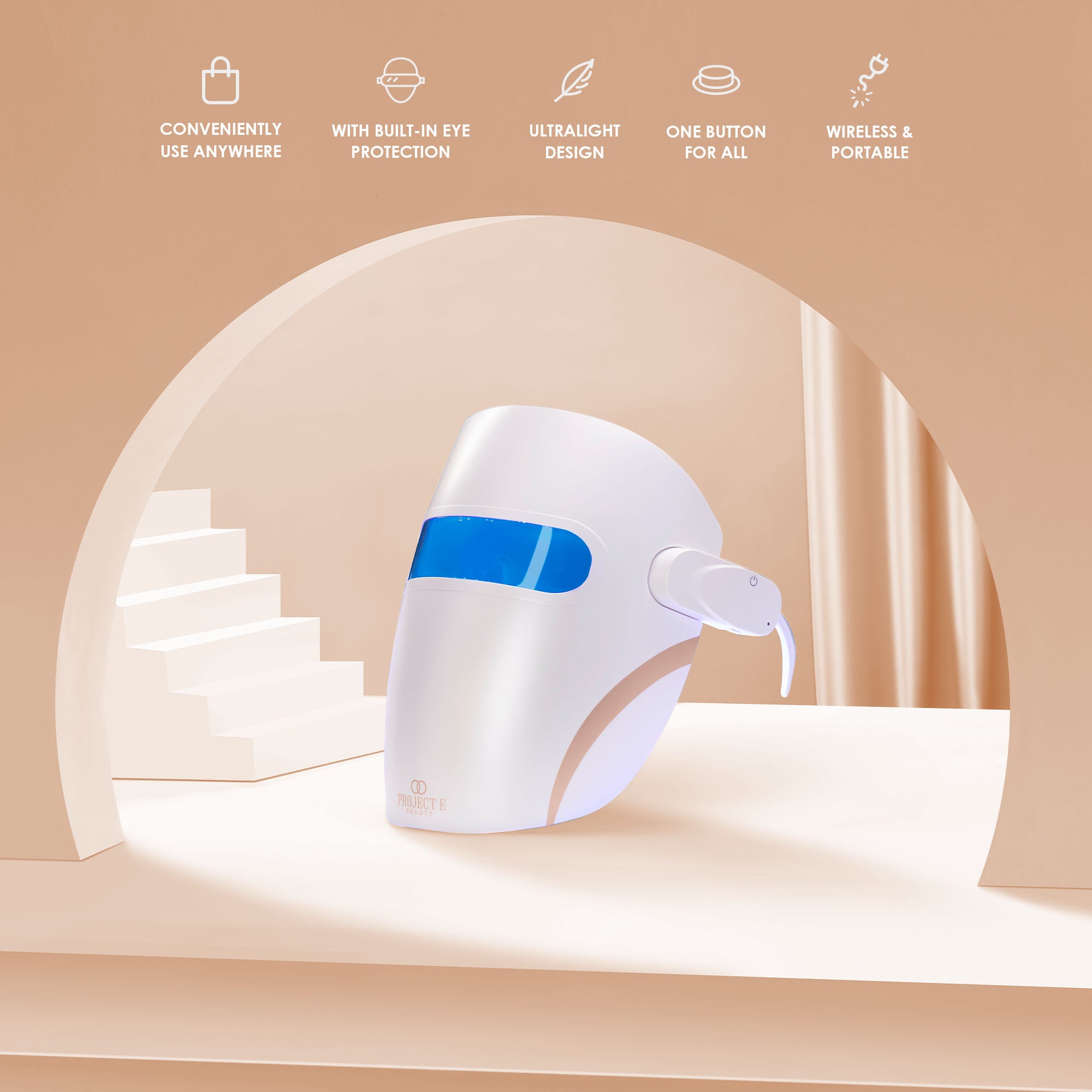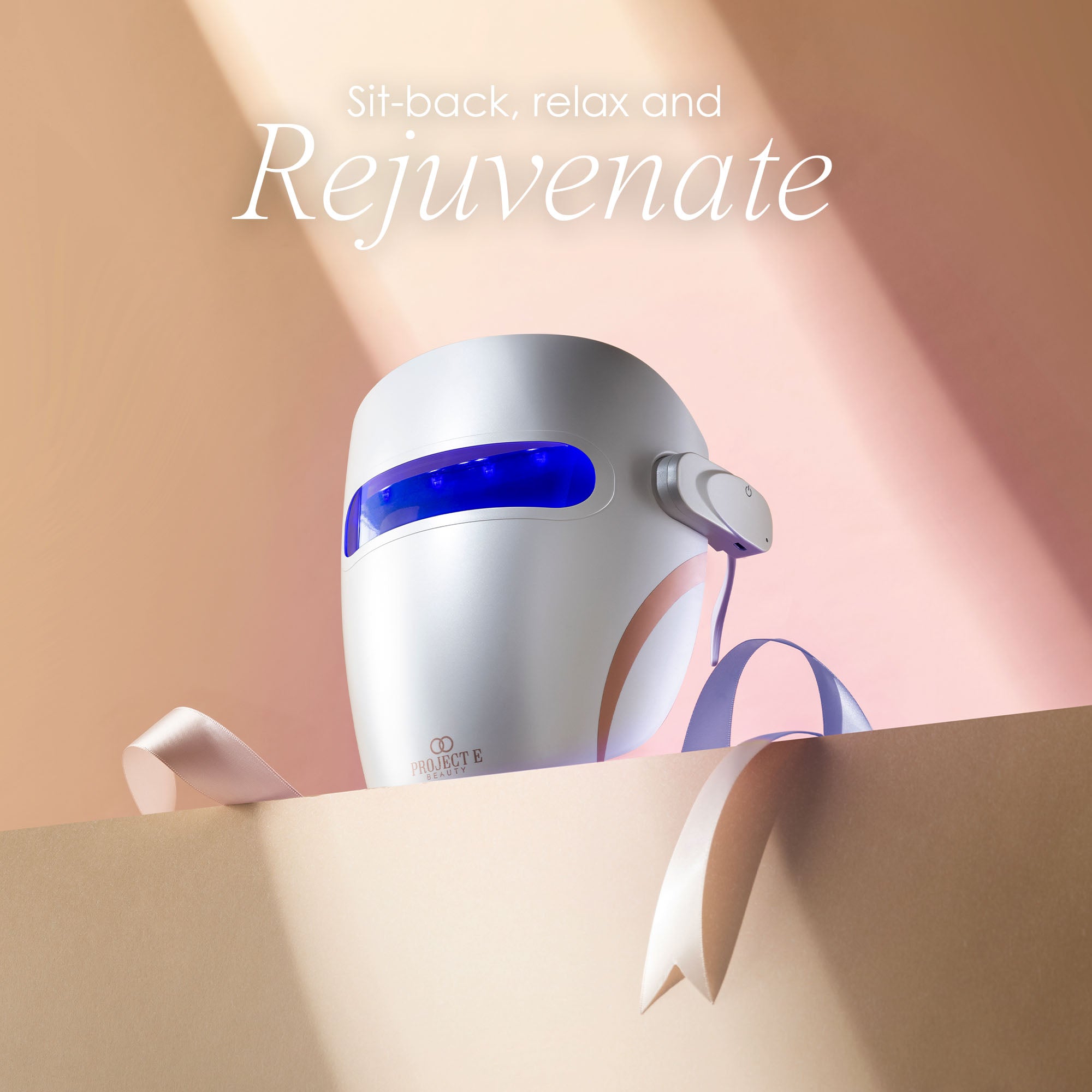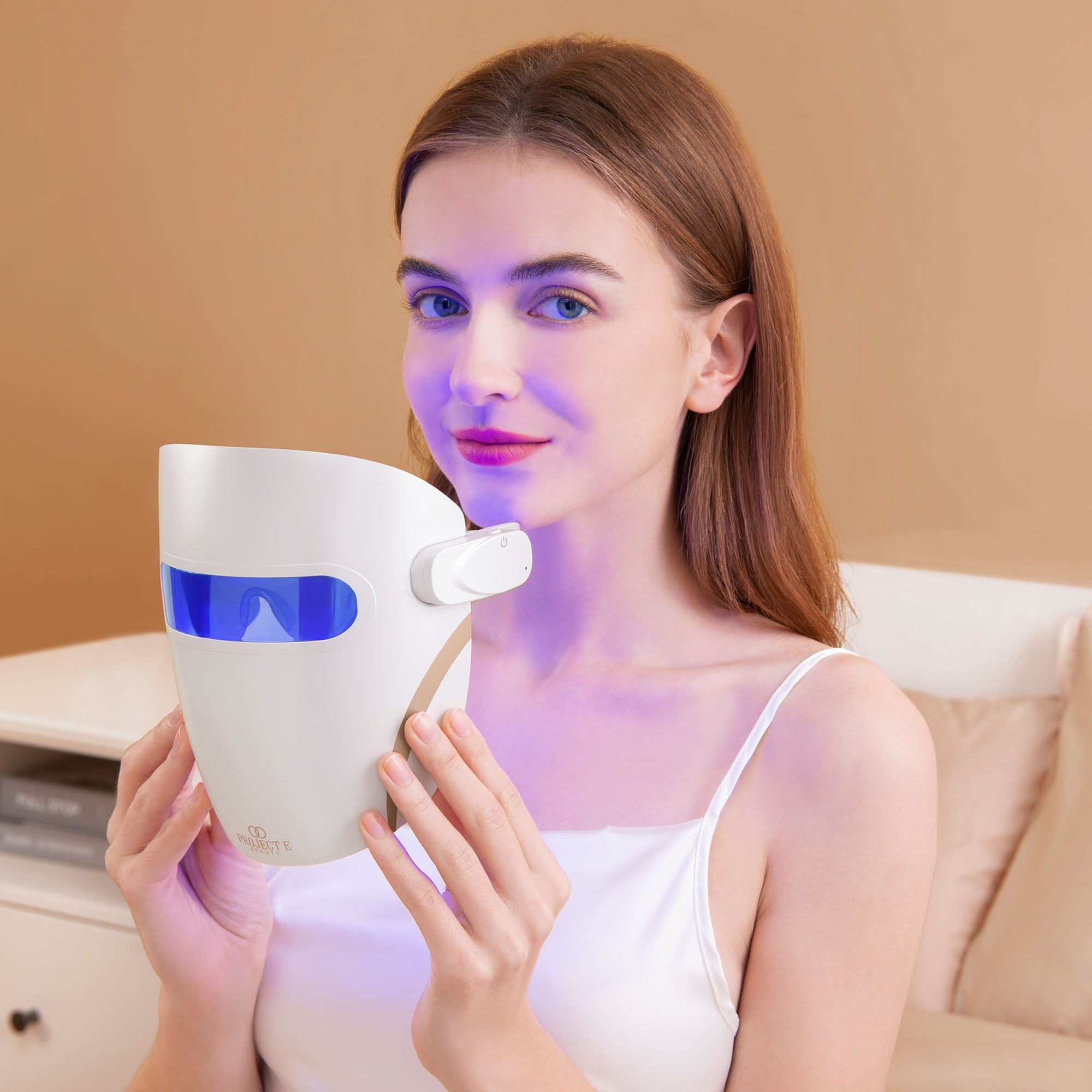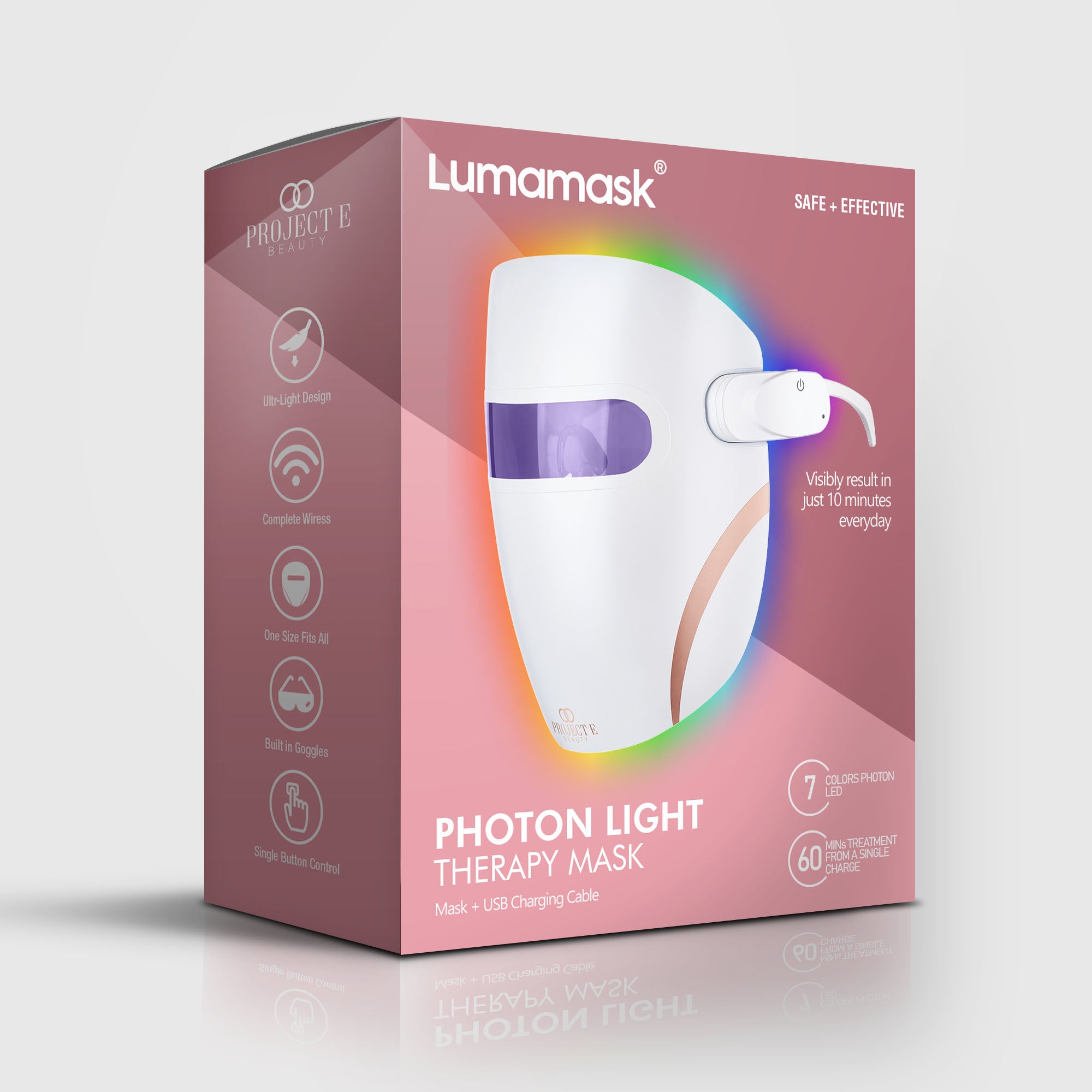 Lumamask 7 | LED Light Therapy Face Mask
Sale price

$139.90
Regular price
(/)
---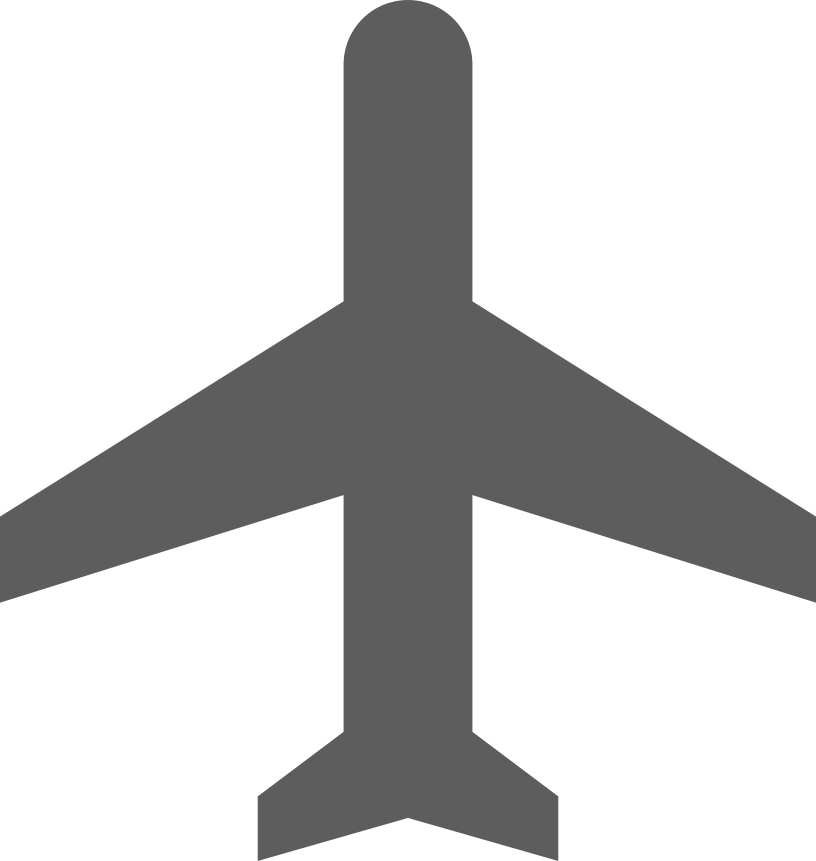 Free Worldwide Shipping on order $100+

30-Day Satisfaction Guarantee
12-Month Warranty on Devices
Secured and trusted checkout with:
Clinically proven to elevate your skin's radiance, the Lumamask 7 is equipped with 7 color modes, utilizing the power of natural light waves generated by LEDs. This stimulation generates energy, which is then absorbed by various components in your skin, resulting in a rejuvenated and beautified complexion.

Here's what the Lumamask 7 can do for your skin:
・Reduce fine lines and wrinkles
・Improve skin texture
・Tighten skin
・Reduce and prevent acne
・Fade scars, hyperpigmentation, and redness
・Minimize pores
・Enhance skin healing and blood circulation
Lumamask 7 | LED Light Therapy Face Mask
Sale price

$139.90
Regular price
Choose options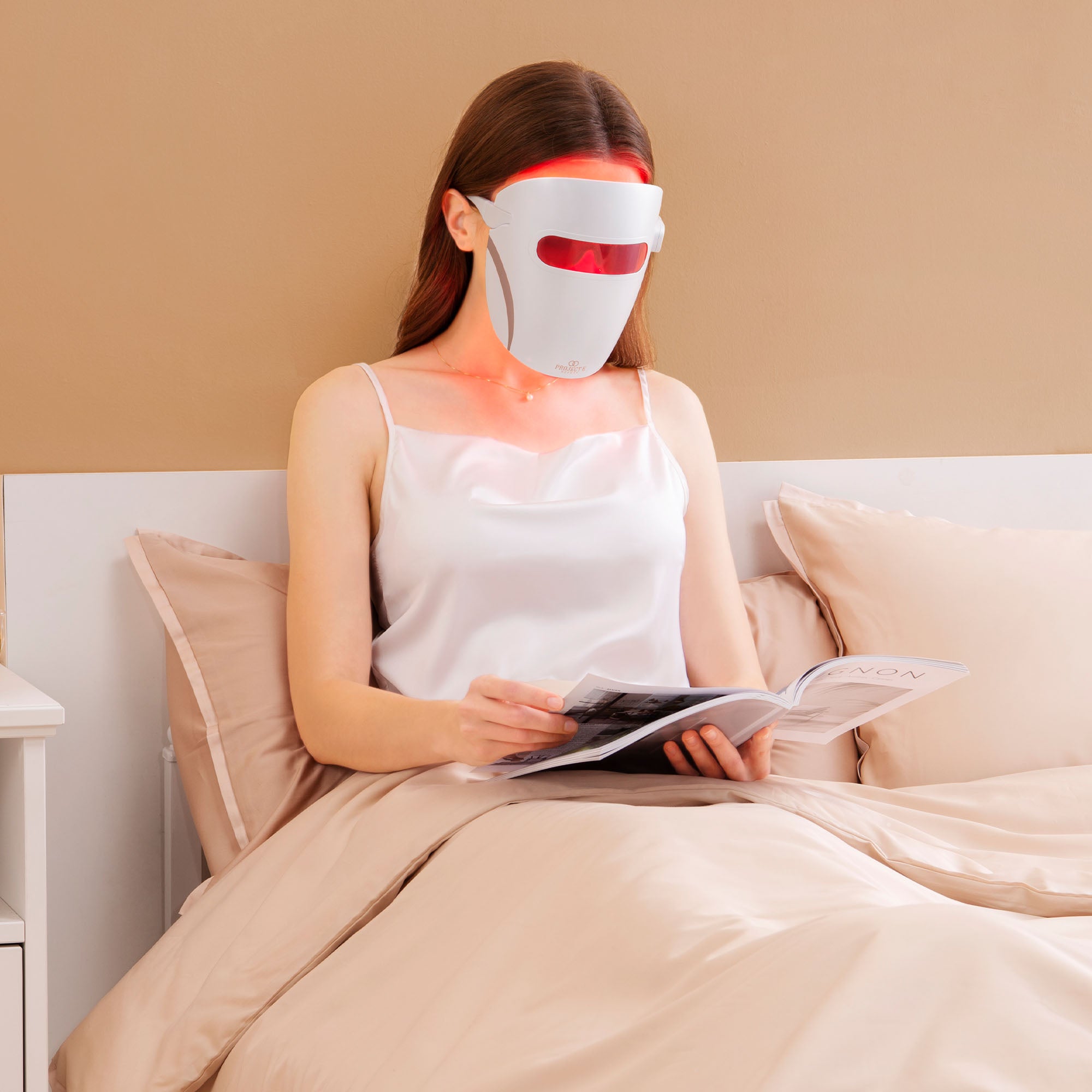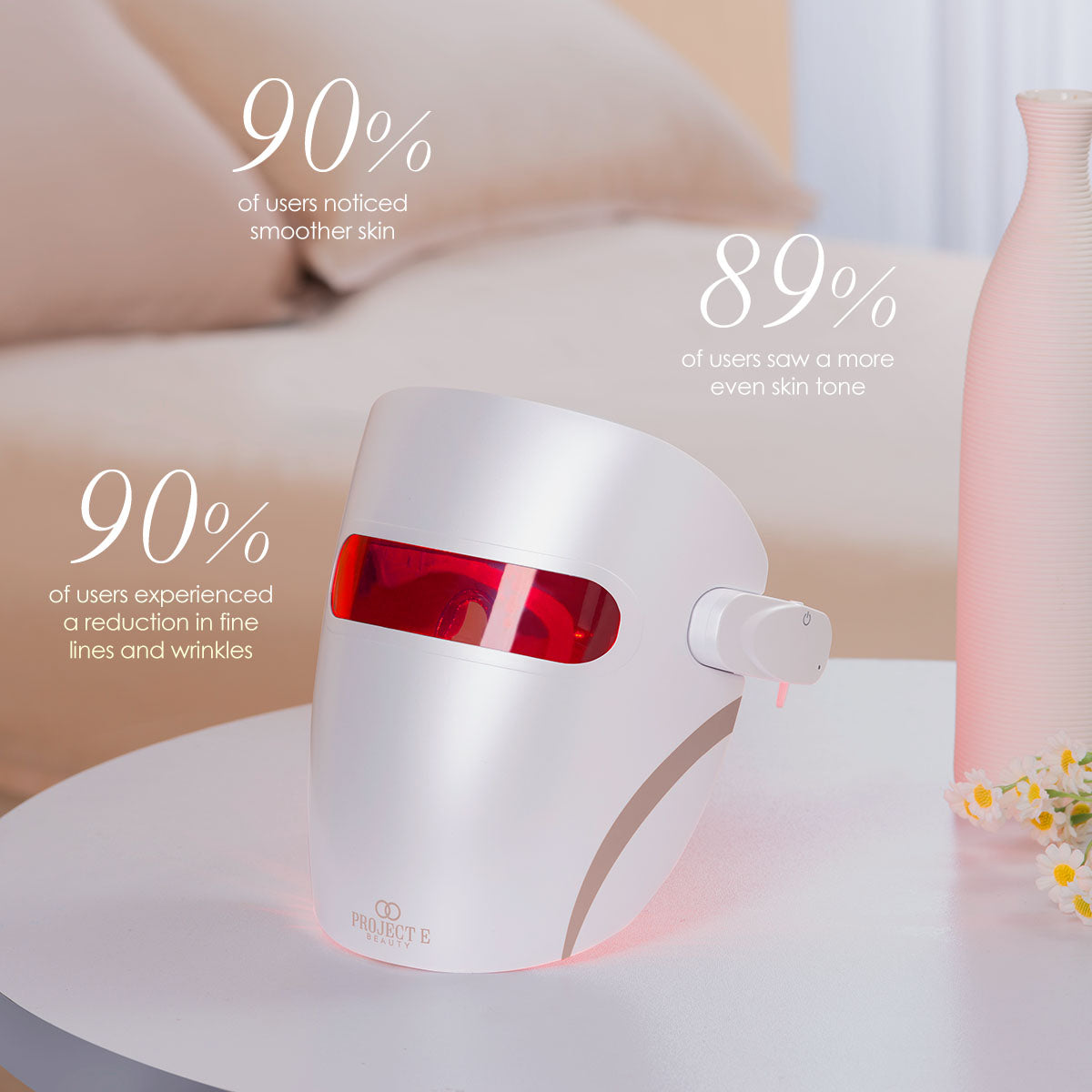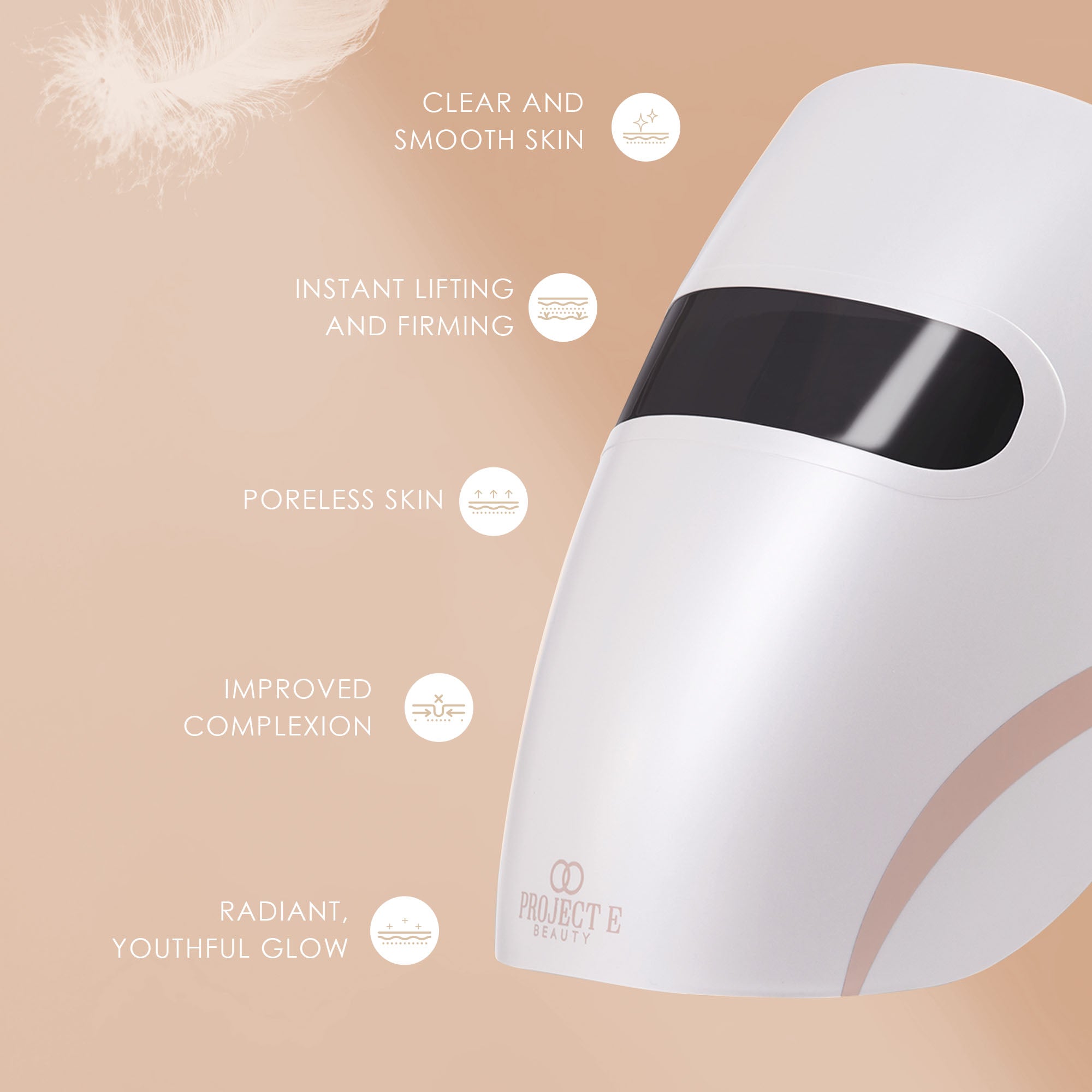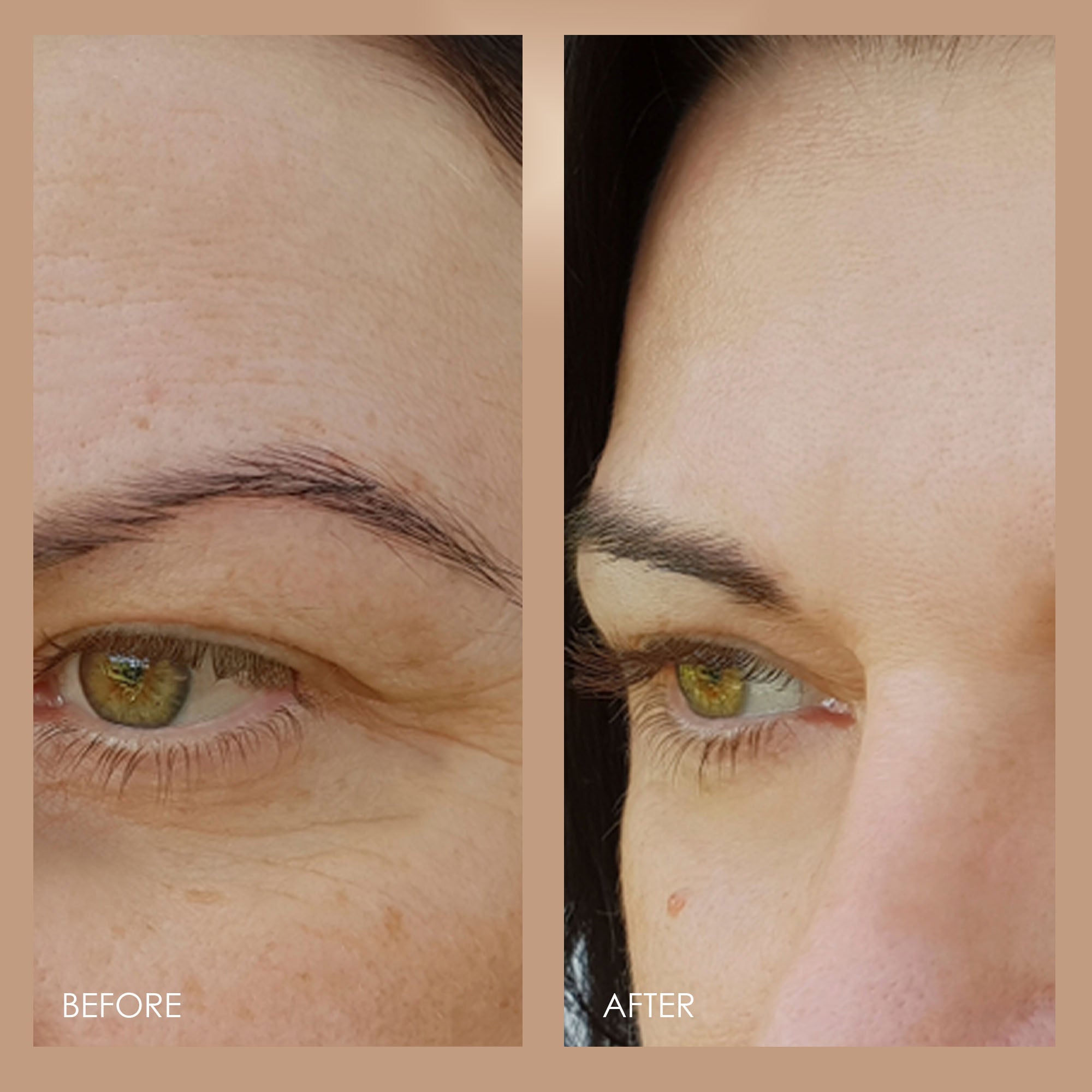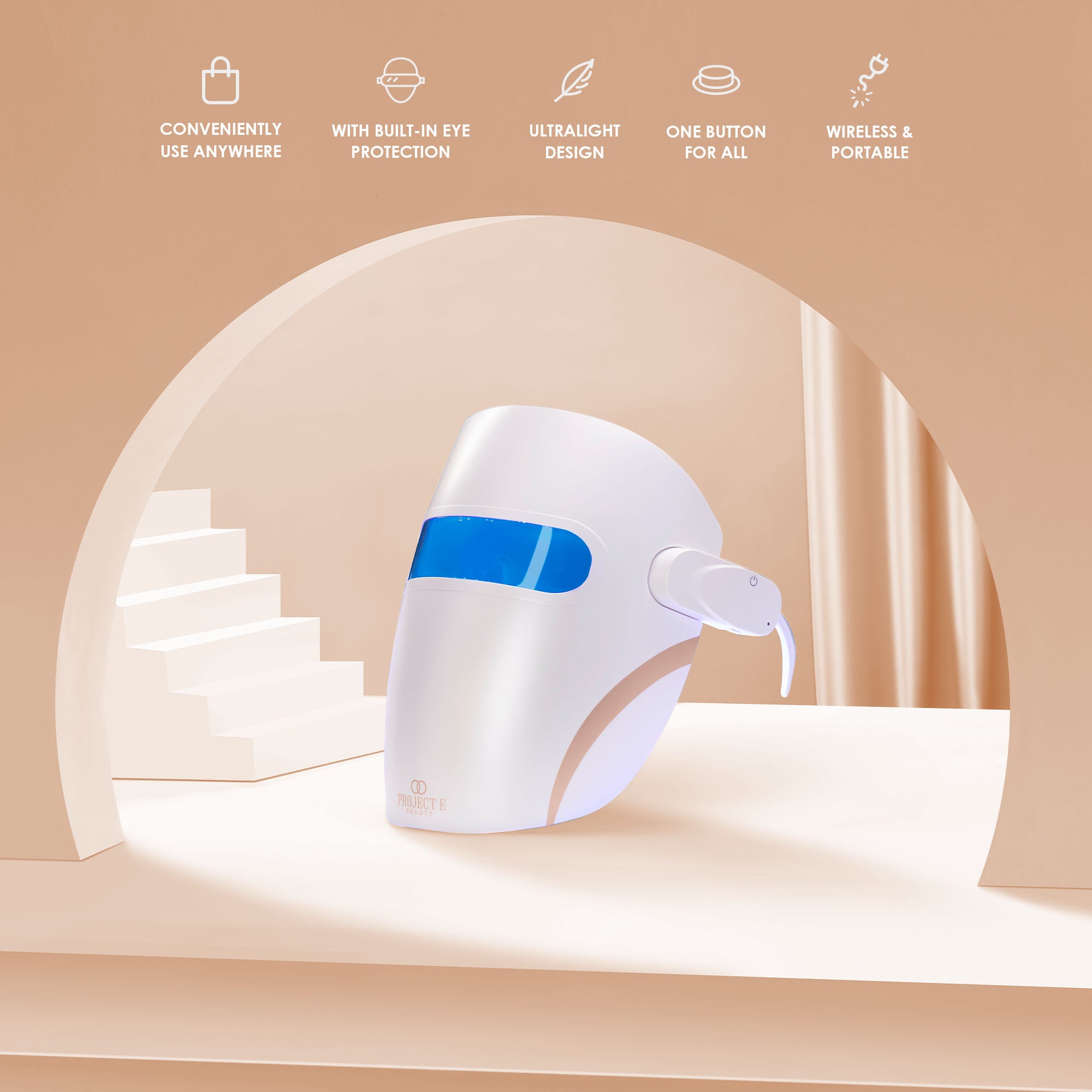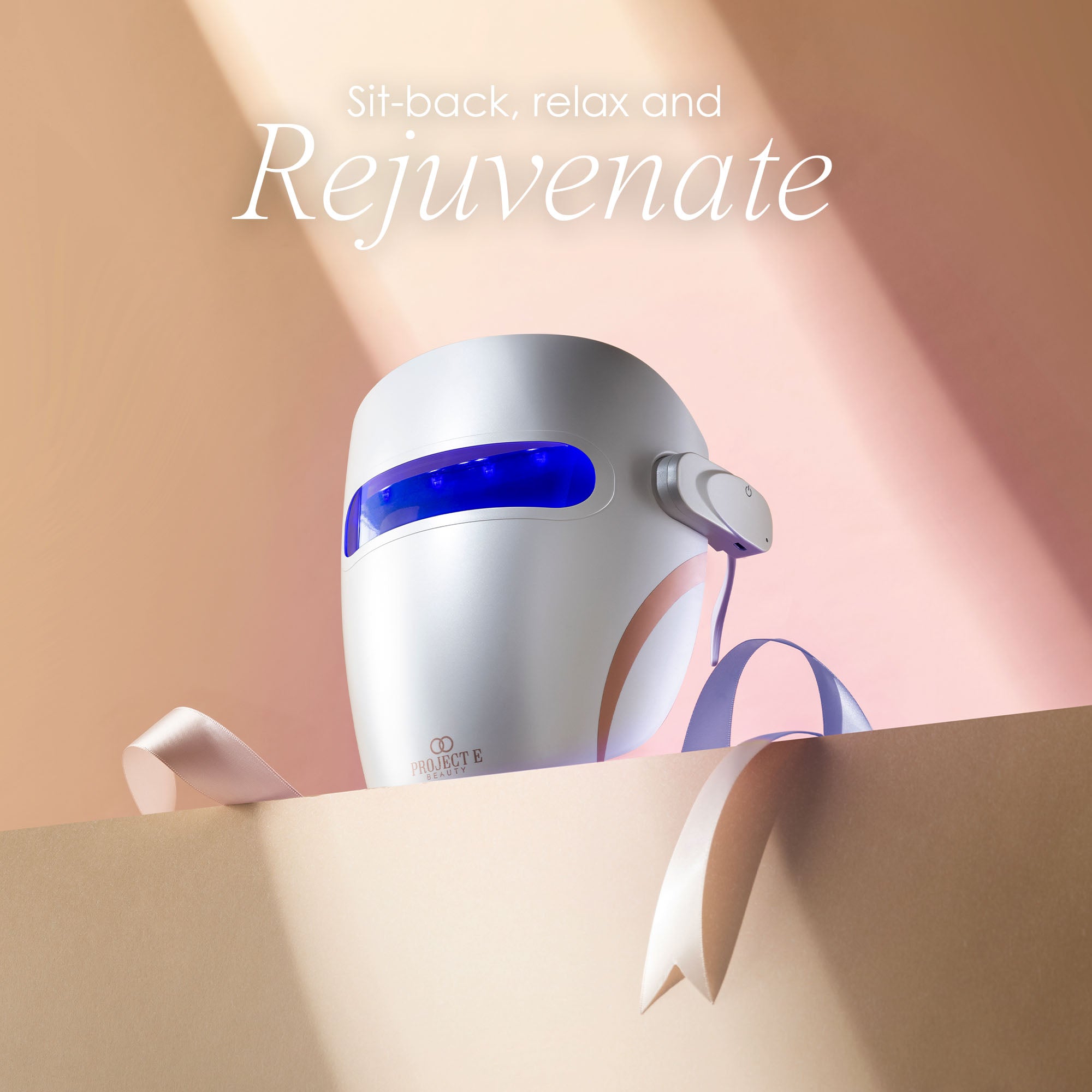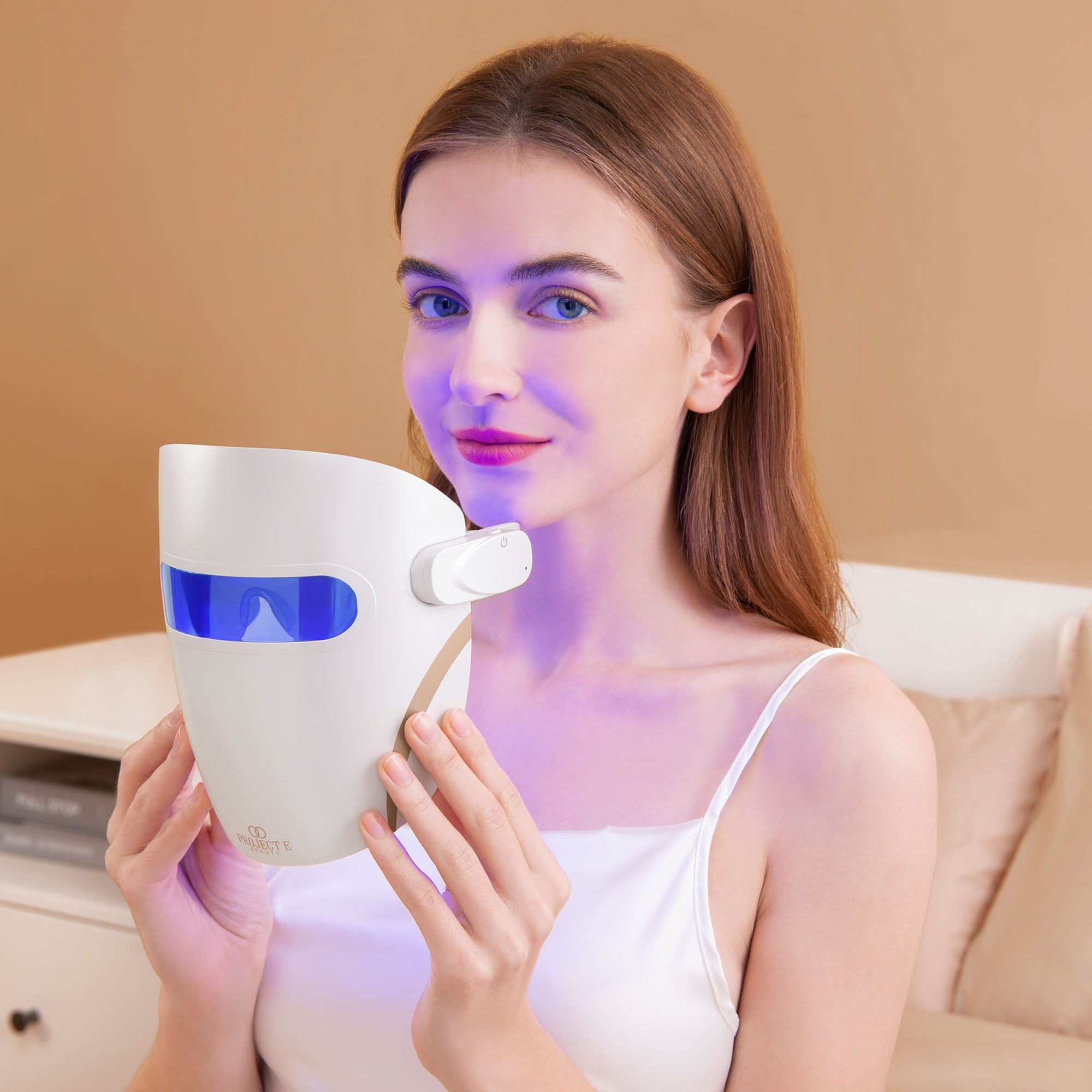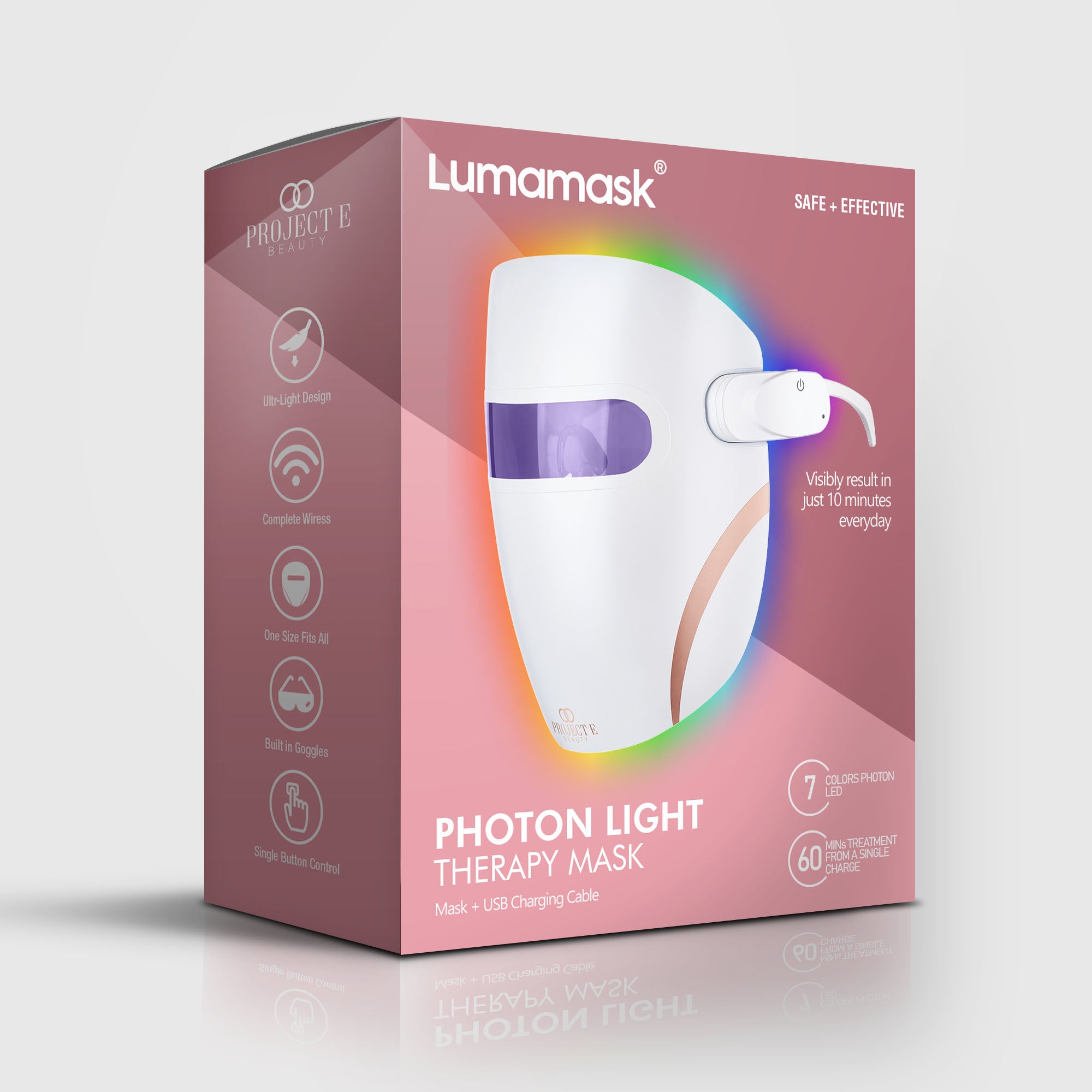 Why your skin will love it
Clinically proven technology:
Our mask uses wavelengths that are proven to enhance skin by stimulating cellular activity - making it a trusted choice for an effective, non-invasive skin treatment.
Collagen Boost: Red light therapy (630nm) stimulates cellular activity through a process called photobiomodulation. This boosts collagen production, reducing wrinkles and improving firmness for youthful-looking skin.
Acne Control: Blue light (415nm) effectively targets and destroys acne bacteria, clearing existing breakouts with clinically proven technology.

Skin Tone Enhancement: Our mask employs 7 light colors to address specific skin concerns - including fading hyperpigmentation and evening skin tone.
Skin Barrier Recovery: LED therapy goes beyond beauty; it reduces irritation and promotes the skin's natural healing processes, making it perfect for aiding skin recovery and soothing sensitive skin.
Pore Refinement: LED light tightens pores by stimulating collagen, resulting in smoother skin texture and a refined appearance.
More radiant and youthful skin - no risk and no downtime


90%
of users noticed smoother skin
89%
of uses saw a more even skin tone
90%
of users experienced a reduction in fine lines and wrinkles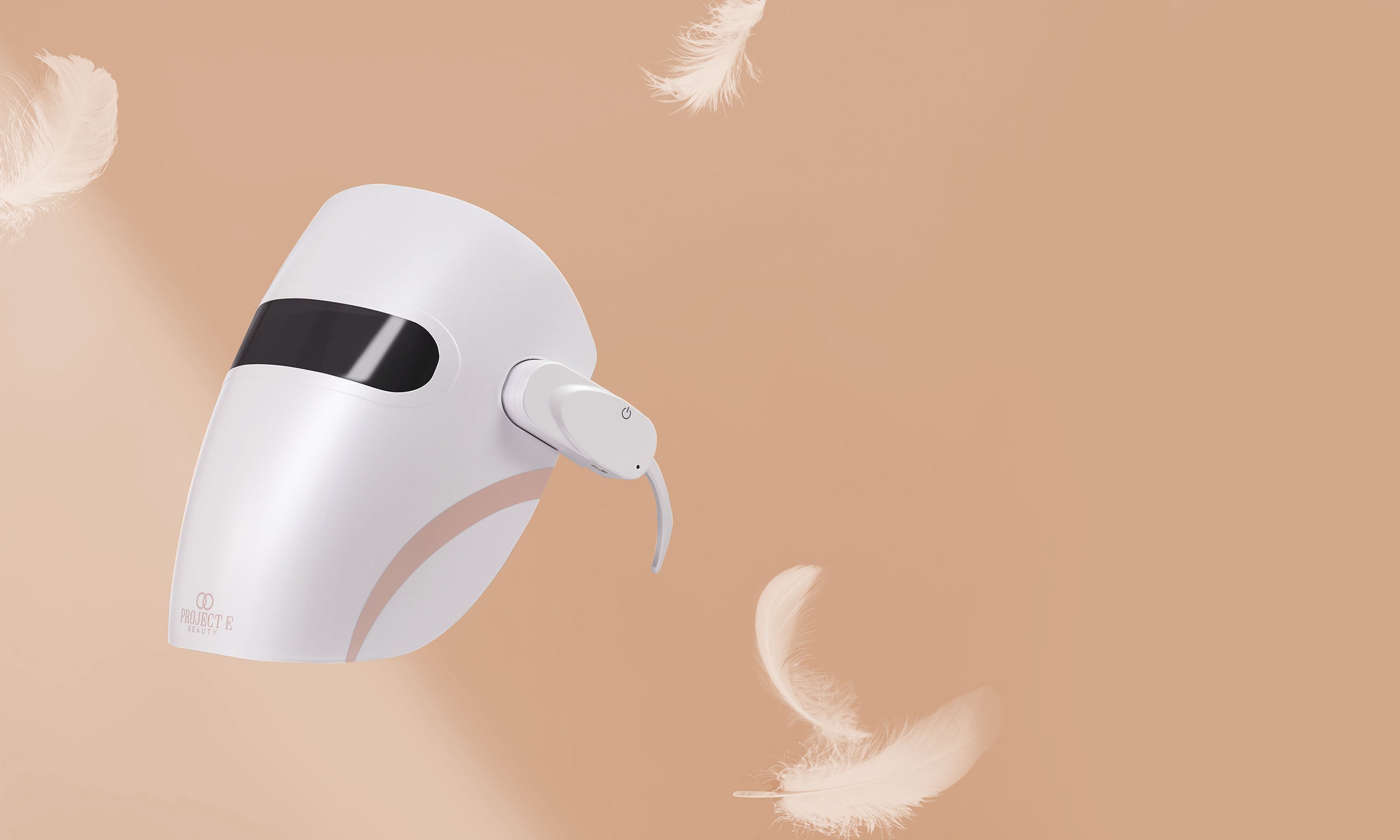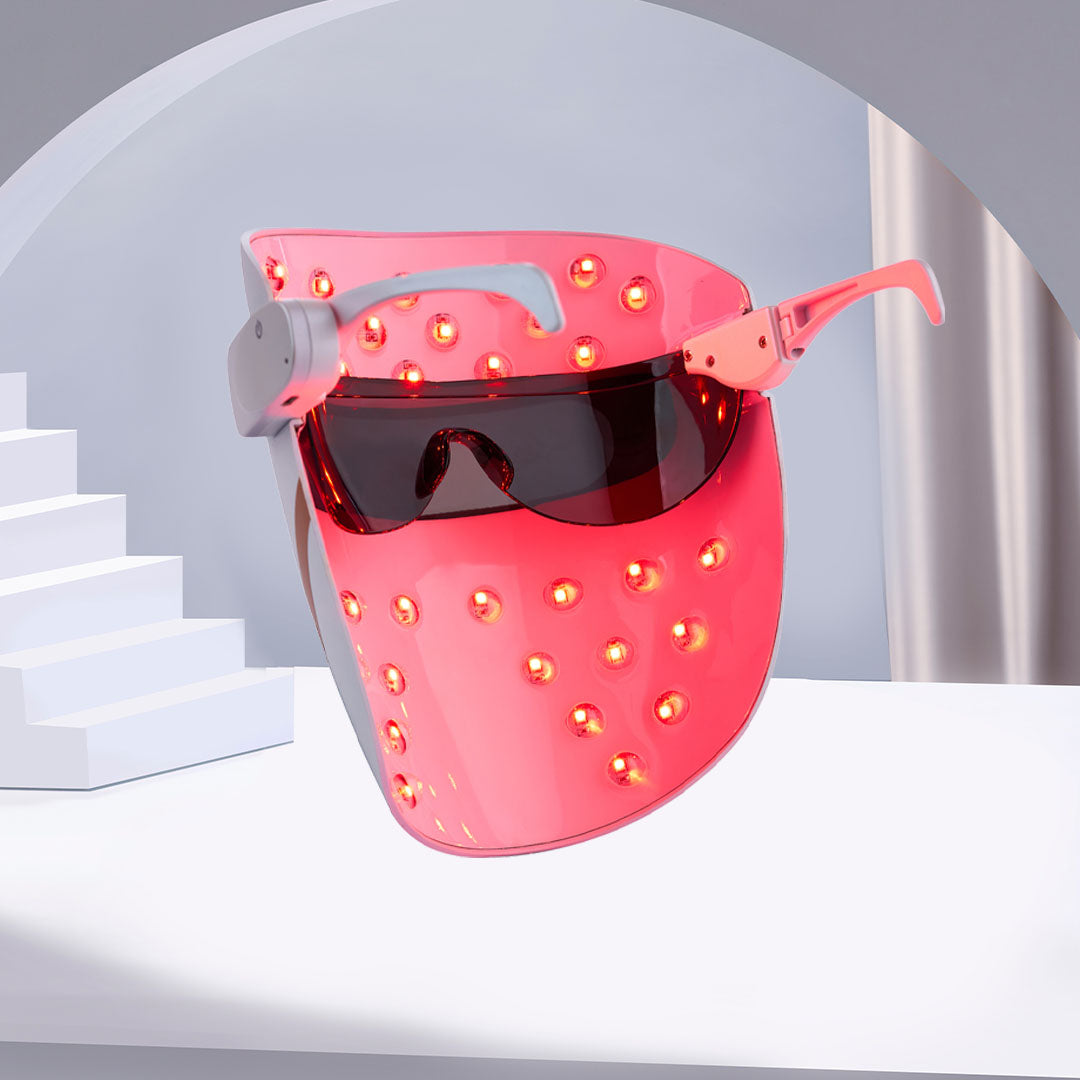 WITH BUILT-IN EYE PROTECTION
Lumamask 7 comes with built-in goggles for extra eye protection so you can enjoy benefits worry-free.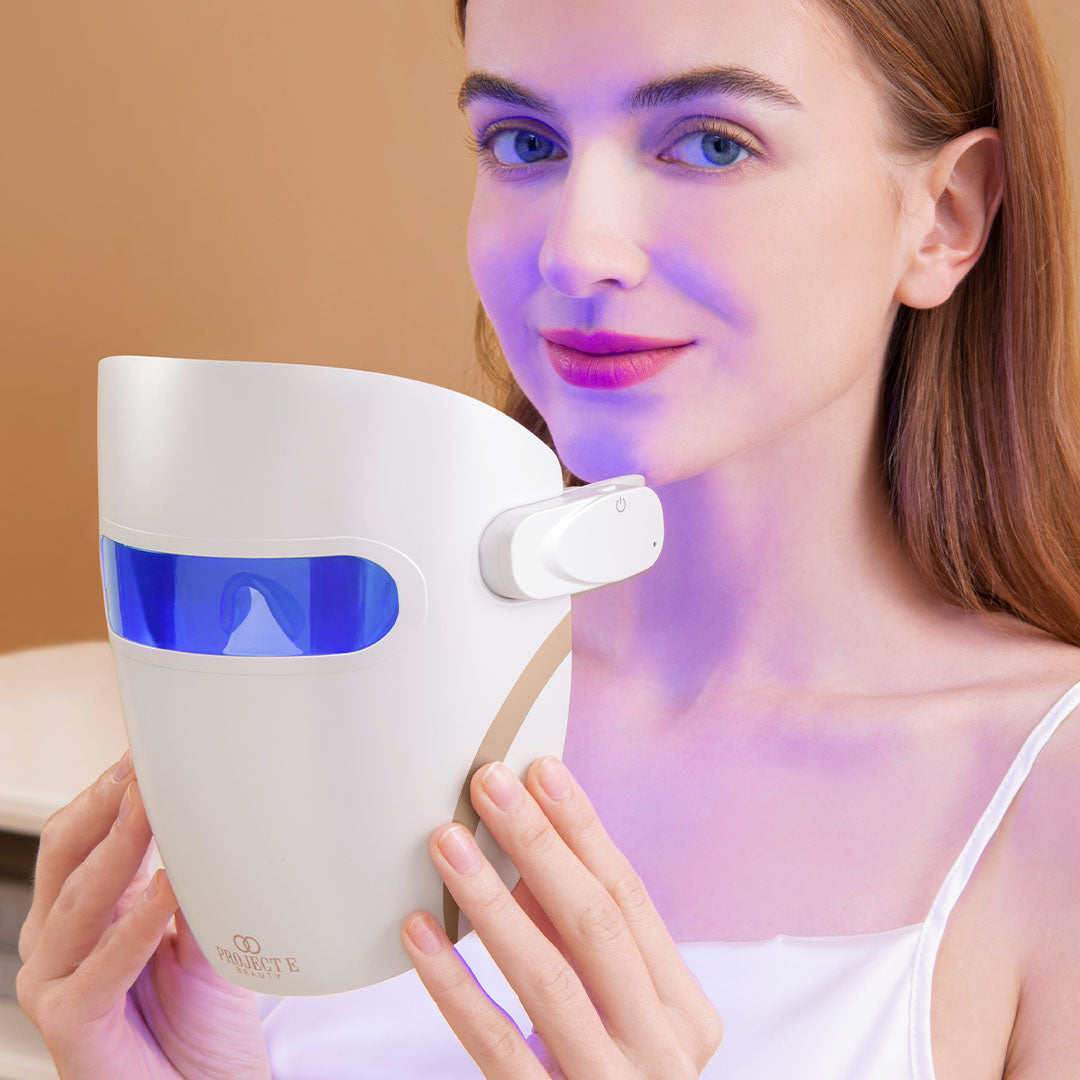 WIRELESS AND PORTABLE
Enjoy the freedom to use this ultralight mask wherever you please, ensuring hassle-free treatments every time.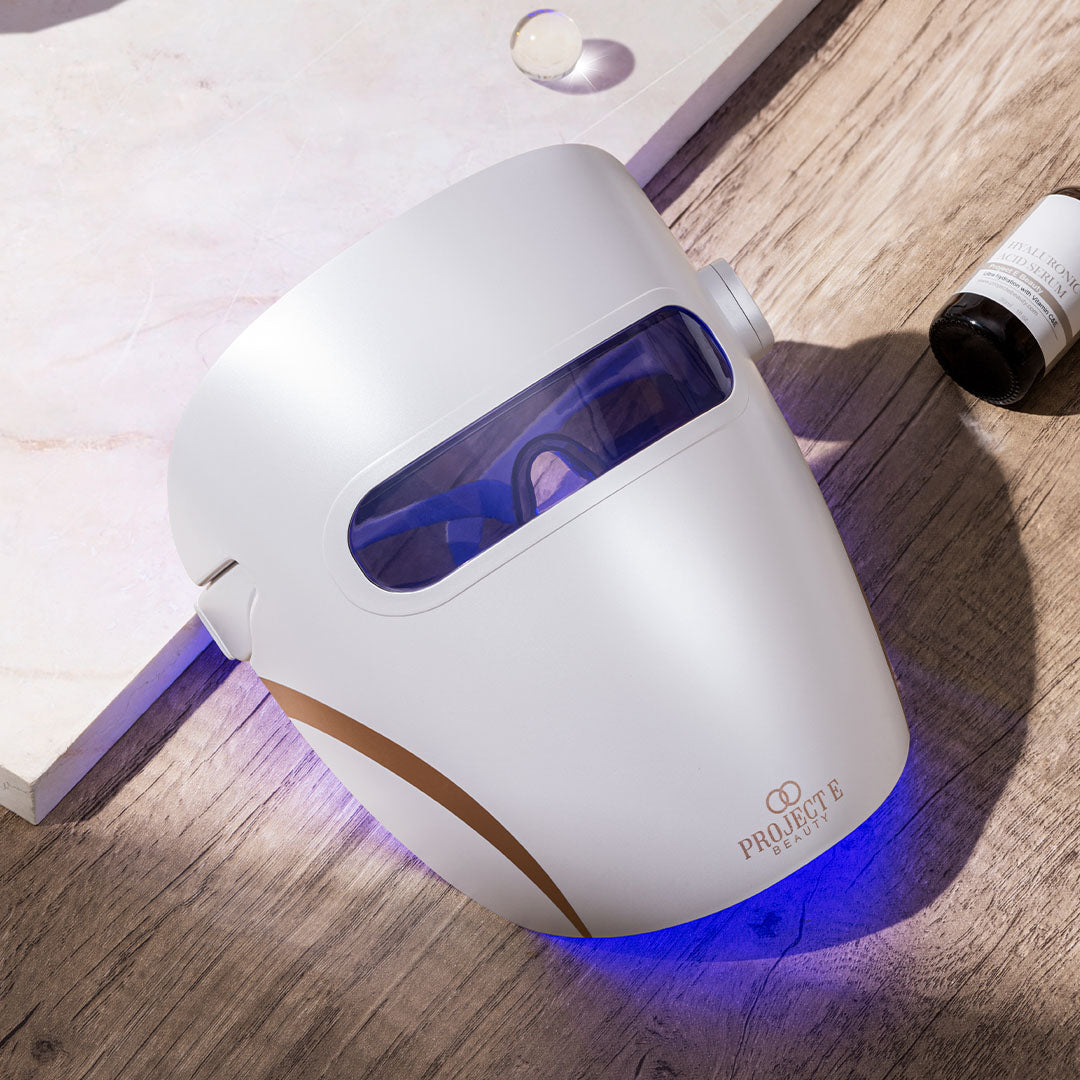 EASY WEAR
Say goodbye to fumbling with straps. Our device is designed to be worn comfortably, just like glasses, eliminating the hassle of adjusting and readjusting.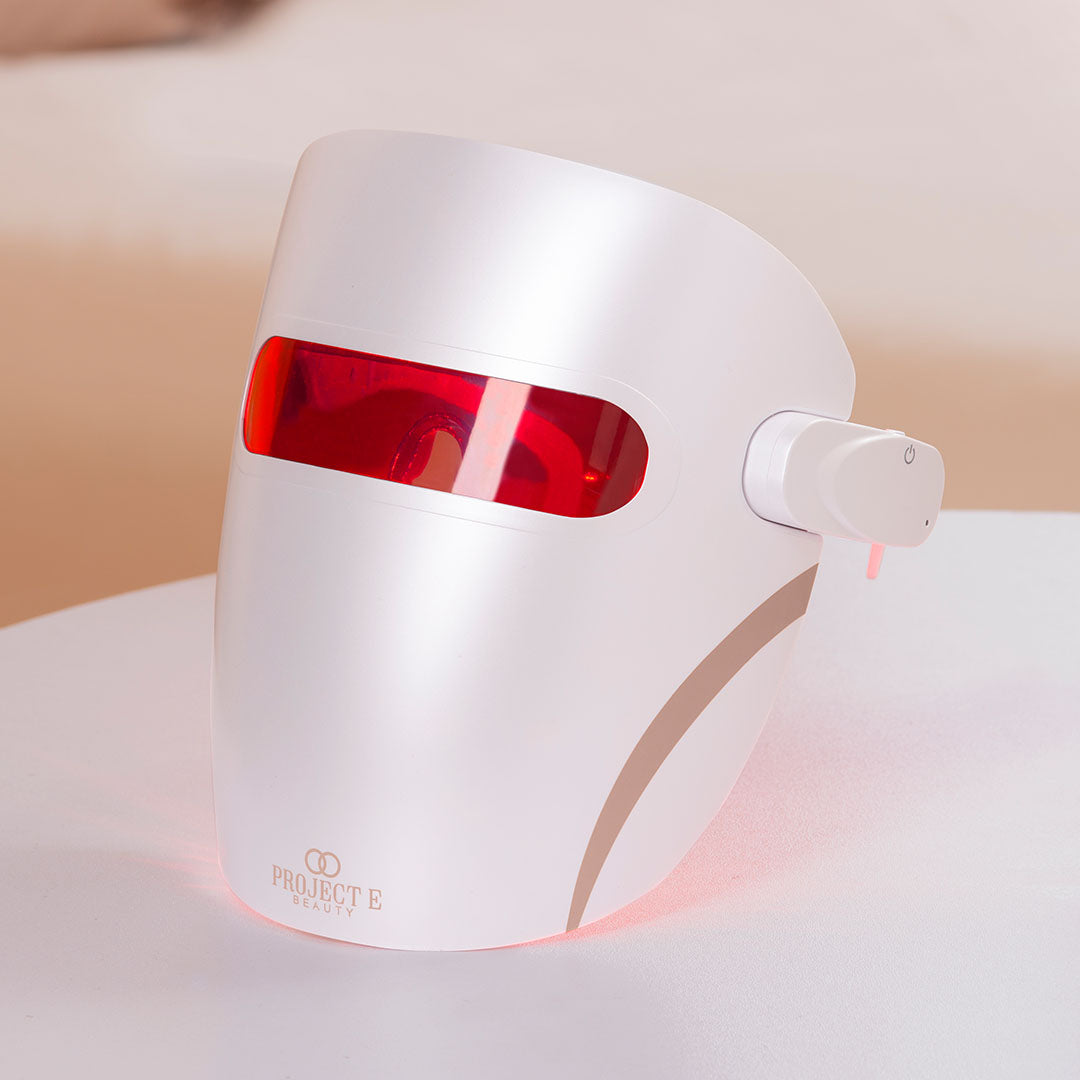 AUTO TIMER
We've already timed out the optimal treatment time for you – just 10 minutes a day will help enhance your skin's natural glow. No need to worry about overuse or guesswork.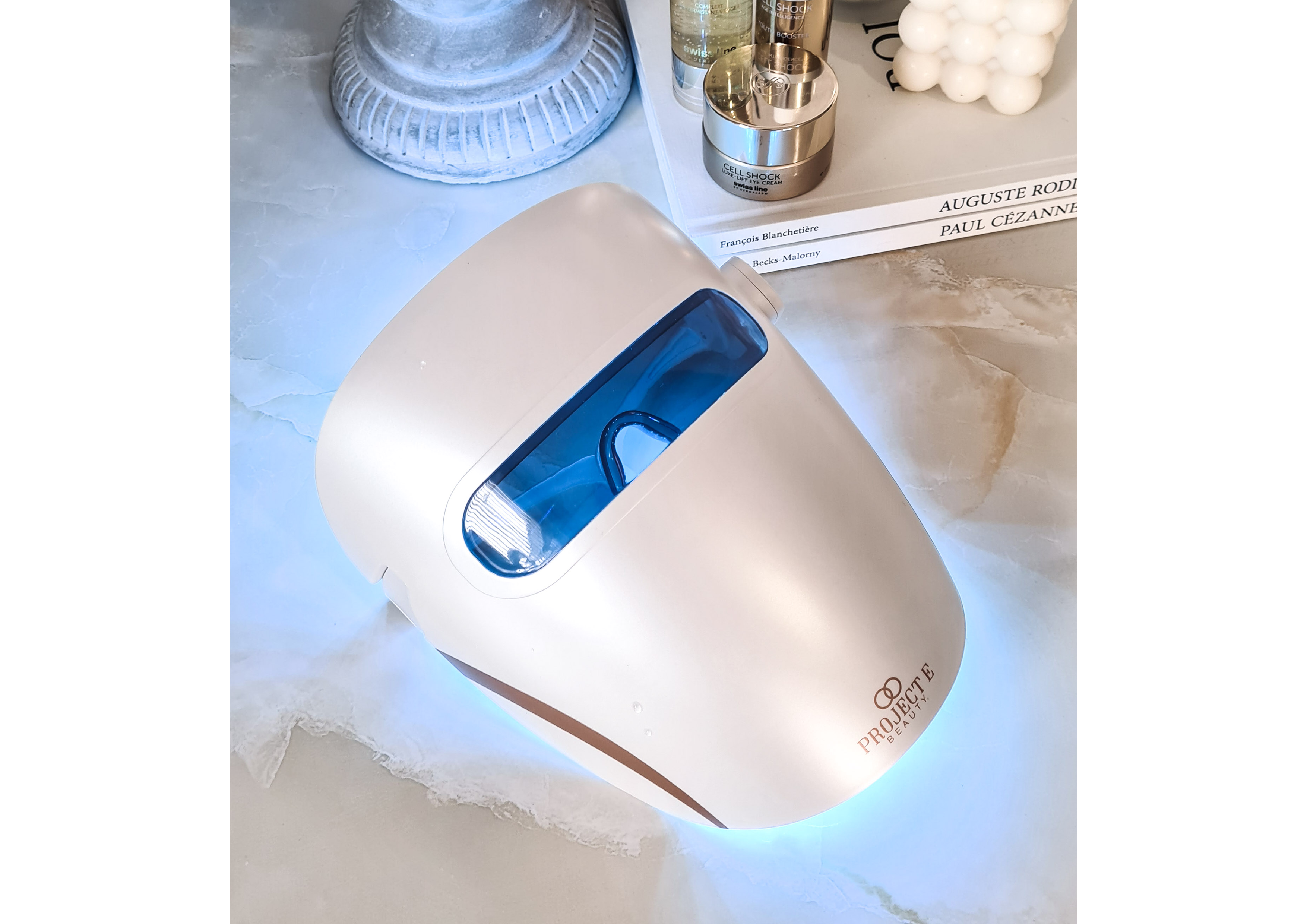 108 UV-FREE LEDs (3 LEDs per bulb)
Uses 36 powerful, non-heating LED bulbs that are 100% skin-safe.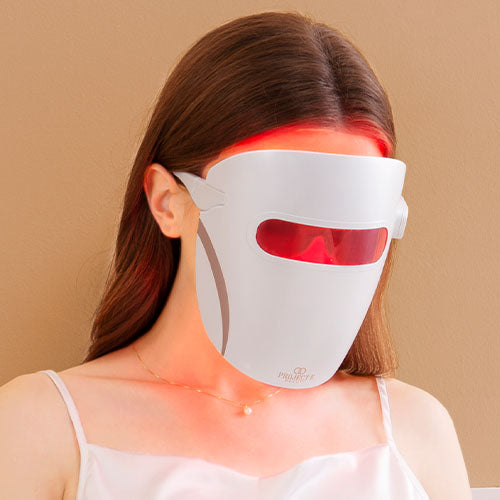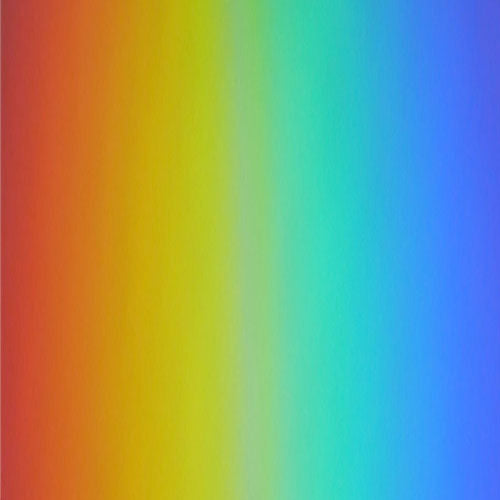 What makes it special
7 color modes to cater to various skin needs, offering a personalized skincare approach.

Red Light (~630nm): Collagen Boost
Reduces wrinkles, enhances firmness, and promotes circulation for youthful skin.
Blue Light (~415nm): Acne Control
Destroys acne-causing bacteria and prevents breakouts.
Green Light (~525nm): Pigmentation Reduction
Fades dark spots and evens skin tone.

Yellow Light (~590nm): Soothing
Calms sensitive skin, reduces redness, and detoxifies.
Purple Light (~390nm): Combo Effect
Combats acne and aging concerns together.
Cyan Light (~490nm): Anti-Inflammatory
Reduces inflammation, beneficial for conditions like rosacea.
White Light (~mix): Balanced Treatment
Offers a broad spectrum of benefits for overall skin health.
As with any beauty tech device, consistency is key. It's also important to supplement LED light therapy with a complete, regular skin care routine. I used the Project E Beauty LED Lumamask for two months and my skin conditions and my overall sense of well-being improved. My hyperpigmentation spots (which pop up randomly and unannounced like some of my relatives) have noticeably faded. 

Need help?
Frequently Asked Questions
LED Light Therapy has been thoroughly tested, evaluated and validated by hundreds of Universities, Medical Labs and most importantly NASA. Actually, there have been over 2000 reports and documents written on this technology.
For best results, incorporate the use of the LED mask into your personal skincare routine.
The suggested operating time is between 10 and 15 minutes. For beginners, start with one 10-minute treatment four times a week, unless otherwise directed by a doctor. Once results are visible, reduce usage to two times a week.
LED light therapy is a painless, non-invasive treatment that does not require recovery time.
No need to wear eye protection. The mask is equipped with a built-in pair of goggles. Avoid looking directly into the light.
1. Main Unit x 1
2. Charging Cable x 1
3. User Manual in English x 1
No mouth ventilation + microUSB charger. 36 LEDs but multiple lights modes/wavelengths
I've been into light therapy for my skin (mostly for acne when I was younger) for a few years now and this multi-color mask reminds me a lot of the first one I tried, which was a Ntrgna one. I will say that while the design is very similar, I think the Project E mask is an improvement as it has wireless capabilities, 36 LEDs instead of 21, and unlimited usage compared to the Ntrgna Light Therapy Acne Mask which was limited to only thirty 10-minute treatments.One thing I'd like to note is that this doesn't have a mouth opening/slit to vent your breaths while you're wearing it. It can feel a bit stifling compared to other masks I've tried where they have cut-outs for the mouth. There's no point in it even not having a mount cut-out anyways as they don't put any LEDs around the mouth area (why? People can still get acne and wrinkles in that area…)The mask also has the fewest amount of LEDs compared to any of the more modern light masks I've tried (36 vs. 66) which masks it much less effective and powerful per treatment. It doesn't mean it's not effective or worthwhile, only that it will take more sessions and/or slightly longer sessions (15mins instead of 10) over the course of months before you see discernible results. Considering the high cost here when the Ntrgna mask was under $60 at the time I got it, I'm not sure I'd invest in this version as it seems a bit too old and outdated to me, especially when you see it has a microUSB port for charging the wireless Li-ion battery which powers the mask. In 2023 (2 months away from 2024) I don't expect to see any new tech come out that only uses microUSB instead of USB-C, which will likely become the universal charger.
Easy to use
This is some outer space gadget and I love everything about it. I usually get red light treatment when I go for facials so it's great to be able to treat myself at home. There's so much research on how great light therapy is great. This device charges fully and has 6 different light options for your specific needs. It says start with 4 days a week so I did. So far it's going great.I can't wait for the results. So far it's going great. Good quality product. Some heat sensation when in use but not painful. Comfortable and since it recommends eyes closed, that's my meditation session covered.
Do your research on LED masks
I've done a lot of research on LED masks….and what I've found is not much. While there is a tone of research on LED lights and they are approved by FDA, actual masks are not approved.(This could have changed in the time I've done my research). And while there is a lot of research on LED lights, what trials and studies are done are on medical grade devices used by doctors. Harvard health article says short term safety is assured but long term safety from these devices remains uncertain.There is still not a lot of research done on the different wave lengths just mostly red, blue, and now some green. Green and yellow light have poor penetration and are rarely studied. There is NO white wave length, it is a mixture of many different colors. And as for the number of LED's per mask, it is not as important as wavelength and irradiance. But this is just a small amount of the information I found while doing my own research on LED masks.I've tried to find research on any process or items to use before and after LED mask usage. I've found mixed results. The only thing everyone agrees upon is to wash your face and to not use any sunscreen before hand. Some say so use retinol/serums before so they penetrate deeper, some say don't use. I've also tried to find research supporting actual usage times. But they vary per device and most just say to follow manufacturers instructions.Personally, after my research I've also found that I pretty much can only use the red light. With not much research on the other light spectrums I do not want to try them. While I would love to be able to use the blue light to help me during my monthly battle with alittle bit of pimples, I have some dark spots and it's not safe for me. I first did a trial on my inner forearm with the red light. I could feel heat but touching my skin I realized it's not real heat, probably just the light penetration. Waited 24 hrs and there were no redness or swelling at all any time afterwards. So I proceeded to use it on my face. I use this few times a week at most for the 10 mins. I do not see any improvement but I'm not so worried about this. Even from the stronger $435 dollars and up versions, there is no noticeable result until after 90 days. And those take longer than those medical grade versions in a dermatologist office. With this having less LEDs I suspect it will take even longer. I also do not have a lot of wrinkles so it will probably be an even longer journey for me to see noticeable results. But I'm looking for a long term, cheaper version so I don't have to step into a dermatologist office for their version. Basically like a preemptive strike against aging. This saves me time and money and I'm ok with this set. I really like the cordless part of it.
Nice!!!!!
 HIGHLY RECOMMEND!!!I love this mask! This mask is simple to operate and comfortable of excellent quality.My face is very acne-prone, so I try to use the blue light and the green light on my face to help reduce and treat blemishes. I have only used it a few times so far, but I am loving the results. For the price, this mask is great, I love it and I know you will love it too :)
Concern_Acne & Blemishes
Not sure if LED light therapy is right for you? First, consider your skin type and concerns. Also, proper research is key! To make a more informed decision, go ahead and consult with a skincare exp...
Read more