RU+7 Bipolar RF Blue Beam LED Photon Vacuum Cellulite Reduction Body Liposuction Machine
Item: RU+7 Bipolar RF Blue Beam LED Photon Vacuum Cellulite Reduction Body Liposuction Machine
Item ID: RU+7
Color: Silver
Size: 47x39x41 cm
Weight: 11 kg
Voltage: AC220V/110V 50-60Hz
Power: <150VA
Blue wavelengths: 463nm
Vacuum pressure: 0-100KPa
Output RF: 2.69MHz

Included:
- Main Unit x1
- Power cord x1
- Bipolar RF vacuum for eyes x1
- Bipolar RF vacuum for face x1
- Bipolar RF vacuum for body x1
- Accessory frame x1
- Hexagonal screws x2
- Hexagon wrench x1
- Sealing ring x15
- User manual x1

Functions:
- Clear, lighten, smooth the skin 
- Reduce and prevent wrinkles, helps fight fatty areas
- Minimize Pores
- Balance skin tone
- Inhibit the formation of melanin pigment
- Fight acne
- Promotes tissue metabolism
- Tightens skin
- Strengthens skin elasticity
- Shapes the body
- Lymphatic drainage

Features:
1. Combine 463nm specific wave beam with vacuum and RF
2. RF frequency 2.69 MHz, penetrating layer between 5 M and 1 M, best layer permeability.
3. No pains, no discharge , safe and comfortable
4. Adjustable pulsed negative pressure RF will better target in the role of auxiliary nursing positioning
5. The innovative design of negative pressure coordinates synchronously with blue beam technology, RF three in one technology
6. Continuous air cooling system technology guarantees the stable output energy.
7. Warranty

Introduction:
Radio frequency (RF) is the latest beauty technology. RF skin-tightening treatment is an effective way to rejuvenate skin, reduce wrinkles and enhance skin elasticity. The RF heats the dermis, the deepest skin layer, without damaging the epidermis, the top layer of skin. It stimulates the structural change of the collagen fibers and elastic fibers to its original elasticity, reducing lines and wrinkles. An immediate skin-tightening effect will then be achieved without risk.

Also, radio frequency can promote tissue metabolism, repel cellulite, tighten the skin, strengthen the skin's elasticity, and so on. Its effect will last for a long time. Meanwhile, it can enhance muscle elasticity and improve cell metabolism. It creates effect like internal explosion, meaning that the expansion and compression of waves produce a lot of tiny spaces inside the liquid. The gas and vapours exist in these tiny spaces. In the compression cycle, supersonic waves impose a positive pressure on the liquid molecule, whereas a negative pressure is created through the expansion cycle. There is a cohesion effect inside the liquid or biological tissues. Inside the low-density lipocyte, the cohesive effects are comparatively weak. A negative pressure, which is relative low, can create tissue gaps easily. It is called cavitations in physics. The effects of the explosion inside and outside the cells will increase the molecular movements so as to achieve a high energy state, which then leads to the lipocyte cracking. 

Vacuum Bipolar RF Handle can help dissolve fat, lymphatic drainage, firm skin and enhance skin elasticity. The Vacuum Bipolar RF probe is used for reshaping, especially after fat loss. The probe works by promoting tissue metabolism and repelling cellulite. Since this unit's waves can get deep into the skin, it can rapidly burn the fatty acids and reduce the fat cell size.





It attracts and outspreads the fibrillary connective tissue of different cortexes. Through the rhythmic massage, it effectively breaks down subcutaneous fat and reduces cellular tissue accumulation of fat. It massages different parts of the body and brings up fat layer in dermis. It releases micro-vascular lymphatic vessels, at the same time, and promotes metabolism to break down fat acids. The detoxification is enhanced by the vacuum bipolar RF. At the same time, the skin becomes more elastic and lusterous. It is the "healthy body sculpture management" expert.

The Photon Beauty Device, designed for facial beautification, uses natural light waves, which are transmitted by LEDs into the skin. The light activates photoreceptors in skin cells, producing energy for absorption by skin components, to beautify your complexion. 
Studies show that light enters the body as photons (energy) and is absorbed by the photoreceptors within cells. Massaging with the Photon Beauty balances skin tone and enhances circulation. Light is known for helping with some beauty problems, for instance, inhibiting the formation of melanin pigment, fighting acne and dermatitis, and improving the look of pockmarks, scars and wrinkles.

Blue(463 nm)---Excellent effect of curing acne, kill bacteria, improve sensitive skin
The blue light penetrating about 0.5mm has the function of calming against skin rashes; suitable for the skin which is sensitive, oily and with skin rashes. It can adjust skin sebum secretion, effectively get rid of acne and whelk to reach the aim of beautification. Besides, the blue light can astringe and tighten loosened skin. 

How to use?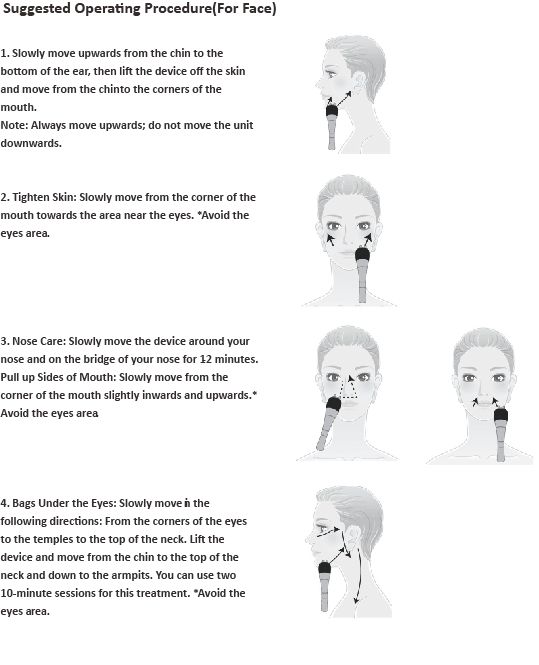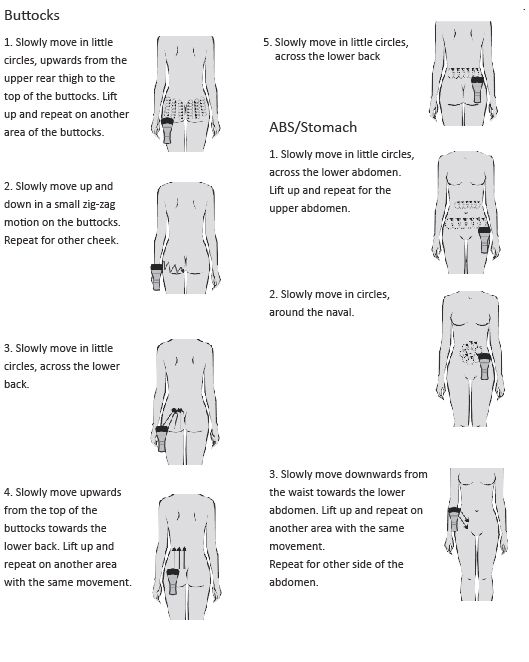 What's more?
The following people should not use radio frequency:
1. Pregnant women.
2. Diabetes patients
3. People who have taken photosensitization agents recently 
4. Patients with chronic hemolytic anemia
---
We Also Recommend
---