Project E Beauty 2 in 1 Ultrasonic Ultrasound Liposuction Cavitation Slimming Machine
Item: Project E Beauty 2 in 1 Ultrasonic Ultrasound Liposuction Cavitation Slimming Machine
Item ID: GS8.2e
Color: Grey
Power: 75W
Frequency: 40KHz - 1MHz
Voltage: 110V/ 220V
Size: 41x34x38 cm
Weight: 8.3 kg
Treatment Area: Facial, Body
UPC: 092624151961
Included:
1. Mainframe x1
2. Power supply line x1
3. Annex shelf x1
4. Big Ultrasound head x1
5. Medium Ultrasound head (with wire) x1
6. Small Ultrasound head (with wire) x1
7. Hexagon Wrench x1
8. Hexagonal screws x3
9. Use manual x1
Function:
1. Body sculpturing, body shaping, cellulite treatment
2. Lymph drainage, accelerate blood circulation and promote metabolism
3. Reduce fine lines and wrinkles
4. Lift, tone and brighten the face
5. Tighten the skin on the underarms and legs
Features:
- Adopt the top ultrasonic liposuction technique in the world
- Suitable for all kinds of skin
- Comfortable and painless
- Easy to operate
- non-anesthetic
- No bleeding and bruise
- No negative side effects and rebounding phenomenon
- Woundless, will not influence the normal working and living
- CE Certification
- ISO9001 Quality Certification
- Warranty
Introduction:
Ultrasound cavitation is a relatively new aesthetic treatment. Cavitation is an invasive body-sculpting treatment with no anesthesia, scars, discomfort and down-time. It presents a risk-free alternative to liposuction. The result is instant loss of fat cells. Generally one fat cavitation treatment lasts 35-40 minutes where a single part of the body is treated. 72 hours must pass between each session so that the body can eliminate the fat. The minimum suggested number of fat cavitation sessions is between 6 and 10.

The physical vibrations (up to 1 million per second) will make each body part vibrates that provides unique cell massage, enhancing the cellular metallic function, increasing the vitality of cells, promoting the blood circulation, improving the nutrition of skin tissue and keeping the skin rosy and elastic.

Strong sound wave explodes fat heads with collective strong sound wave head, strong sound wave of 40000Hz may be emitted to the human body for impacting fat cells fiercely and causing friction between fat cells. This may cause effective consumption of calories and moisture in fat cells and reduce the size of fat cells. What's more, sound wave vibration may cause a fierce impact of fat cells to make them explode instantaneously. The liquid is then easily vacuumed out from the body using the lymphatic and urinary system. The amount of fat cells can be reduced and thereby achieve the effects of removing fat.

Ultrasound was developed in medicine, but more recently applied in beauty. With its triple-impact effectiveness, it brings surprising innovation to beauty care. It's an exciting yet simple and powerfully effective tool to rejuvenate your skin. Ultrasound uses the cutting-edge technology of very high-speed, low-frequency sound waves that radiate invisible micro vibrations deep within cells, helping stimulate the skin's natural repair mechanisms in distinct ways. Ultrasonic utilizes sonic vibrations; it works one million times per second. Ultrasound provides non-surgical lifting. The ultrasonic wave could stimulate skin tissue and improve permeability of the membrane to promote collagen tissue, reduce wrinkles, erase fine lines, lift the skin and result for a younger, healthier look. Ultrasonic generates frictional heat, which accelerates blood circulation, muscle relaxation, and decomposes the cellulite to break down excess fat. Ultrasound treatments are non-invasive, safe and suitable for all types of skin. Everyone can enjoy the benefits of this new and advance beauty technology.

In only 10-15 minutes daily, you'll experience dynamic changes in the look of your face: your skin will appear more youthful, smooth and healthy with the technology of ultrasonic. Ultrasonic massage reaches deeply into the skin. Ultrasound Beauty Massagers produce micro-vibrations, which are often used to help stimulate the body's recovery from illness and injury. Although invisible to the eye and undetectable by our skin, micro-vibrations can also reach fats that have built up in areas such as the lower abdomen, hips, thighs, calves or double chin in order to achieve slimming.
How to use?

M80 ultrasound head
1. Applied gel on fleshy parts(e.g. abdomen, hip, thigh) The amount depends on moving flexibility of the ultrasound head.
2. Set work time(10 min every part) and adjust output intensity(1 weak~5 strong).
3. Click "Start", put the service brake under your feet, step on to start working, move away for pause.
4. Beautician hold the ultrasound head and move slowly on skin, in circle or beeline, the other hand push the fat towards the ultrasound head.
5. Do not use on back, avoid using on bones.
6. Do not use on uterus part. Abdomen treatment during menstruate should be avoided.
* Enough gel are needed as you may feel painful if it is not enough.
* The total treatment time for daily care should be within 30 min.
7. The machine will pause automatically when the setting time is over.
8. Clean the leftovers with hot towel, use warm towel to clean the ultrasound head.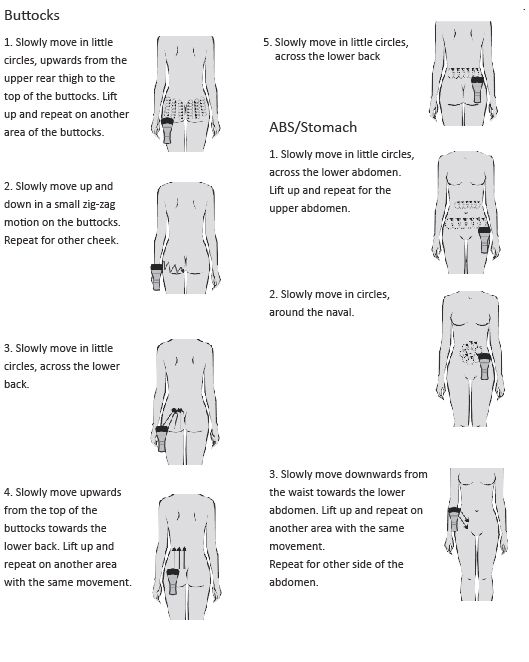 What's more?

Ultrasound Test

Place few drops of water on the metal area of the ultrasound infrared body massager, and press the ' Power ' switch to turn on. You will see the water is vibrated and becomes tiny.
Ultrasonic currents, vibrating by millions times per second, make a cleansing and heating effect. Such powerful ultrasonic currents, when infiltrated deeply into skin, gives a cleansing and massage effect to our skin.

Forbidden group:
1.People who has fever, infectious diseases, acute diseases.
2. People with heart disease or configured cardiac pacemaker.
3. Patients with severe high blood pressure, tumor disease, asthma, deep vein thrombosis, Varix, thyroid ,cancer, falling sickness.
4. People with hemorrhagic disease, trauma, vascular rupture, skin inflammation, skin disease.
5.Pregnant women
6. Do not use at the abdomen during menstrual period
7. Medical Plastic parts, or parts with metal inside
8. People with an abnormal immune system
---
We Also Recommend
---