Project E Beauty
Pro 2in1 3MHz Ultrasound Ultrasonic Scrubber Beauty Facial Skin Salon Machine
SKU: D-808
Item: Pro 2in1 3MHz Ultrasound Ultrasonic Scrubber Beauty Facial Skin Salon Machine
Item ID: D-808
Color: White
Voltage: 110V or 220V
Package Size: 39x35x23 cm
Weight: 5.9 kg
Included:
1. Main Unit X 1
2. Ultrasound Probe for Face X 1
3. Ultrasound Probe for Eyes X 1
4. Ultrasonic Scrubber X 1
5. Electrical Connection Cable X 1
6. Full English manual/instructions X 1
Function:
- Removes wrinkles, pimples and spots
- Clears, lightens, smoothes the look of skin
- Enhances blood circulation
- Enhances skin texture, decreases wrinkles, helps fight fatty areas
- Tightens and firms the skin texture
- Deep cleanses and moisturizes
- Improves elasticity
- Minimizes pores
- Peeling
Features:
- Easy-to-use
- Adjustable intensity level power control
- Non-invasive
- Warranty
Introduction:
Ultrasound was developed in medicine, but more recently applied in beauty. With its triple-impact effectiveness, it brings surprising innovation to beauty care. It's an exciting yet simple and powerfully effective tool to rejuvenate your skin. Ultrasound uses the cutting-edge technology of very high-speed, low-frequency sound waves that radiate invisible micro vibrations deep within cells, helping stimulate the skin's natural repair mechanisms in distinct ways. Ultrasonic utilizes sonic vibrations; it works one million times per second. Ultrasound provides non-surgical lifting. The ultrasonic wave could stimulate skin tissue and improve permeability of the membrane to promote collagen tissue, reduce wrinkles, erase fine lines, lift the skin and result for a younger, healthier look. Ultrasonic generates frictional heat, which accelerates blood circulation, muscle relaxation, and decomposes the cellulite to break down excess fat. Ultrasound treatments are non-invasive, safe and suitable for all types of skin. Everyone can enjoy the benefits of this new and advance beauty technology.

In only 10-15 minutes daily, you'll experience dynamic changes in the look of your face: your skin will appear more youthful, smooth and healthy with the technology of ultrasonic. Ultrasonic massage reaches deeply into the skin. Ultrasound Beauty Massagers produce micro-vibrations, which are often used to help stimulate the body's recovery from illness and injury. Although invisible to the eye and undetectable by our skin, micro-vibrations can also reach fats that have built up in areas such as the lower abdomen, hips, thighs, calves or double chin in order to achieve slimming.

The skin scrubber utilizes ultrasound technology to gently exfoliate the skin of dead skin cells and impurities. Ultrasound waves help loosen and remove oil, dirt and cellular debris from pores in order to achieve a noticeably radiant, healthy glow. This device is non-abrasive, and it can easily achieve a healthy complexion without the redness, swelling, and irritation, which are often associated with microdermabrasion treatments. 

Ultrasound waves help stimulate collagen and elastin that eliminate wrinkles and fine lines. This Ultrasound Scrubber waves allow an non-invasive and painless skin care regimen . By removing the superficial scaly layers of the skin, the scrubber stimulates the revival of the skin tissue in order to provide youthful and luminous skin. It removes spots, wrinkles and pimples effectively to make your skin clean and softer. Moreover, it enhances blood circulation and strengthens skin reproduction. The result of the treatments is usually refreshed, cleaned, and rejuvenated skin. The scrubber can be used on all skin types with an adjustable intensity level power control. It offers the flexibility of different interchangeable electrode forms.

The Layers of the Skin
The skin has three layers: epidermis, dermis and subcutaneous. The epidermis is the outermost layer, which everyone sees; the dermis is the middle layer, and the subcutaneous is the inner layer.  When you are young, the skin does an efficient job of stretching and holding moisture. The dermis (middle layer) has an elastic quality due to the fibers called elastin. Elastin gives the skin a smooth feeling and helps with skin rejuvenation. Collagen is found in the dermis and helps prevent wrinkles. Over time, the skin's collagen and elastin diminish. As a result, the skin becomes thinner and cannot hold moisture in the epidermis. The fat in the subcutaneous layer, which gives the skin a plump, firm appearance also begins to disappear. This results in sagging skin and wrinkles. Wrinkles are most common where facial muscle contractions have been repeated over many years.

The two biggest culprits that determine the appearance of our skin are time (age) and the environment (namely the sun). These culprits have a profound effect on the ability of our bodies to produce collagen and elastin.
 
To conclude, the skin scrubber is easy to use and can be used with any facial treatment.
How to use?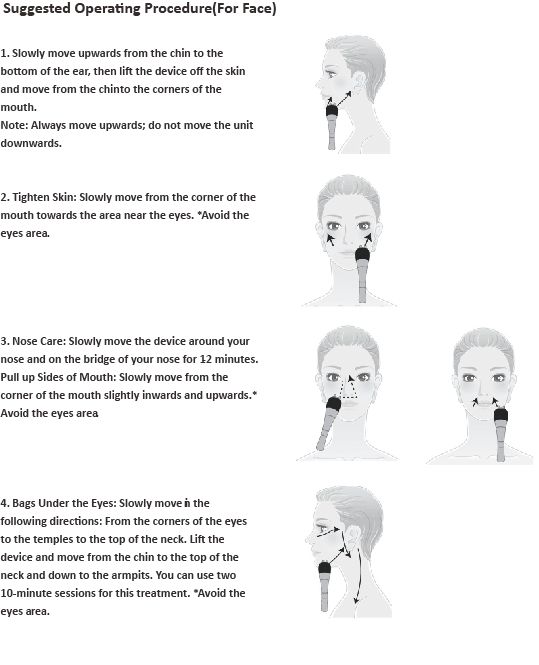 Links to Show How to Use Ultrasonic Scrubber:

http://www.youtube.com/watch?v=OJfr5H19S20

http://www.youtube.com/watch?v=C4WqOHEiLfU

http://www.youtube.com/watch?v=LvhnHpsT6XU
What's more?
How are ultrasound/ultrasonic massage applied in beauty technique? 
Ultrasound beauty exploits the same technology that doctors use in antenatal scans for pregnant women, pain-killing effects, and possible benefits to healing of fractures and scar tissue----but in its beauty application it penetrates a few millimeters beneath the skin to reach the adipose tissue where cellulite is trapped. 

Muscle and bone have been found to absorb more ultrasonic energy than other heterogeneous tissues because they better reflect the longitudinal waves of ultrasound, transforming them into transverse waves to create a warming massage effect. This happens most commonly in the areas between muscle and bone or between the muscle and tendon.

By applying ultrasonic waves to these areas, physical therapists can take advantage of this thermal effect to reduce inflammation and increase mobility in joints. Similarly in beauty, Ultrasound sets up invisible micro-vibration deep within in the cells, stimulating changes to the appearance of skin and underlying tissues, when used as an adjunct to best-practices routines for optimum health and beauty. 
The development of ultrasound 

Research on ultrasound began at the start of the First World War (1914), when the Allied forces used it to detect German submarines. Except for military purposes, it was only used for underwater research----until 1927, when the United States began to use ultrasound in bio-chemical research. In 1928, using ultrasound, the eastern Germans ran experiments to attempt curing loss of hearing and otosclerosis, and by 1939, ultrasonic therapy was born. Although ultrasonic development was interrupted by the Second World War, the UK, among other countries, actively refined ultrasonic therapy for rehabilitative purposes in postwar years.
Ultrasound Test
Place few drops of water on the metal area of the ultrasound infrared body massager, and press the ' Power ' switch to turn on. You will see the water is vibrated and becomes tiny.
Ultrasonic currents, vibrating by millions times per second, make a cleansing and heating effect. Such powerful ultrasonic currents, when infiltrated deeply into skin, gives a cleansing and massage effect to our skin.
Do you ship to my country?
Yes, we ship all over the world. Shipping costs will apply, and will be added at checkout. We run discounts and promotions all year, so stay tuned for exclusive deals.
How long will it take to get my order?
It depends on where you are. Orders processed here will take 5-7 business days to arrive. Overseas deliveries can take anywhere from 7-16 days. Delivery details will be provided in your confirmation email.
Free Worldwide Shipping on All Orders Over $100
Please be advised that due to the increase on the actual shipping costs, Free Shipping Discount to some parts of Middle East Asia, Eastern Europe, South America, Africa, and other remote islands is not supported. Free shipping for orders above USD100 to affected countries will not be applied. Thank you for your kind understanding.
Do you offer warranty for your items?
All the product comes with a full one year warranty against manufacturer defects. It does not include damage caused by misuse, accident, abuse, neglect or other external causes. Buyer pay for the postage on the return item and we pay for all resend postage costs. If the item defect within 30 days, we will also responsible for the return shipping fee.
Can I return my product?
We always aim for make sure our customers love our products, but if you do need to return an order, we're happy to help. Just email us directly and we'll take you through the process.