Portable Slim Lipo Laser Freezing Vacuum RF Red Led Light Roller Body Slimming Salon Machine
Item: Portable Slim Lipo Laser Freezing Vacuum RF Red Led Light Roller Body Slimming Salon Machine
Item ID: PE251
Color: White
Vacuum pressure: 0-100KPA
Roller speed: 70RPM
RF energy: 30W
RF frequency: 5M
Infrared light wavelength: 700nm
Single Diode Output: 160mW
Numbers of Laser Diodes: Total 68
Voltage: 110V/220V 60HZ/50HZ
Size: 73x48x52 cm
Weight: 40 kg
Treatment Area: Body

Package Including:
1. Main Machine x 1
2. Big Diode Laser Pads (with 8 laser diodes each) X 8
3. Small Diode Laser Pads (with 1 laser diodes each) X 4
4. Vacuum RF Probe x 1
5. User Manual x 1

Functions:
1. Fat burning, slimming 
2. Body shaping
3. Improve orange peel organization
4. Strengthen skin elasticity
5. Remove obstruction from channels and collaterals
6. Promote and accelerate the body's metabolism
7. Dissolve fat
8. Lymphatic drainage
9. Firm skin
10. Enhance skin elasticity

Features:
- Adopt the leading technology ultrasonic lipolysis in the world
- Easy to operate
- Digital frequency control system, energy output evenly, precisely and steadily
- Suitable for all kinds of skin
- No influence on daily life
- Non-invasive, painless procedures
- Long-lasting results
- Warranty

Introduction:
Lipo Laser
LLLT(Low Level Laser Therapy) has been used for many years. Since low-level laser emits low-level laser energy, lipo laser treatment is completely non-invasive, safe and has no negative side effect for fat loss. The laser energy penetrates into skin surface and stimulates the fat cell membranes, changing their permeability, the fat cells reduce their overall size and intracellular fat is released. Then, the fatty triglycerides flow out of the disrupted cell membranes and flows into the interstitial space, where they gradually pass through the body's natural metabolic functions with no harmful physiological effects. This process results in inches of fat loss among patients.

Lipo laser involves the application of a highly sensitive laser to dissolve the fat deposits situated in the upper layers of the human skin. The energy emanating from the laser breaks up the fat cells to produces an oily material. This substance is either naturally eliminated through normally bodily processes or can be removed via a small incision made by a practicing surgeon. This leads to a permanent loss of fat as long as a healthy diet is maintained after treatment.

The subtlety of the treatment carries various advantages over the problems often associated with it. Damaged blood vessels and allied physical risks are significantly reduced. Also, the recovery time is condensed. It is also acknowledged that the laser itself is important in encouraging collagen production, thus strengthening the skin.

Vacuum RF
Radio frequency (RF) is the latest beauty technology. RF skin-tightening treatment is an effective way to rejuvenate skin, reduce wrinkles and enhance skin elasticity. The RF heats the dermis, the deepest skin layer, without damaging the epidermis, the top layer of skin. It stimulates the structural change of the collagen fibers and elastic fibers to its original elasticity, reducing lines and wrinkles. An immediate skin-tightening effect will then be achieved without risk.
Also, radio frequency can promote tissue metabolism, repel cellulite, tighten the skin, strengthen the skin's elasticity, and so on. Its effect will last for a long time. Meanwhile, it can enhance muscle elasticity and improve cell metabolism. It creates effect like internal explosion, meaning that the expansion and compression of waves produce a lot of tiny spaces inside the liquid. The gas and vapours exist in these tiny spaces. In the compression cycle, supersonic waves impose a positive pressure on the liquid molecule, whereas a negative pressure is created through the expansion cycle. There is a cohesion effect inside the liquid or biological tissues. Inside the low-density lipocyte, the cohesive effects are comparatively weak. A negative pressure, which is relative low, can create tissue gaps easily. It is called cavitations in physics. The effects of the explosion inside and outside the cells will increase the molecular movements so as to achieve a high energy state, which then leads to the lipocyte cracking. 

Vacuum Bipolar RF Handle can help dissolve fat, lymphatic drainage, firm skin and enhance skin elasticity. The Vacuum Bipolar RF probe is used for reshaping, especially after fat loss. The probe works by promoting tissue metabolism and repelling cellulite. Since this unit's waves can get deep into the skin, it can rapidly burn the fatty acids and reduce the fat cell size.





It attracts and outspreads the fibrillary connective tissue of different cortexes. Through the rhythmic massage, it effectively breaks down subcutaneous fat and reduces cellular tissue accumulation of fat. It massages different parts of the body and brings up fat layer in dermis. It releases micro-vascular lymphatic vessels, at the same time, and promotes metabolism to break down fat acids. The detoxification is enhanced by the vacuum bipolar RF. At the same time, the skin becomes more elastic and lusterous. It is the "healthy body sculpture management" expert.

Parameters:
Power supply Input: 110V/220V 60Hz/50Hz
Power : 150W

Vacuum RF probe:
Power supply output: 66V
Frequency: 1MHz
Power: 90W

Diode Laser
Laser type diode wavelength: 635nm
Energy output: 68 x 160mw
Total diode laser output: 68 x 160mw =10880mw

How to use?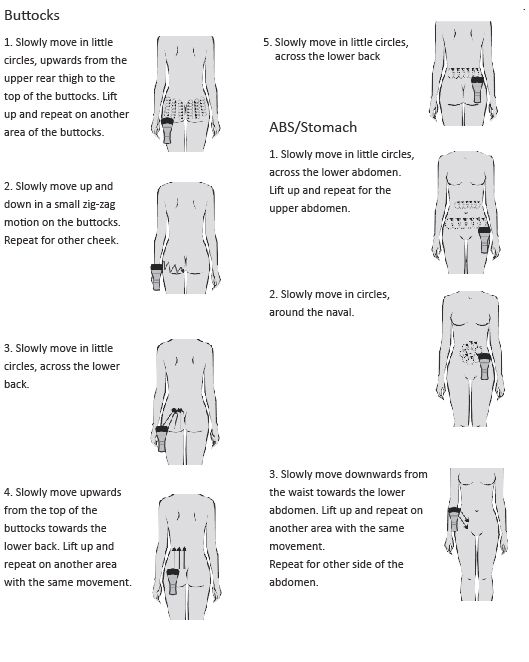 What's more?
The following people should not use radio frequency:
1. Pregnant women.
2. Diabetes patients
3. People who have taken photosensitization agents recently 
4. Patients with chronic hemolytic anemia
---
We Also Recommend
---