Project E Beauty
Blue LED Mesotherapy Mesoporation Needle Free Beauty Skin Facial Massager Device
SKU: Mei-1098s
Item: Blue LED Mesotherapy Mesoporation Needle Free Beauty Skin Facial Massager Device
Item Code: Mei-1098s
Color: Sliver
Size: 18x17x6 cm
Weight: 0.45 kg
Voltage: 110V-220V Worldwide
Power: 15W
Electric Current: 120mA
Included:
1. Main Unit X 1
2. 110v-220v Adaptor X 1
3. Full detailed English manual/instructions X 1
Functions:
1. Skin rejuvenation
2. Improves blemishes
3. Promotes skin metabolism
4. Improves elasticity
5. leading-in skin essence
6. Decreases fine wrinkles
7. Face shaping
8. Biological face-lift and cures double chin

Functions of different light color:

a. The blue light penetrating about 0.5mm has the function of calming against skin rashes; suitable for the skin which is sensitive, oily and with skin rashes. It can adjust skin sebum secretion, effectively get rid of acne and whelk to reach the aim of beautification. Besides, the blue light can astringe and tighten loosened skin. 
Features:
- Innovative technology, using the principles of electroporation and eletroosmosis
- High absorption rate, up to 99% that is over 2000 times than the traditional skin care products
- Non-invasive and painless treatment
- Treatment options
- Needle-free
- Natural light waves improving the look of skin
- Each color of light shows beneficial effects on particular skin conditions.
- Easy to operate
- Portable
- Warranty
Introduction:
The Photon Beauty Device, designed for facial beautification, uses natural light waves, which are transmitted by LEDs into the skin. The light activates photoreceptors in skin cells, producing energy for absorption by skin components, to beautify your complexion. 
Studies show that light enters the body as photons (energy) and is absorbed by the photoreceptors within cells. Massaging with the Photon Beauty balances skin tone and enhances circulation. Light is known for helping with some beauty problems, for instance, inhibiting the formation of melanin pigment, fighting acne and dermatitis, and improving the look of pockmarks, scars and wrinkles.

Needle-free mesotherapy uses the electrophoresis technique. Electrophoresis energy beauty was introduced in Europe by Italy Ashton company in 2000 and was awarded FDA license in 2005. Electrophoresis energy used for beauty is an innovative technology, through the principle of electroporation and electroosmosis theory, enters into the internal cell membrane with medical drugs and naturally active ingredients without needles by using ultra osmosis technology, effectively treating various skin symptoms.

Several results can be achieved by mesotherapy:
1. Freckle removal and skin whitening: Open cells channel woundless, absorb  nutrition, participate in cells metabolism, promote cells rebirth. 
2. Fantasy wrinkle removal: The electrode nutrition directly penetrates the deep-seated skin, start cells rebirth, remove wrinkles of deep skin layer.
3. Fat removal and weight reduction: The electrode nutrition is directly penetrated  the deep-seated skin, together with the fat removal distillate to stimulate fat movement and lymph drainage, sculpture the body.
4. Resist the acne: Through the electric nutrition conveyer belt, inject the acne removal distillate into the focus, clear or restrain the acne rebirth, avoid the wound infection.
5. Moisten and make up water: Inject the water feeding active distillate into the deep-seated skin, supply enough water to the cells, prevent the series of skin problems caused by short of water.

Mesotherapy is a highly effective rejuvenating treatment. The procedure can be used to tone and tighten sagging skin on the neck, legs, abdomen, arms and hands. In Europe, women often start treatments in their thirties, but Mesotherapy can prove valuable during any stage of a woman's life. 
How to use?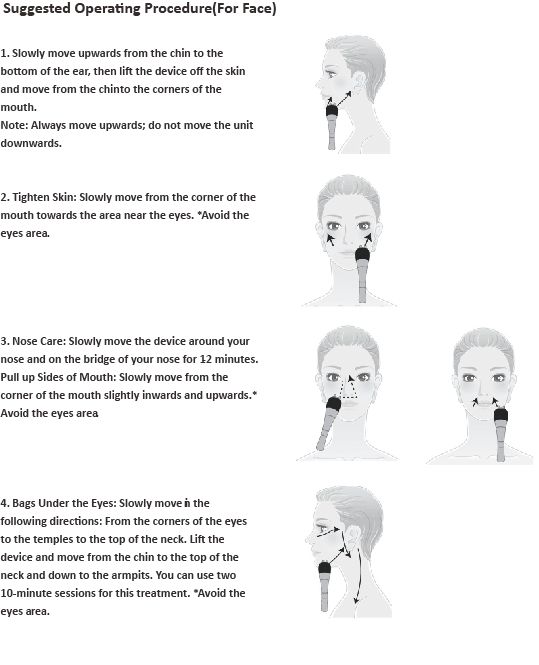 Yes, we ship items worldwide. For all items, system will calculate the shipping fee for your order during the check-out process(after in-put the shipping address).
All the product comes with a full one year warranty against manufacturer defects. It does not include damage caused by misuse, accident, abuse, neglect or other external causes. Buyer 
pay for the postage on the return item and we pay for all resend postage costs. If the item defect within 30 days, we will also responsible for the return shipping fee.