Blue Light Photon Cold Ice Hammer Massager Cell activating Dark Circles Firms Skin Rejuvenation Skin Care Beauty Device
Item: Blue Light Photon Cold Ice Hammer Massager Cell activating Dark Circles Firms Skin Rejuvenation Skin Care Beauty Device
Item ID: 066B
Color: White
Voltage: 110V-220V (Worldwide)
Size: 22x26x7 cm
Weight: 0.85 kg
Temperature: 5°C / 41°F
Included:
1. Main Unit X 1
2. 110v-220v Adaptor X 1
3. Full detailed English manual/instructions X 1
Functions:
COLD 5°C / 41°F
It detoxifies and shrinks pores; soothes and refreshes puffy eyes, swollen face, and large skin pores. The cold therapy approaches facial rejuvenation and shortens time and truly making a "quicker lift." 

1. Relieve tired eyes 
2. Relieves tension headache 
3. Relieves facial fatigue. 
4. Reduces muscle tension and spasm around the eyes, face and jaw. 

The blue light penetrating about 0.5mm has the function of calming against skin rashes; suitable for the skin which is sensitive, oily and with skin rashes. It can adjust skin sebum secretion, effectively get rid of acne and whelk to reach the aim of beautification. Besides, the blue light can astringe and tighten loosened skin. 
 Features:
- Virtually no side effects
- Non-invasive procedures
- No anesthetic required
- No influence to daily life
Introduction:
As we age, the top layers of our skin loses more moisture. Older skin renews itself every four to six weeks, unlike the three to four weeks for younger skin. This older skin has a dry and dehydrated condition, resulting in fine wrinkles and age spots. People who frequently suffer from sudden tenseness and muscle pain often find that heat compression soothes their discomfort. Meanwhile, physicians and physiotherapists tell us to use ice packs to reduce swelling and aid recovery. 

No one wants the troublesome burden of continuously alternating cold packs----think of the time you'd save if one device took care of both for you! We proudly introduce the cold/ warm therapy to alleviate what ails you; its applications of cold allow the skin's natural rejuvenation processes to be accelerated. Also, painful muscles are treated in a targeted way: either with a concentrated individual application as needed or by combining the various forms of therapy.

It comfortably treats pressure points and hard-to-reach areas for the ultimate in relaxation with its whisper-quiet operation.
The cold treatment function is specially designed for calming the skin after peeling. The skin is sensitive after peeling treatment, so the cold treatment procedure is necessary. The hot treatment function is designed for opening pores before cleaning the skin and accelerating the absorption of nutrition. Cold hammer treats edema, relieves the pain in the part of body, shrinks pores, calms inflammation, and abates hypersusceptibility. The warm hammer accelerates blood circulation and enhances metabolism. It can also smooth wrinkles and make the skin fresh, since cool and hot massage treatments are proceeded alternatively.

The Photon Beauty Device, designed for facial beautification, uses natural light waves, which are transmitted by LEDs into the skin. The light activates photoreceptors in skin cells, producing energy for absorption by skin components, to beautify your complexion. 
Studies show that light enters the body as photons (energy) and is absorbed by the photoreceptors within cells. Massaging with the Photon Beauty balances skin tone and enhances circulation. Light is known for helping with some beauty problems, for instance, inhibiting the formation of melanin pigment, fighting acne and dermatitis, and improving the look of pockmarks, scars and wrinkles.
How to use?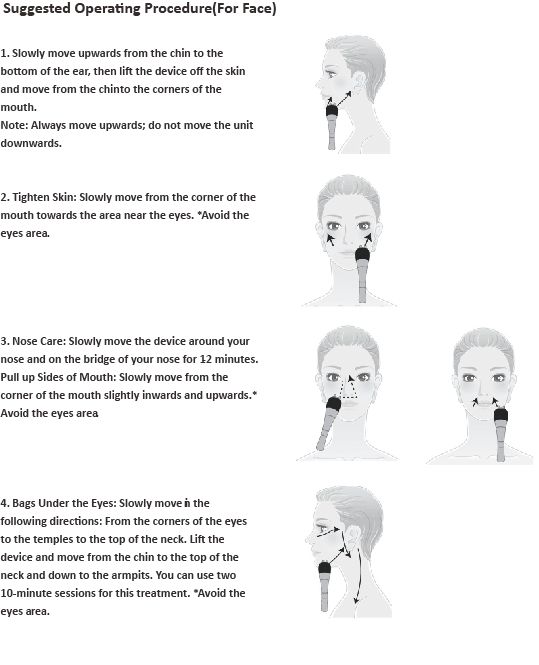 ---
We Also Recommend
---