5in1 Cooling Vacuum Fat Dissolve Removal 40khz Cavitation RF Lipolaser Slim Machine
Item: 5in1 Cooling Vacuum Fat Dissolve Removal 40khz Cavitation RF Lipolaser Slim Machine
Item ID: PE257
Color: White
Voltage: 110V/220V, 60Hz/50Hz
Single Diode Output: 160mW
Numbers of Laser Diodes: Total 68
Treatment Area: Body
Size: 42 X 54 X 74 cm
Weight: 36 kg
Package Including:
1. Main Machine x 1
2. Cool Vacuum Probe x 1
3. 40KHz Cavitation Probe x 1
4. Six polar RF head for body with 100mw diode laser x 1
5. Large Laser Pad (with 8 laser diodes each) X 8
6. Small Laser Pad (with 1 laser diodes each) X 4
7. Power cord x 1
8. Holder x 2
9. Key Switch x 1
10. Full detailed English manual/instructions X 1
Function:
- Dissolve fat
- Lymphatic drainage
- Firm skin
- Enhance skin elasticity
- Promote tissue metabolism
- Repel the cellulite
- Tighten the facial skin
- Strengthen the facial skin elasticity
- Fat dissolving
- Body sculpturing,
- Lift, tone and brighten the face
- Tighten the skin on the underarms and legs
- Skin lifting
- Skin rejuvenation 
- Wrinkles and fine lines removing
- Skin muscles firming
- Minimize Pores
- Balance skin tone
- Inhibit the formation of melanin pigment
- Accelerate blood circulation
- Fat burning
- Weigh loss
Features:
- 8" TFT color touch screen on main machine + 3.5" TFT color touch screen on handle
- Freezing Cold Therapy
- Non-surgical
- Non-invasive
- Easy to operate
- Body sculpturing, body shaping, cellulite treatment
- Lymph drainage, accelerate blood circulation and promote metabolism
- Reduce fine lines and wrinkles
- Lift, tone and brighten the face
- Tighten the skin on the underarms and legs
- Fat dissolving
- Body shaping
- Warranty
Introduction:
Cavitation
Ultrasound cavitation is a relatively new aesthetic treatment. Cavitation is an invasive body-sculpting treatment with no anesthesia, scars, discomfort and down-time. It presents a risk-free alternative to liposuction. The result is instant loss of fat cells. Generally one fat cavitation treatment lasts 35-40 minutes where a single part of the body is treated. 72 hours must pass between each session so that the body can eliminate the fat. The minimum suggested number of fat cavitation sessions is between 6 and 10.
The physical vibrations (up to 1 million per second) will make each body part vibrates that provides unique cell massage, enhancing the cellular metallic function, increasing the vitality of cells, promoting the blood circulation, improving the nutrition of skin tissue and keeping the skin rosy and elastic.
Strong sound wave explodes fat heads with collective strong sound wave head, strong sound wave of 40000Hz may be emitted to the human body for impacting fat cells fiercely and causing friction between fat cells. This may cause effective consumption of calories and moisture in fat cells and reduce the size of fat cells. What's more, sound wave vibration may cause a fierce impact of fat cells to make them explode instantaneously. The liquid is then easily vacuumed out from the body using the lymphatic and urinary system. The amount of fat cells can be reduced and thereby achieve the effects of removing fat.

Radio Frequency
Radio frequency (RF) is the latest beauty technology. RF skin-tightening treatment is an effective way to rejuvenate skin, reduce wrinkles and enhance skin elasticity. The RF heats the dermis, the deepest skin layer, without damaging the epidermis, the top layer of skin. It stimulates the structural change of the collagen fibers and elastic fibers to its original elasticity, reducing lines and wrinkles. An immediate skin-tightening effect will then be achieved without risk.
Also, radio frequency can promote tissue metabolism, repel cellulite, tighten the skin, strengthen the skin's elasticity, and so on. Its effect will last for a long time. Meanwhile, it can enhance muscle elasticity and improve cell metabolism. It creates effect like internal explosion, meaning that the expansion and compression of waves produce a lot of tiny spaces inside the liquid. The gas and vapours exist in these tiny spaces. In the compression cycle, supersonic waves impose a positive pressure on the liquid molecule, whereas a negative pressure is created through the expansion cycle. There is a cohesion effect inside the liquid or biological tissues. Inside the low-density lipocyte, the cohesive effects are comparatively weak. A negative pressure, which is relative low, can create tissue gaps easily. It is called cavitations in physics. The effects of the explosion inside and outside the cells will increase the molecular movements so as to achieve a high energy state, which then leads to the lipocyte cracking. 

Six Polar RF
The Six polar RF Body probe utilizes RF Energy, which focuses on the skin and fat layers of the body. This focused delivery results in improved treatment efficiency that provides immediately visible results from the first treatment. The energy of six polar RF penetrates the skin and impacts the collagen-rich dermal tissue directly, which makes water molecules in the skin vibrate, thus creating new collagen. As a result, the skin looks tighter and wrinkles are reduced.

Lipo Laser
LLLT(Low Level Laser Therapy) has been used for many years. Since low-level laser emits low-level laser energy, lipo laser treatment is completely non-invasive, safe and has no negative side effect for fat loss. The laser energy penetrates into skin surface and stimulates the fat cell membranes, changing their permeability, the fat cells reduce their overall size and intracellular fat is released. Then, the fatty triglycerides flow out of the disrupted cell membranes and flows into the interstitial space, where they gradually pass through the body's natural metabolic functions with no harmful physiological effects. This process results in inches of fat loss among patients.
Lipo laser involves the application of a highly sensitive laser to dissolve the fat deposits situated in the upper layers of the human skin. The energy emanating from the laser breaks up the fat cells to produces an oily material. This substance is either naturally eliminated through normally bodily processes or can be removed via a small incision made by a practicing surgeon. This leads to a permanent loss of fat as long as a healthy diet is maintained after treatment.
The subtlety of the treatment carries various advantages over the problems often associated with it. Damaged blood vessels and allied physical risks are significantly reduced. Also, the recovery time is condensed. It is also acknowledged that the laser itself is important in encouraging collagen production, thus strengthening the skin.

Cryolipolysis
Too much fat can influence a person's appearance and movement ability. It may also lead to various diseases. Fatty tissue may be located in various parts of the body, including legs, buttocks, abdomen, knee, back, arms and other areas. An excess of adipose tissue in cells may cause unsightly appearance. Excess body fat is also associated with significant health risks. That's why we need effective methods to control or eliminate excess body fat.
Cryolipolysis is a medical treatment used to destroy fat cells. Its principle relies on controlled cooling to near 4 degrees Celsius for the non-invasive localized reduction of fat deposits in order to reshape body contours. The exposure to cooling is set so that it causes cell death of subcutaneous fat tissue without apparent damage to the overlying skin. The procedure is a nonsurgical alternative to liposuction. Cryolipolysis is a portmanteau of "cryogenic" and "lipolysis." Generically, the process can also be known as fat freezing. 

Liposuction is a removal of excess fat deposition in a cosmetic operation process, which can be a method to remove excess fat. 
The cooling process using a frozen fat dissolving operation is fundamentally different from other minimally invasive methods and was approved as the most effective way to reduce fat.
This is a revolutionary new method. Since being put into use, the fat reduction has been recognized as an important technical progress. For those dieting and exercising regularly but still needing to eliminate local fat , frozen fat dissolving skill is definitely a great gift. The fat concentrates on positions like back fat, buttock top, waist and abdominal, and the frozen fat dissolving operation can produce amazing results. Especially at a low temperature, the triglyceride will be transformed into solid. It uses advanced cooling technology through a gradual process of selective targeting of fat bulges to remove fat cells. This process will not harm the surrounding tissue but reduces the redundant fat. As the fat cells receive a blast of cooling, it will gradually reduce the thickness of the layer of fat, forming a natural elimination process. Excess fat will be removed.
Parameters
Cavitation frequency : 40kHz
Cavitation Power: up to 60W
Cavitation tip: 60mm diameter

RF for body
RF frequency: 3MHz
RF power: up to 150W
RF type: six polar with 100mw diode laser
RF tip: 65mm diameter

Cryolipolysis
Power: Up to 200W
Cooling device output temperature: 5~ -5°C
Cooling device output pressure: 0-5Kpa
Cooling liquid: pure water

Diode Laser
Laser type diode wavelength: 635nm
Energy output: 68 x 160mw
Total diode laser output: 68 x 160mw =10880mw
How to use?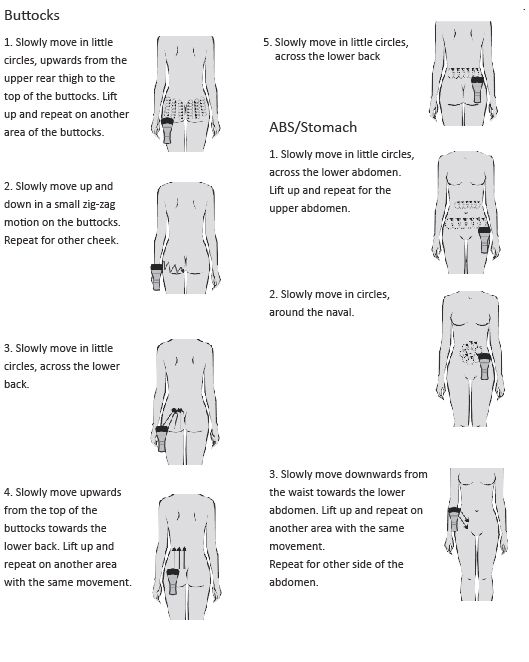 What's more?
Why do we use Radio Frequency and Laser Lipolysis at the same time?
It because it uses 3Mhz RF Body with 100mw diode laser. Also, it is the Efficacy of Combined Skin Tightening and Fat Reduction.
Combining laser lipolysis and radiofrequency is a logical approach to achieve skin tightening and fat reduction without . We explore the practicality and value of combining laser lipolysis and Tripolar radiofrequency to achieve skin tightening and localized fat reduction in the submental, neck, and jowl areas. Morbidity, patient acceptance, and patient satisfaction were assessed.

Caution for using RF 
1. Beautician should wear insulated gloves during operation. 
1. Beauticians should wear insulated gloves during operation. 
2. Do not wear any aglet, either the beautician or the users. 
3. The electrode probe must be in full contact with skin. 
4. Do not hold the RF electrode at the same position. Slowing move it on the skin. 
5. Since skin around eyes and forehead is very thin, the RF output intensity should be relatively weakened. 
6. Do not contact skin with unipolar when using bipolar or tripolar.

The following people should not use radio frequency:
1. Pregnant women.
2. Diabetes patients
3. People who have taken photosensitization agents recently 
4. Patients with chronic hemolytic anemia
---
We Also Recommend
---