40k Cavitation Cold Therapy Multipolar Tripolar Radio Frequency RF Slimming Beauty Machine
Item: 40k Cavitation Cold Therapy Multipolar Tripolar Radio Frequency RF Slimming Beauty Machine
Item ID: PE406
Color: White and Orange
Voltage: 110V/ 220V, 60Hz/ 50Hz
Laser Length: 635nm-650nm
Power: 100MW
Weight: 43kg
Package Size: 110 x 50 x 56 CM

Package Including:
1. Main Unit X 1
2. Vacuum & Multipolar RF Head X 1
3. Ten Polar RF Probe for Body X 1
4. Eight Polar RF with Lipo Laser Probe for Body X 1
5. 40K Cavitation Probe for Body X 1
6. Cold Therapy Probe X 1
7. Bipolar RF Probe X 1
8. Tripolar RF Probe X 1
9. Full detailed English manual/instructions X 1

Function:
1. Body sculpturing, body shaping, cellulite treatment
2. Lymph drainage, accelerate blood circulation and promote metabolism
3. Reduce fine lines and wrinkles
4. Lift, tone and brighten the face
5.Tighten the skin on the underarms and legs
6. Strengthens skin elasticity
7. Dissolves fat 

COLD 5°C / 41°F
It detoxifies and shrinks pores; soothes and refreshes puffy eyes, swollen face, and large skin pores. The cold therapy approaches facial rejuvenation and shortens time and truly making a "quicker lift." 

1. Relieve tired eyes 
2. Relieves tension headache 
3. Relieves facial fatigue. 
4. Reduces muscle tension and spasm around the eyes, face and jaw. 

Features:
1. Adopt the top ultrasonic liposuction technique in the world.
2. Suitable for all kinds of skin.
3. Comfortable, painless, woundless during the treatment.
4. Easy to operate.
5. Obvious results with the lowest cost.
6. Non-anesthetic.
7. Non-invasive.
8. No negative side effects and rebounding phenomenon.
9. Woundless, will not influence the normal working and living.
10. Warranty

Introduction:
Cavitation
Ultrasound cavitation is a relatively new aesthetic treatment. Cavitation is an invasive body-sculpting treatment with no anesthesia, scars, discomfort and down-time. It presents a risk-free alternative to liposuction. The result is instant loss of fat cells. Generally one fat cavitation treatment lasts 35-40 minutes where a single part of the body is treated. 72 hours must pass between each session so that the body can eliminate the fat. The minimum suggested number of fat cavitation sessions is between 6 and 10.

The physical vibrations (up to 1 million per second) will make each body part vibrates that provides unique cell massage, enhancing the cellular metallic function, increasing the vitality of cells, promoting the blood circulation, improving the nutrition of skin tissue and keeping the skin rosy and elastic.

Strong sound wave explodes fat heads with collective strong sound wave head, strong sound wave of 40000Hz may be emitted to the human body for impacting fat cells fiercely and causing friction between fat cells. This may cause effective consumption of calories and moisture in fat cells and reduce the size of fat cells. What's more, sound wave vibration may cause a fierce impact of fat cells to make them explode instantaneously. The liquid is then easily vacuumed out from the body using the lymphatic and urinary system. The amount of fat cells can be reduced and thereby achieve the effects of removing fat.

Radio Frequency
Radio frequency (RF) is the latest beauty technology. RF skin-tightening treatment is an effective way to rejuvenate skin, reduce wrinkles and enhance skin elasticity. The RF heats the dermis, the deepest skin layer, without damaging the epidermis, the top layer of skin. It stimulates the structural change of the collagen fibers and elastic fibers to its original elasticity, reducing lines and wrinkles. An immediate skin-tightening effect will then be achieved without risk.

Also, radio frequency can promote tissue metabolism, repel cellulite, tighten the skin, strengthen the skin's elasticity, and so on. Its effect will last for a long time. Meanwhile, it can enhance muscle elasticity and improve cell metabolism. It creates effect like internal explosion, meaning that the expansion and compression of waves produce a lot of tiny spaces inside the liquid. The gas and vapours exist in these tiny spaces. In the compression cycle, supersonic waves impose a positive pressure on the liquid molecule, whereas a negative pressure is created through the expansion cycle. There is a cohesion effect inside the liquid or biological tissues. Inside the low-density lipocyte, the cohesive effects are comparatively weak. A negative pressure, which is relative low, can create tissue gaps easily. It is called cavitations in physics. The effects of the explosion inside and outside the cells will increase the molecular movements so as to achieve a high energy state, which then leads to the lipocyte cracking. 

The Bipolar and tripolar probe utilizes RF Energy which focuses on the facial skin and fat layers of face. This focused delivery results in improved treatment efficacy that provides immediately visible results from the first treatment. The energy of bipolar and tripolar RF penetrate the skin and impacts the collagen-rich dermal tissue directly, which makes water molecules in the skin vibrate thus creating new collagen. As a result, the skin looks tighter and wrinkles will be reduced.

The Ten polar RF Body probe utilizes RF Energy, which focuses on the skin and fat layers of the body. This focused delivery results in improved treatment efficiency that provides immediately visible results from the first treatment. The energy of ten polar RF penetrates the skin and impacts the collagen-rich dermal tissue directly, which makes water molecules in the skin vibrate, thus creating new collagen. As a result, the skin looks tighter and wrinkles are reduced.
Ten Polar Radio Frequency is the new, revolutionary skin rejuvenation system requiring no surgery. You will see instant results, without any pain or recovery downtime. Ageing is inevitable, but with, new scientific breakthroughs, has made delaying the process and even turning back the clock a reality.

Vacuum multipolar RF Handle can help dissolve fat, lymphatic drainage, firm skin and enhance skin elasticity. The Vacuum multipolar RF probe is used for reshaping, especially after fat loss. The probe works by promoting tissue metabolism and repelling cellulite. Since this units waves can get deep into the skin, it can rapidly burn the fatty acids and reduce the fat cell size.




It attracts and outspreads the fibrillary connective tissue of different cortexes. Through the rhythmic massage, it effectively breaks down subcutaneous fat and reduces cellular tissue accumulation of fat. It massages different parts of the body and brings up fat layer in dermis. It releases micro-vascular lymphatic vessels, at the same time, and promotes metabolism to break down fat acids. The detoxification is enhanced by the vacuum multipolar RF. At the same time, the skin becomes more elastic and lusterous. It is the "healthy body sculpture management" expert.

Red LED photon
The Photon Beauty Device, designed for facial beautification, uses natural light waves, which are transmitted by LEDs into the skin. The light activates photoreceptors in skin cells, producing energy for absorption by skin components, to beautify your complexion. 
Studies show that light enters the body as photons (energy) and is absorbed by the photoreceptors within cells. Massaging with the Photon Beauty balances skin tone and enhances circulation. Light is known for helping with some beauty problems, for instance, inhibiting the formation of melanin pigment, fighting acne and dermatitis, and improving the look of pockmarks, scars and wrinkles.

Red(650 nm)--- One of the most powerful colors to increase blood circulation. Stimulate skin cells to excrete collagen to achieve firm and smooth texture.
The red light penetrating 8-10mm is suitable for any type of skin; it can reach derma to stimulate fibre cells. Heating can improve blood circulation and collagen albumen hyperplasia to reduce wrinkles and make skin more elastic and smooth. The mild wave length is suitable for surrounding eyes and forehead. 

Lipo Laser
LLLT(Low Level Laser Therapy) has been used for many years. Since low-level laser emits low-level laser energy, lipo laser treatment is completely non-invasive, safe and has no negative side effect for fat loss. The laser energy penetrates into skin surface and stimulates the fat cell membranes, changing their permeability, the fat cells reduce their overall size and intracellular fat is released. Then, the fatty triglycerides flow out of the disrupted cell membranes and flows into the interstitial space, where they gradually pass through the body's natural metabolic functions with no harmful physiological effects. This process results in inches of fat loss among patients.

Lipo laser involves the application of a highly sensitive laser to dissolve the fat deposits situated in the upper layers of the human skin. The energy emanating from the laser breaks up the fat cells to produces an oily material. This substance is either naturally eliminated through normally bodily processes or can be removed via a small incision made by a practicing surgeon. This leads to a permanent loss of fat as long as a healthy diet is maintained after treatment.
The subtlety of the treatment carries various advantages over the problems often associated with it. Damaged blood vessels and allied physical risks are significantly reduced. Also, the recovery time is condensed. It is also acknowledged that the laser itself is important in encouraging collagen production, thus strengthening the skin.

Cold Therapy
As we age, the top layers of our skin loses more moisture. Older skin renews itself every four to six weeks, unlike the three to four weeks for younger skin. This older skin has a dry and dehydrated condition, resulting in fine wrinkles and age spots. People who frequently suffer from sudden tenseness and muscle pain often find that heat compression soothes their discomfort. Meanwhile, physicians and physiotherapists tell us to use ice packs to reduce swelling and aid recovery. 
No one wants the troublesome burden of continuously alternating cold packs----think of the time you'd save if one device took care of both for you! We proudly introduce the cold/ warm therapy to alleviate what ails you; its applications of cold allow the skin's natural rejuvenation processes to be accelerated. Also, painful muscles are treated in a targeted way: either with a concentrated individual application as needed or by combining the various forms of therapy.

Parameters:
40K cavitation head:
Power supply output:150V
Frequency:40KHz
Power:40W

Bipolar RF head For Eye:
Power supply output:66V
Freqeuncy:1MHz
Power:35W

Tripolar RF head For Face:
Power supply output:66V
Freqeuncy:3MHz
Power:35W

Ten polar RF head:
Power supply output:66V
Freqeuncy:5MHz
Power:55W

Vacuum + Multipolar RF head:
Power supply output:66V
Freqeuncy:1MHz
Power:95W

Eight Polar RF head with Lipo Laser:
Power supply output:66V
Freqeuncy:5MHz
Power:35W
Laser Length:635nm-650nm
Power:100MW

Cryo Cooling head:
Power supply output:66V
Tempreture:5 ℃ - 0 ℃
Power:35W

How to use?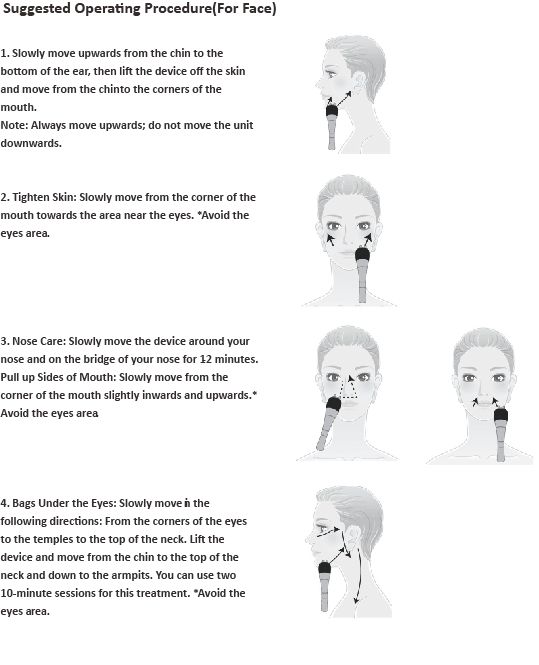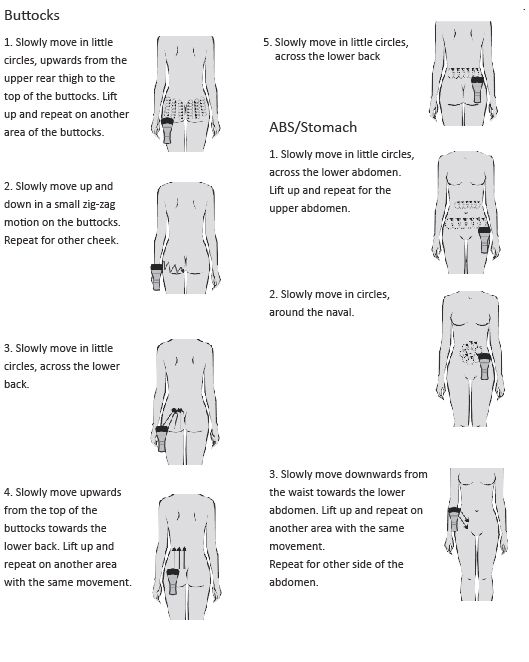 What's more?
The following people should not use radio frequency:
1. Pregnant women.
2. Diabetes patients
3. People who have taken photosensitization agents recently 
4. Patients with chronic hemolytic anemia

Caution for using RF 
1. Beautician should wear insulated gloves during operation. 
1. Beauticians should wear insulated gloves during operation. 
2. Do not wear any aglet, either the beautician or the users. 
3. The electrode probe must be in full contact with skin. 
4. Do not hold the RF electrode at the same position. Slowing move it on the skin. 
5. Since skin around eyes and forehead is very thin, the RF output intensity should be relatively weakened. 
6. Do not contact skin with unipolar when using bipolar or tripolar.
---
We Also Recommend
---