Project E Beauty
7in1 Diamond Microdermabrasion Dermabrasion Photon Rejuvenation BIO Vacuum Bipolar RF Skin Firming Weight Loss Machine
SKU: PE238
Item: 7in1 Diamond Microdermabrasion Dermabrasion Photon Rejuvenation BIO Vacuum Bipolar RF Skin Firming Weight Loss Machine
Item ID: PE238
Color: White
Power: 145W
Voltage: 220V ONLY
Weight: 12.6 Kg
Package Size: 50x43x46 cm
Treatment Area: Body , Face
Included:
1. Main unit X 1
2. Plastic holder X 1
3. Diamond tips and wands set X 1 (9 tips,3 wands)
4. Cotton filter package X 2 (1 big,1 small)
5. Cold warm Hammer X 1
6. 40K Cavitation Head X 1
7. Vacuum Bipolar RF head X 1
8. Ultrasonic units X 2 ( tipped head for eyes, medium head for face)
9. Photon Unit X 1
10. Bio handle X 1
11. PVC vacuum hose 6*4 X 1
Functions:
- Reduction of age spots
- Minimization of blotchy skin coloring
- Reduction of acne and superficial scars from past injury
- Extraction of blackheads and whiteheads
- Reduction of oily skin
- Reduce fine lines and wrinkles
- Body sculpturing, body shaping, cellulite treatment
- Skin rejuvenation
- Lymph drainage, accelerate blood circulation and promote metabolism
- Lift, tone and brighten the face
- Tighten the skin on the underarms and legs
- Clear, lighten, smooth the skin 
- Minimize Pores
- Inhibit the formation of melanin pigment
- Fight acne

3 Color photon therapy details:
Red(650 nm)--- One of the most powerful colors to increase blood circulation. Stimulate skin cells to excrete collagen to achieve firm and smooth texture.
Green(527 nm)---Anti-aging, smooth wrinkle and fine lines, cure wounds
Blue(463 nm)---Excellent effect of curing acne, kill bacteria, improve sensitive skin

Functions of different light color:

a. The blue light penetrating about 0.5mm has the function of calming against skin rashes; suitable for the skin which is sensitive, oily and with skin rashes. It can adjust skin sebum secretion, effectively get rid of acne and whelk to reach the aim of beautification. Besides, the blue light can astringe and tighten loosened skin. 

b. The red light penetrating 8-10mm is suitable for any type of skin; it can reach derma to stimulate fibre cells. Heating can improve blood circulation and collagen albumen hyperplasia to reduce wrinkles and make skin more elastic and smooth. The mild wave length is suitable for surrounding eyes and forehead. 

c. The green light between red light and blue light is suitable for mixed skin. It can improve the function of alternating use of cells and oxygen and activate the microcirculation function of body surface. Meanwhile, calming the skin can make both body and skin relax, and reduce the pain of skin.

COLD 5°C / 41°F
It detoxifies and shrinks pores; soothes and refreshes puffy eyes, swollen face, and large skin pores. The cold therapy approaches facial rejuvenation and shortens time and truly making a "quicker lift." 

1. Relieve tired eyes 
2. Relieves tension headache 
3. Relieves facial fatigue. 
4. Reduces muscle tension and spasm around the eyes, face and jaw. 

WARM 40°C / 104°F
It opens pores, helps deep cleansing, increases circulation, stimulates skin metabolism, facial massaging and firming skin.
For deep clean purpose, please use it before applying facial cleanser.
Features:
1. Adopt the top ultrasonic liposuction technique in the world.
2. Suitable for all kinds of skin.
3. Comfortable, painless, woundless during the treatment.
4. Easy to operate.
5. Obvious results with the lowest cost.
6. Non-anesthetic.
7. Non-invasive.
8. No negative side effects and rebounding phenomenon.
9. Woundless, will not influence the normal working and living.
10. Natural light waves improving the look of skin
11. Each color of light shows beneficial effects on particular skin conditions.
12. Warranty
Introduction:
Microdermabrasion
Microdermabrasion, also referred to as mechanical exfoliation or micro resurfacing, is a method for facial rejuvenation that uses a mechanical medium for exfoliation along with adjustable suction to sweep away the outermost layer of dead skin cells from the epidermis. It is a non-invasive procedure. The exfoliation and suctioning disrupts the skin's surface, causing cell division. As the skin cells divide fibroblast activity is stimulated leading to collagen production, which leads to thicker, firmer skin. Human skin sloughs off at a slower rate with age, so the exfoliation of several layers of the stratum corneum (surface skin layers) leaves skin fresh and radiant. 
Diamond Dermabrasion is a creative improvement of the Micro-crystal Dermabrasion. The Diamond Dermabrasion provides non-surgical skin refinishing, by using sterile diamond heads to abrade or rub off the top skin layer, then vacuum out the particles along with any dirt and dead skin. This procedure removes skin debris, imperfections, blemishes, wrinkles and unwanted pigmentation on the skin. Moderate usage of Diamond Dermabrasion, accompany with skin products that penetrate through top skin layer that reach the dermis level, helps replenish natural nutrients, restore cell activity, and promote skin health. Healthy and glowing skin usually results after Diamond Dermabrasion treatment.

Cavitation
Ultrasound cavitation is a relatively new aesthetic treatment. Cavitation is an invasive body-sculpting treatment with no anesthesia, scars, discomfort and down-time. It presents a risk-free alternative to liposuction. The result is instant loss of fat cells. Generally one fat cavitation treatment lasts 35-40 minutes where a single part of the body is treated. 72 hours must pass between each session so that the body can eliminate the fat. The minimum suggested number of fat cavitation sessions is between 6 and 10.
The physical vibrations (up to 1 million per second) will make each body part vibrates that provides unique cell massage, enhancing the cellular metallic function, increasing the vitality of cells, promoting the blood circulation, improving the nutrition of skin tissue and keeping the skin rosy and elastic.
Strong sound wave explodes fat heads with collective strong sound wave head, strong sound wave of 40000Hz may be emitted to the human body for impacting fat cells fiercely and causing friction between fat cells. This may cause effective consumption of calories and moisture in fat cells and reduce the size of fat cells. What's more, sound wave vibration may cause a fierce impact of fat cells to make them explode instantaneously. The liquid is then easily vacuumed out from the body using the lymphatic and urinary system. The amount of fat cells can be reduced and thereby achieve the effects of removing fat.

Photon Therapy
The Photon Beauty Device, designed for facial beautification, uses natural light waves, which are transmitted by LEDs into the skin. The light activates photoreceptors in skin cells, producing energy for absorption by skin components, to beautify your complexion. 
Studies show that light enters the body as photons (energy) and is absorbed by the photoreceptors within cells. Massaging with the Photon Beauty balances skin tone and enhances circulation. Light is known for helping with some beauty problems, for instance, inhibiting the formation of melanin pigment, fighting acne and dermatitis, and improving the look of pockmarks, scars and wrinkles.

Vacuum Bipolar RF
Vacuum Bipolar RF Handle can help dissolve fat, lymphatic drainage, firm skin and enhance skin elasticity. The Vacuum Bipolar RF probe is used for reshaping, especially after fat loss. The probe works by promoting tissue metabolism and repelling cellulite. Since this unit's waves can get deep into the skin, it can rapidly burn the fatty acids and reduce the fat cell size.
It attracts and outspreads the fibrillary connective tissue of different cortexes. Through the rhythmic massage, it effectively breaks down subcutaneous fat and reduces cellular tissue accumulation of fat. It massages different parts of the body and brings up fat layer in dermis. It releases micro-vascular lymphatic vessels, at the same time, and promotes metabolism to break down fat acids. The detoxification is enhanced by the vacuum bipolar RF. At the same time, the skin becomes more elastic and lusterous. It is the "healthy body sculpture management" expert.

Cold Warm Therapy

As we age, the top layers of our skin loses more moisture. Older skin renews itself every four to six weeks, unlike the three to four weeks for younger skin. This older skin has a dry and dehydrated condition, resulting in fine wrinkles and age spots. People who frequently suffer from sudden tenseness and muscle pain often find that heat compression soothes their discomfort. Meanwhile, physicians and physiotherapists tell us to use ice packs to reduce swelling and aid recovery. 
No one wants the troublesome burden of continuously alternating cold packs----think of the time you'd save if one device took care of both for you! We proudly introduce the cold/ warm therapy to alleviate what ails you; its applications of cold allow the skin's natural rejuvenation processes to be accelerated. Also, painful muscles are treated in a targeted way: either with a concentrated individual application as needed or by combining the various forms of therapy.
It comfortably treats pressure points and hard-to-reach areas for the ultimate in relaxation with its whisper-quiet operation.
The cold treatment function is specially designed for calming the skin after peeling. The skin is sensitive after peeling treatment, so the cold treatment procedure is necessary. The hot treatment function is designed for opening pores before cleaning the skin and accelerating the absorption of nutrition. Cold hammer treats edema, relieves the pain in the part of body, shrinks pores, calms inflammation, and abates hypersusceptibility. The warm hammer accelerates blood circulation and enhances metabolism. It can also smooth wrinkles and make the skin fresh, since cool and hot massage treatments are proceeded alternatively.

Ultrasound
Ultrasound was developed in medicine, but more recently applied in beauty. With its triple-impact effectiveness, it brings surprising innovation to beauty care. It's an exciting yet simple and powerfully effective tool to rejuvenate your skin. Ultrasound uses the cutting-edge technology of very high-speed, low-frequency sound waves that radiate invisible micro vibrations deep within cells, helping stimulate the skin's natural repair mechanisms in distinct ways. Ultrasonic utilizes sonic vibrations; it works one million times per second. Ultrasound provides non-surgical lifting. The ultrasonic wave could stimulate skin tissue and improve permeability of the membrane to promote collagen tissue, reduce wrinkles, erase fine lines, lift the skin and result for a younger, healthier look. Ultrasonic generates frictional heat, which accelerates blood circulation, muscle relaxation, and decomposes the cellulite to break down excess fat. Ultrasound treatments are non-invasive, safe and suitable for all types of skin. Everyone can enjoy the benefits of this new and advance beauty technology.
In only 10-15 minutes daily, you'll experience dynamic changes in the look of your face: your skin will appear more youthful, smooth and healthy with the technology of ultrasonic. Ultrasonic massage reaches deeply into the skin. Ultrasound Beauty Massagers produce micro-vibrations, which are often used to help stimulate the body's recovery from illness and injury. Although invisible to the eye and undetectable by our skin, micro-vibrations can also reach fats that have built up in areas such as the lower abdomen, hips, thighs, calves or double chin in order to achieve slimming.

BIO
BIO Microcurrent is known to be the most effective non-surgical method to take years off the face. It is a low level of electricity that mirrors the body's own natural electrical currents, triggering chemical reactions at a cellular level to enhance the production of natural collagen and elastin, providing circulatory benefits and reshaping the muscles of the face. The result of micro-current treatments are immediate firming, smoothing, and re-hydration of the skin while the fine lines and wrinkles are reduced. BIO Microcurrent lifts, sculpts, and tightens skin. Also, it provides immediate results and has no downtime.
B
IO Microcurrent techniques have been proven successful in treating a variety of medical conditions including Bell's Palsy. Bell's Palsy is facial paralysis and usually effects one side of the face only. The cause is unknown, but inflammation of one of the facial nerves results in muscle paralysis to one side of the face. This usually recovers over a period of months, but on occasion can be permanent.
But first, we need to understand what causes our facial skin to wrinkle and sag. As we age, our muscles become accustomed to certain expressions and tend to get stuck in these positions. A great example of this is the furrow between the eyebrows that many people get. At the same time, other muscles in our face are hardly ever used, and they begin to atrophy, which leads to sagging. An example of this can often be seen around our jaw lines, chins and necks, where we tend to develop sagging or loss of definition as we get older. As years pass, our skin cells become less active, which leads to a breakdown of collagen and elastin. By the age of 45, the upper cheek muscles may elongate by as much as half an inch, dragging the skin over the cheeks downward to form plump little pouches at the corners of the mouth. The muscles under the chin become loose and the jaw line loses its firm contour.
There are 32 different muscles of the face that are manipulated during the BIO microcurrent facial treatment. The treatment lifts, smoothes, tightens and tones. Probes are used to physically move the muscle into the desired position to perform muscles lengthening or shortening. BIO Microcurrent treatment allows the muscles the necessary energy to keep their tension in this new contour.
To conclude, BIO microcurrent is a therapeutic treatment that delivers safe, painless, low-level electrical impulses to strategic locations under the skin in order to firm and tone the facial muscles on both an immediate and long-term basis.
How to use?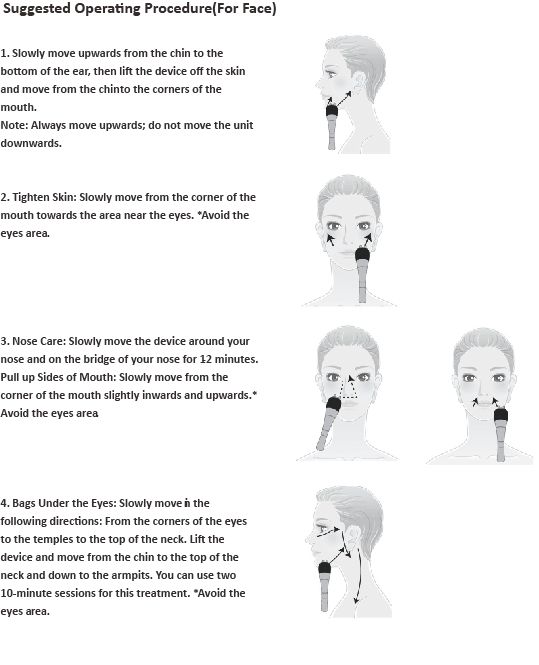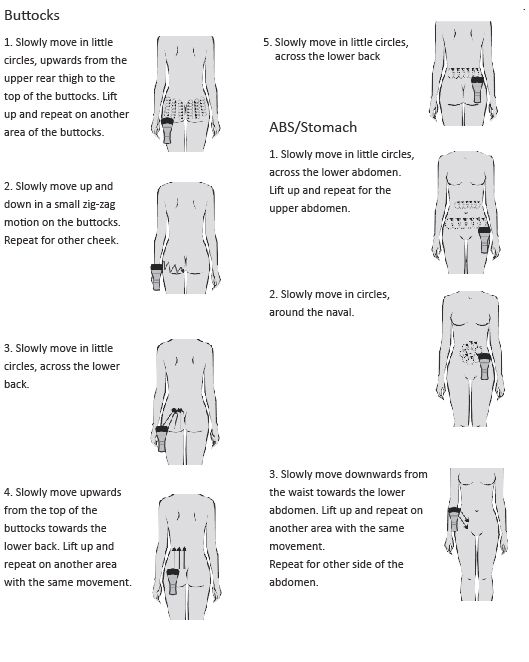 What's more?
Rejuvenate Your Skin with diamond dermabrasion
To appreciate the benefits of diamond dermabrasion, it is important to understand how the skin maintains its appearance by replenishing itself. 

Time and the Environment
Our bodies naturally shed the outer most layer of the epidermis that contains dead skin cells (stratum corneum) every 30 days or so. As our body sheds, the dermis manufacturers collagen and elastin to restore itself. The amount is dependent upon age and the condition of the skin.
Diamond dermabrasion accelerates the body's natural cycle of shedding dead skin cells as it stimulates the production of these two vital proteins. Skin that creates collagen and elastin more rapidly is younger, healthier looking skin.
How are ultrasound/ultrasonic massage applied in beauty technique? 
Ultrasound beauty exploits the same technology that doctors use in antenatal scans for pregnant women, pain-killing effects, and possible benefits to healing of fractures and scar tissue----but in its beauty application it penetrates a few millimeters beneath the skin to reach the adipose tissue where cellulite is trapped. 

Muscle and bone have been found to absorb more ultrasonic energy than other heterogeneous tissues because they better reflect the longitudinal waves of ultrasound, transforming them into transverse waves to create a warming massage effect. This happens most commonly in the areas between muscle and bone or between the muscle and tendon.

By applying ultrasonic waves to these areas, physical therapists can take advantage of this thermal effect to reduce inflammation and increase mobility in joints. Similarly in beauty, Ultrasound sets up invisible micro-vibration deep within in the cells, stimulating changes to the appearance of skin and underlying tissues, when used as an adjunct to best-practices routines for optimum health and beauty. 
The development of ultrasound 

Research on ultrasound began at the start of the First World War (1914), when the Allied forces used it to detect German submarines. Except for military purposes, it was only used for underwater research----until 1927, when the United States began to use ultrasound in bio-chemical research. In 1928, using ultrasound, the eastern Germans ran experiments to attempt curing loss of hearing and otosclerosis, and by 1939, ultrasonic therapy was born. Although ultrasonic development was interrupted by the Second World War, the UK, among other countries, actively refined ultrasonic therapy for rehabilitative purposes in postwar years.
Ultrasound Test
Place few drops of water on the metal area of the ultrasound infrared body massager, and press the ' Power ' switch to turn on. You will see the water is vibrated and becomes tiny.
Ultrasonic currents, vibrating by millions times per second, make a cleansing and heating effect. Such powerful ultrasonic currents, when infiltrated deeply into skin, gives a cleansing and massage effect to our skin.
Do you ship to my country?
Yes, we ship all over the world. Shipping costs will apply, and will be added at checkout. We run discounts and promotions all year, so stay tuned for exclusive deals.
How long will it take to get my order?
It depends on where you are. Orders processed here will take 5-7 business days to arrive. Overseas deliveries can take anywhere from 7-16 days. Delivery details will be provided in your confirmation email.
Free Worldwide Shipping on All Orders Over $100
Please be advised that due to the increase on the actual shipping costs, Free Shipping Discount to some parts of Middle East Asia, Eastern Europe, South America, Africa, and other remote islands is not supported. Free shipping for orders above USD100 to affected countries will not be applied. Thank you for your kind understanding.
Do you offer warranty for your items?
All the product comes with a full one year warranty against manufacturer defects. It does not include damage caused by misuse, accident, abuse, neglect or other external causes. Buyer pay for the postage on the return item and we pay for all resend postage costs. If the item defect within 30 days, we will also responsible for the return shipping fee.
Can I return my product?
We always aim for make sure our customers love our products, but if you do need to return an order, we're happy to help. Just email us directly and we'll take you through the process.