Project E Beauty
Portable Dot Matrix Radio Frequency RF Skin Tightening Beauty Device
SKU: PE151
Item: Portable Dot Matrix Radio Frequency RF Skin Tightening Beauty Device with Platinum Head
Item ID: PE151
Color: White
Size: 20.2 X  14.7 X 6.2 cm
Weight: 0.5 kg
Treatment Area: Face
Included:
1. Main Unit X 1
2. AC Adapter X 1
3. User Manual X 1
Functions :
- It provides better results, which is different from the old version (The golden head)
- Better electric conduction
- Better contact between skin and the head
- Accelerates blood circulation
- Accelerates metabolism
- Promotes collagen regeneration
- Removes wrinkles, spots, scars etc.
Platinum Head Function:
- It provides better results which is different from the old version (The golden head).
- The ability of electric conduction is better.
- Better contact between skin and the probe.
Features :
1. Uses high quality FR4 glass fiber material
2. More stable electrical insulation properties
3. Flat, smooth surface and no pits
4. 144 bit array electrode and new upgrade that increases contact surface
5. Accelerate blood circulation, accelerate metabolism, promote collagen regeneration more efficiently, administer thoroughly, and thoroughly solve your worry and regret of wrinkles, spots, scars, etc.
6. First arbitrary replacement of beauty design, avoid overlapping use, more health
Introduction :
Many people desire the effects of full skin resurfacing for fine lines, wrinkles and acne scarring. But the downtime of most associated procedures and the possible risks keep many people from enduring the pricey procedures of CO2 or erbium lasers, Fraxel and others. To fill the need for a machine that gave the effects of these procedures, but without the downtime, pain and cost, Matrix RF treatment was created. 

The Matrix RF treatment is designed for use in dermatological procedures for ablation (removal) of soft tissue and resurfacing of the skin. The Matrix RF allows for a customized approach of fractional bipolar RF (radio frequency) energy, allowing all skin types and locations (except eyelids and lips) to be treated. Benefits of this treatment include the reduction of wrinkles, skin laxity, scars, acne scars, textural irregularities, tone, and superficial skin lesions. Most patients elect to have Matrix RF treatments to their face, although some patients also have their necks and/or chests treated. The only areas that are not able to be treated with Matrix RF are the eyelids and lips. 

To perform the Matrix RF, a unique applicator head and one-time use treatment tip are required. Due to the unique nature of the treatment head and the RF delivery, the majority of the ablation from the procedure occurs under the skin, as sublative rejuvenation, allowing for less downtime for the patient, less surface skin removal, and better results than treatments done with traditional fractional lasers. 200 pulses are done with each Matrix RF applicator tip and the program level (depth and power) can be changed as needed for more delicate areas. Because of the unique size and shape of the applicator tip, RF energy is delivered in a non-homogeneous fractional pattern to dry, non-moisturized skin. This allows some areas to have less impact than others, which promotes faster healing.
How to use?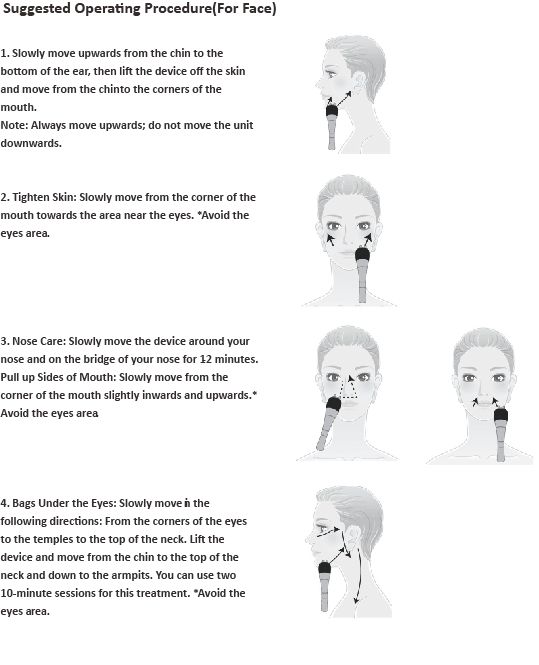 What's more?
After the treatment, there will be moderate redness and some light swelling of the treated zone in square-shaped patterns, which are the size of the treatment head. The redness should stop after a few hours, and the swelling should go down within 12-24 hours. You should apply non-sensitive skin products to moisturize the skin, and you should not use any aggressive products or a Clarisonic for a few days. This will help the healing process. As the sites continue to heal, you may experience itchiness. Do not scratch, itch, or pick at the sites. After about 24-72 hours, you will notice small pin-point crusts in each ablated spot where the electrode pins of the treatment head contacted the skin. These will naturally exfoliate and can easily be covered with makeup.
Do you ship to my country?
Yes, we ship all over the world. Shipping costs will apply, and will be added at checkout. We run discounts and promotions all year, so stay tuned for exclusive deals.
How long will it take to get my order?
It depends on where you are. Orders processed here will take 5-7 business days to arrive. Overseas deliveries can take anywhere from 7-16 days. Delivery details will be provided in your confirmation email.
Free Worldwide Shipping on All Orders Over $100
Please be advised that due to the increase on the actual shipping costs, Free Shipping Discount to some parts of Middle East Asia, Eastern Europe, South America, Africa, and other remote islands is not supported. Free shipping for orders above USD100 to affected countries will not be applied. Thank you for your kind understanding.
Do you offer warranty for your items?
All the product comes with a full one year warranty against manufacturer defects. It does not include damage caused by misuse, accident, abuse, neglect or other external causes. Buyer pay for the postage on the return item and we pay for all resend postage costs. If the item defect within 30 days, we will also responsible for the return shipping fee.
Can I return my product?
We always aim for make sure our customers love our products, but if you do need to return an order, we're happy to help. Just email us directly and we'll take you through the process.