Project E Beauty
Wireless 3 Colors Photon LED Red Blue Yellow Skin Rejuvenation Wrinkles Acne Cure IPL Beauty Device
SKU: PE013
Item: Wireless 3 Colors Photon LED Red Blue Yellow Skin Rejuvenation Wrinkles Acne Cure IPL Beauty Device
Item ID: PE013
Voltage: 110V- 220V, 60Hz/ 50Hz
Size: 25x18x7.5 cm
Weight: 0.5 kg
Treatment Area: Facial
Included:
1. Main Unit X 1
2. Charging Dock X 1
3. USB Cable X 1
4. Power Cord X 1
5. Goggles X 1
6. Full detailed English manual/instructions X 1
Functions:
- Clear, lighten, smooth the skin 
- Firm and enhance skin texture
- Reduce and prevent wrinkles, helps fight fatty areas
- Improve skin elasticity
- Minimize Pores
- Balance skin tone
- Enhance circulation 
- Inhibit the formation of melanin pigment
- Fight acne
- Accelerate blood circulation

Red(650 nm)--- One of the most powerful colors to increase blood circulation. Stimulate skin cells to excrete collagen to achieve firm and smooth texture.
The red light penetrating 8-10mm is suitable for any type of skin; it can reach derma to stimulate fibre cells. Heating can improve blood circulation and collagen albumen hyperplasia to reduce wrinkles and make skin more elastic and smooth. The mild wave length is suitable for surrounding eyes and forehead. 

Blue(463 nm)---Excellent effect of curing acne, kill bacteria, improve sensitive skin
The blue light penetrating about 0.5mm has the function of calming against skin rashes; suitable for the skin which is sensitive, oily and with skin rashes. It can adjust skin sebum secretion, effectively get rid of acne and whelk to reach the aim of beautification. Besides, the blue light can astringe and tighten loosened skin. 

Yellow(590 nm)---Improve skin muscle flexibility, improve immunity system and neural system
The yellow light with wavelength 590nm is suitable for any type of skin; it can improve skin muscle flexibility, immunity system and neural system. It helps to firm skin and reshape the face.
Features:
- Skin sensor, which provides a better protection to eyes during the treatment.
- Natural light waves improving the look of skin
- Each color of light shows beneficial effects on particular skin conditions.
- Easy to operate
- Portable
- Warranty
Introduction:
The Photon Beauty Device, designed for facial beautification, uses natural light waves, which are transmitted by LEDs into the skin. The light activates photoreceptors in skin cells, producing energy for absorption by skin components, to beautify your complexion. 
Studies show that light enters the body as photons (energy) and is absorbed by the photoreceptors within cells. Massaging with the Photon Beauty balances skin tone and enhances circulation. Light is known for helping with some beauty problems, for instance, inhibiting the formation of melanin pigment, fighting acne and dermatitis, and improving the look of pockmarks, scars and wrinkles.
How to use?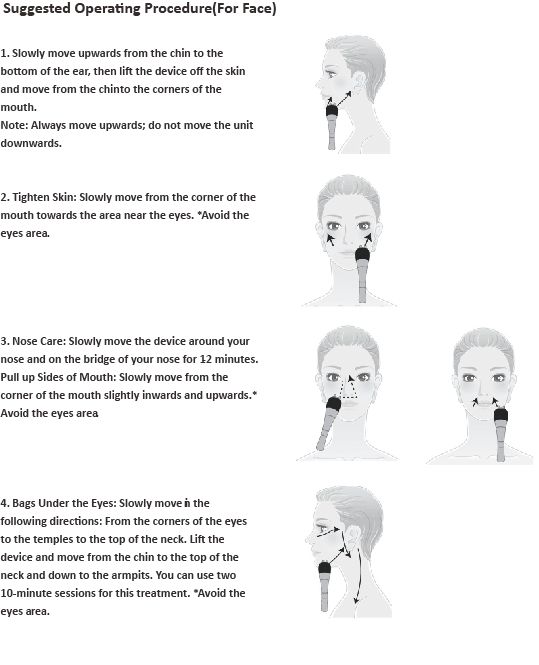 Yes, we ship items worldwide. For all items, system will calculate the shipping fee for your order during the check-out process(after in-put the shipping address).
All the product comes with a full one year warranty against manufacturer defects. It does not include damage caused by misuse, accident, abuse, neglect or other external causes. Buyer 
pay for the postage on the return item and we pay for all resend postage costs. If the item defect within 30 days, we will also responsible for the return shipping fee.