Project E Beauty
Wireless LED 3 Colors Photon Ultrasonic Ultrasound Skin Care Beauty Facial Device
SKU: PE116
Item: Wireless LED 3 Colors Photon Ultrasonic Ultrasound Skin Care Beauty Facial Device
Item ID: PE116
Color: White
Voltage 110-220V (Worldwide)
Size: 30.5x19.5x11.5 cm
Weight: 0.7 kg
Treatment Area: Facial, Body
Included:
1. Main Unit X 1
2. 110v-220v Adaptor X 1
3. Goggles X 1
3. Dock X 1
3. Full detailed English manual/instructions X 1
Function:
- Removes wrinkles, pimples and spots
- Clears, lightens, smoothes the look of skin
- Enhances blood circulation
- Enhances skin texture, decreases wrinkles, helps fight fatty areas
- Tightens and firms the skin texture
- Deep cleanses and moisturizes
- Improves elasticity
- Minimizes pores

Functions of different light color:

a. The blue light penetrating about 0.5mm has the function of calming against skin rashes; suitable for the skin which is sensitive, oily and with skin rashes. It can adjust skin sebum secretion, effectively get rid of acne and whelk to reach the aim of beautification. Besides, the blue light can astringe and tighten loosened skin. 

b. The red light penetrating 8-10mm is suitable for any type of skin; it can reach derma to stimulate fibre cells. Heating can improve blood circulation and collagen albumen hyperplasia to reduce wrinkles and make skin more elastic and smooth. The mild wave length is suitable for surrounding eyes and forehead. 

c. The green light between red light and blue light is suitable for mixed skin. It can improve the function of alternating use of cells and oxygen and activate the microcirculation function of body surface. Meanwhile, calming the skin can make both body and skin relax, and reduce the pain of skin.
Features:
- Natural light waves improving the look of skin
- Each color of light shows beneficial effects on particular skin conditions.
- Easy to operate
- Portable
- Rechargeable
- Cordless
- Lightweight
- Adjustable intensity level power control
- Does not require the operation of an awkward base unit
- Self type, home care device
- Easy to operate
- Economical
- Warranty
Introduction:
The Photon Beauty Device, designed for facial beautification, uses natural light waves, which are transmitted by LEDs into the skin. The light activates photoreceptors in skin cells, producing energy for absorption by skin components, to beautify your complexion. 
Studies show that light enters the body as photons (energy) and is absorbed by the photoreceptors within cells. Massaging with the Photon Beauty balances skin tone and enhances circulation. Light is known for helping with some beauty problems, for instance, inhibiting the formation of melanin pigment, fighting acne and dermatitis, and improving the look of pockmarks, scars and wrinkles.

Ultrasound was developed in medicine, but more recently applied in beauty. With its triple-impact effectiveness, it brings surprising innovation to beauty care. It's an exciting yet simple and powerfully effective tool to rejuvenate your skin. Ultrasound uses the cutting-edgetechnology of very high-speed, low-frequency sound waves that radiate invisible micro vibrations deep within cells, helping stimulate the skin's natural repair mechanisms in distinct ways. Ultrasonic utilizes sonic vibrations; it works one million times per second. Ultrasound provides non-surgical lifting. The ultrasonic wave could stimulate skin tissue and improve permeability of the membrane to promote collagen tissue, reduce wrinkles, erase fine lines, lift the skin and result for a younger, healthier look. Ultrasonic generates frictional heat, which accelerates blood circulation, muscle relaxation, and decomposes the cellulite to break down excess fat. Ultrasound treatments are non-invasive, safe and suitable for all types of skin. Everyone can enjoy the benefits of this new and advance beauty technology.

In only 10-15 minutes daily, you'll experience dynamic changes in the look of your face: your skin will appear more youthful, smooth and healthy with the technology of ultrasonic.
How to use?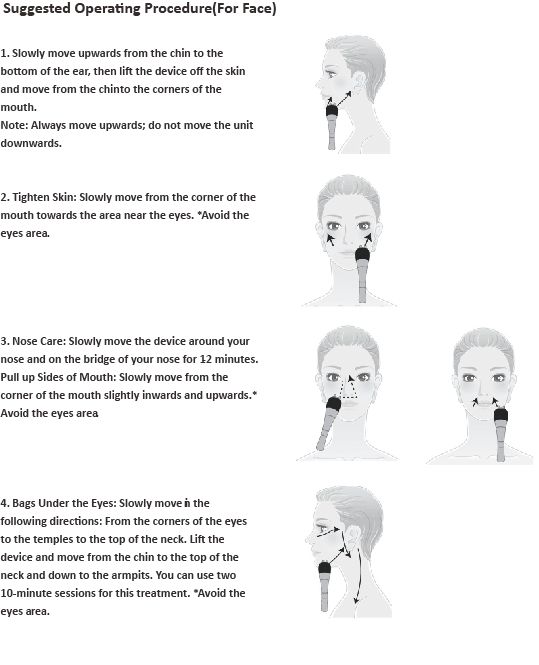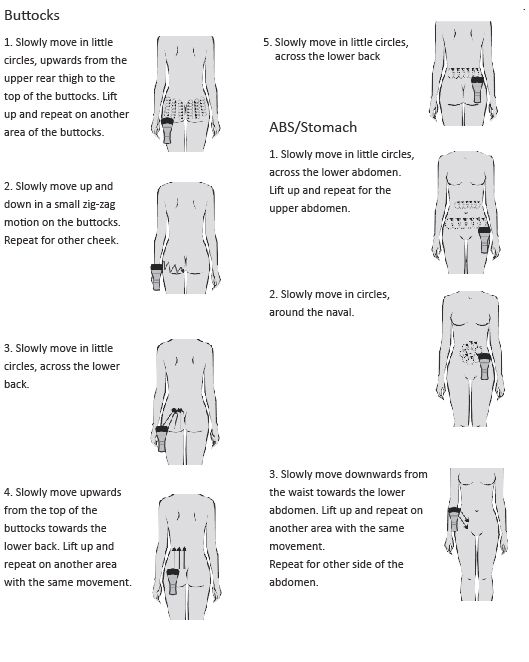 Yes, we ship items worldwide. For all items, system will calculate the shipping fee for your order during the check-out process(after in-put the shipping address).
All the product comes with a full one year warranty against manufacturer defects. It does not include damage caused by misuse, accident, abuse, neglect or other external causes. Buyer 
pay for the postage on the return item and we pay for all resend postage costs. If the item defect within 30 days, we will also responsible for the return shipping fee.