Radio Frequency RF Vibration Massage LED Ultrasonic Anti aging Skin Care Device
Item: Radio Frequency RF Vibration Massage LED Ultrasonic Anti aging Skin Care Device
Item Code: PE152
Color: White
Size: 25x18x7 cm
Weight: 0.55 kg
Voltage: 110V-220V Worldwide
Frequency: 50Hz/60Hz
Wattage: 10W
Output Frequency: 90kHz
Included:
1. Main Unit X 1
2. 110v-220v Charger X 1
3. Full detailed English manual/instructions X 1
Functions:
- Promotes tissue metabolism.
- Strengthens skin elasticity
- Dissolves fat 
- Enhances blood circulation
- Enhances skin texture, decreases wrinkles, helps fight fatty areas
Features:
- Safe design
- Small machine with powerful energy; dramatic results can be achieved
- Warranty
Introduction:
Radio frequency (RF) is the latest beauty technology. RF skin-tightening treatment is an effective way to rejuvenate skin, reduce wrinkles and enhance skin elasticity. The RF heats the dermis, the deepest skin layer, without damaging the epidermis, the top layer of skin. It stimulates the structural change of the collagen fibers and elastic fibers to its original elasticity, reducing lines and wrinkles. An immediate skin-tightening effect will then be achieved without risk.

Also, radio frequency can promote tissue metabolism, repel cellulite, tighten the skin, strengthen the skin's elasticity, and so on. Its effect will last for a long time. Meanwhile, it can enhance muscle elasticity and improve cell metabolism. It creates effect like internal explosion, meaning that the expansion and compression of waves produce a lot of tiny spaces inside the liquid. The gas and vapours exist in these tiny spaces. In the compression cycle, supersonic waves impose a positive pressure on the liquid molecule, whereas a negative pressure is created through the expansion cycle. There is a cohesion effect inside the liquid or biological tissues. Inside the low-density lipocyte, the cohesive effects are comparatively weak. A negative pressure, which is relative low, can create tissue gaps easily. It is called cavitations in physics. The effects of the explosion inside and outside the cells will increase the molecular movements so as to achieve a high energy state, which then leads to the lipocyte cracking. 

The Photon Beauty Device, designed for facial beautification, uses natural light waves, which are transmitted by LEDs into the skin. The light activates photoreceptors in skin cells, producing energy for absorption by skin components, to beautify your complexion. 
Studies show that light enters the body as photons (energy) and is absorbed by the photoreceptors within cells. Massaging with the Photon Beauty balances skin tone and enhances circulation. Light is known for helping with some beauty problems, for instance, inhibiting the formation of melanin pigment, fighting acne and dermatitis, and improving the look of pockmarks, scars and wrinkles.

Functions of different light color:

a. The blue light penetrating about 0.5mm has the function of calming against skin rashes; suitable for the skin which is sensitive, oily and with skin rashes. It can adjust skin sebum secretion, effectively get rid of acne and whelk to reach the aim of beautification. Besides, the blue light can astringe and tighten loosened skin. 

b. The red light penetrating 8-10mm is suitable for any type of skin; it can reach derma to stimulate fibre cells. Heating can improve blood circulation and collagen albumen hyperplasia to reduce wrinkles and make skin more elastic and smooth. The mild wave length is suitable for surrounding eyes and forehead. 

c. The green light between red light and blue light is suitable for mixed skin. It can improve the function of alternating use of cells and oxygen and activate the microcirculation function of body surface. Meanwhile, calming the skin can make both body and skin relax, and reduce the pain of skin.

d. The yellow light with wavelength 590nm is suitable for any type of skin; it can improve skin muscle flexibility, immunity system and neural system. It helps to firm skin and reshape the face.

e. The colored light accelerates absorbing the effective element of oily nurture. 
-The overlapping function of tri-colored red, green and blue with 3 Mega ultrasonic waves makes skin care more remarkable. 
- The design of the ultrasonic wave generator and photon care generator keeps close to face and around eyes, thus it is easy to operate.

Ultrasound was developed in medicine, but more recently applied in beauty. With its triple-impact effectiveness, it brings surprising innovation to beauty care. It's an exciting yet simple and powerfully effective tool to rejuvenate your skin. Ultrasound uses the cutting-edgetechnology of very high-speed, low-frequency sound waves that radiate invisible micro vibrations deep within cells, helping stimulate the skin's natural repair mechanisms in distinct ways. Ultrasonic utilizes sonic vibrations; it works one million times per second. Ultrasound provides non-surgical lifting. The ultrasonic wave could stimulate skin tissue and improve permeability of the membrane to promote collagen tissue, reduce wrinkles, erase fine lines, lift the skin and result for a younger, healthier look. Ultrasonic generates frictional heat, which accelerates blood circulation, muscle relaxation, and decomposes the cellulite to break down excess fat. Ultrasound treatments are non-invasive, safe and suitable for all types of skin. Everyone can enjoy the benefits of this new and advance beauty technology.

In only 10-15 minutes daily, you'll experience dynamic changes in the look of your face: your skin will appear more youthful, smooth and healthy with the technology of ultrasonic. Ultrasonic massage reaches deeply into the skin. Ultrasound Beauty Massagers produce micro-vibrations, which are often used to help stimulate the body's recovery from illness and injury. Although invisible to the eye and undetectable by our skin, micro-vibrations can also reach fats that have built up in areas such as the lower abdomen, hips, thighs, calves or double chin in order to achieve slimming.
How to use?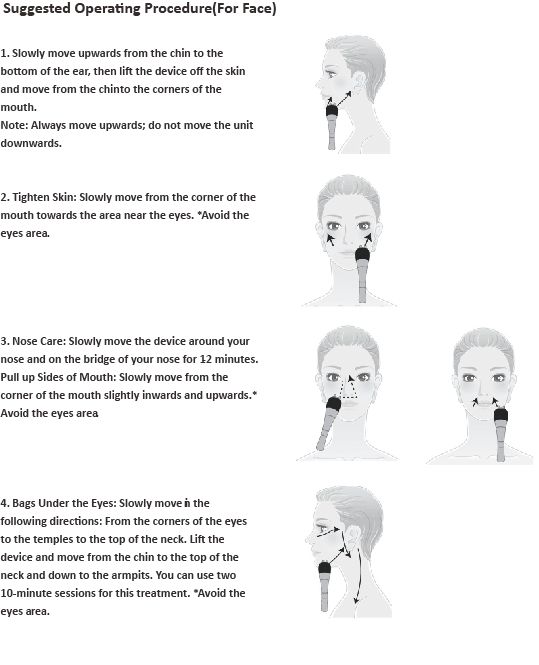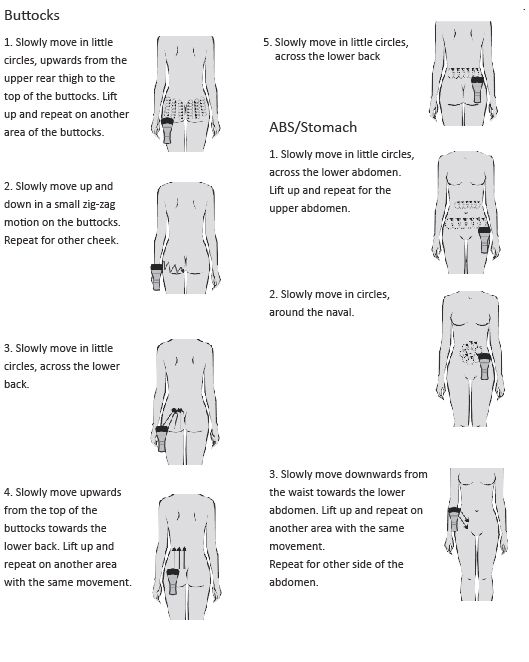 What's more?
The following people should not use radio frequency:
1. Pregnant women.
2. Diabetes patients
3. People who have taken photosensitization agents recently 
4. Patients with chronic hemolytic anemia
How are ultrasound/ultrasonic massage applied in beauty technique? 
Ultrasound beauty exploits the same technology that doctors use in antenatal scans for pregnant women, pain-killing effects, and possible benefits to healing of fractures and scar tissue----but in its beauty application it penetrates a few millimeters beneath the skin to reach the adipose tissue where cellulite is trapped. 

Muscle and bone have been found to absorb more ultrasonic energy than other heterogeneous tissues because they better reflect the longitudinal waves of ultrasound, transforming them into transverse waves to create a warming massage effect. This happens most commonly in the areas between muscle and bone or between the muscle and tendon.

By applying ultrasonic waves to these areas, physical therapists can take advantage of this thermal effect to reduce inflammation and increase mobility in joints. Similarly in beauty, Ultrasound sets up invisible micro-vibration deep within in the cells, stimulating changes to the appearance of skin and underlying tissues, when used as an adjunct to best-practices routines for optimum health and beauty. 
The development of ultrasound 

Research on ultrasound began at the start of the First World War (1914), when the Allied forces used it to detect German submarines. Except for military purposes, it was only used for underwater research----until 1927, when the United States began to use ultrasound in bio-chemical research. In 1928, using ultrasound, the eastern Germans ran experiments to attempt curing loss of hearing and otosclerosis, and by 1939, ultrasonic therapy was born. Although ultrasonic development was interrupted by the Second World War, the UK, among other countries, actively refined ultrasonic therapy for rehabilitative purposes in postwar years.
Ultrasound Test

Place few drops of water on the metal area of the ultrasound infrared body massager, and press the ' Power ' switch to turn on. You will see the water is vibrated and becomes tiny.
Ultrasonic currents, vibrating by millions times per second, make a cleansing and heating effect. Such powerful ultrasonic currents, when infiltrated deeply into skin, gives a cleansing and massage effect to our skin.
---
We Also Recommend
---