Project E Beauty
Solar Energy Gold Anti aging Wrinkle Jowl Roller Massager Facial Device
SKU: PE159
Item: Solar Energy Gold Anti aging Wrinkle Jowl Roller Massager Facial Device
Item ID: PE159
Size: 17x1.5x1.5 cm
Weight: 0.074 kg
Included:
1. Main Unit X 1
2. Full detailed English manual/instructions X 1
Functions:
- Skin tightening
- Muscle relaxing
- Breasting enlarging
- Body shaping
- Face slimming
- Face lifting
- Wrinkles removing
Features:
1. Environmentally friendly with a solar panel to power the micro-current
2. Rotation in 360 degrees, clean and massage all body parts and face
3. Scientifically developed to fit comfortably into ladies' hands
4. Improve muscle tone in the face and neck
5. Lift jowls and eyebrows
6. Reduce and eliminate fine lines and wrinkles
7. Improve facial circulation
8. Comfortable and effective.
9. Multifunctional; massage, body and face slimming, lifting, shaping, skin tightening, relaxing and drainage.
10. Suitable for all body parts and face.
11. Water-proof design; can be used during bath-time
Introduction:
Nowadays, more and more people have been concentrating on health care. Therefore, massage has been popular as it is good for relieving stress, fatigue, and promoting blood circulation. After massaging, you can feel pleasurable and not only will your pressure be relieved, but you will also achieve face and body shaping. Massage is very important, especially for those who are always working under stressful conditions.

This 3D massage device is good for daily body and face for therapy. It works on skin rejuvenation, body shaping, weight loss, wrinkle removal, anti-age, skin renewal, anti-allergy, increased skin elasticity etc. It uses technology of a roller in a 360 degree magic massager that can massage body, face, arms, legs, buttocks and back to achieve the effect of face slimming, face lift, skin tightening, body slimming, body shaping, muscle relaxing, and tiredness releasing. The two balls on the massager can roll once you move it forward or backward. During the massage process, it is quiet and very comfortable. You will not feel any pain at all. The two balls would not hurt you, but comfort your muscle and skin effectively. 

This 3D massage device is also time-saving and convenient for users. You can use it everyday, since it has no negative side effects. The price of the device is definitely lower than the cost of massage services provided by salons, which means that you can massage and relax yourself every day after working hours at a reasonable price. About 10 minutes of treatment a day can keep your body firm and sharp, skin smooth, and a young face. It can also be applied on the sensitive and unconscious skin.

This 3D massage device also utilizes new micro-current technology. Micro-current therapy is commonly used in facial treatment. It uses extremely low-level electrical currents (micro-currents) to treat nerve and muscle pain and inflammation. Micro-current therapy is good for arthritis, back pain, diabetic ulcers, fibromyalgia, headaches ,herpes, neck pain, neuropathy, sciatica, shingles, slow-healing wounds, sports injuries, and tendon and ligament pain. This is a current that mimics the natural bio-current found on the surface level of skin, helping to tone and lift the skin, restoring the skin's natural radiance. Overall, Micro-current is an effective professional skin therapy that is ideal for managing skin aging. While Micro-current's potential range of other applications, including wound healing, muscle rehabilitation, macular degeneration, and lymphoma, continue to assist medical practitioners with amazing results, we must stay focused on how these studies and this technology can benefit and support skin therapists.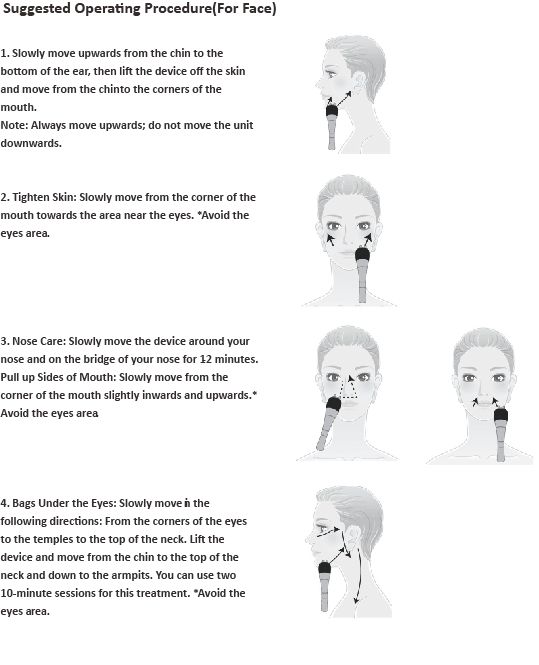 Yes, we ship items worldwide. For all items, system will calculate the shipping fee for your order during the check-out process(after in-put the shipping address).
All the product comes with a full one year warranty against manufacturer defects. It does not include damage caused by misuse, accident, abuse, neglect or other external causes. Buyer 
pay for the postage on the return item and we pay for all resend postage costs. If the item defect within 30 days, we will also responsible for the return shipping fee.