Project E Beauty
6 in 1 40K Cavitation Ultrasonic Vacuum RF Bipolar Tripolar Multipolar RF Cellulite Skin Firming Body Slimming Machine
SKU: PE245
Item: 6 in 1 40K Cavitation Ultrasonic Vacuum RF Bipolar Tripolar Multipolar RF Cellulite Skin Firming Body Slimming Machine
Item ID: PE245
Color: White
Power: 150W
Voltage: 110V/ 220V, 60Hz/ 50Hz
Weight: 14 Kg
Package Size: 55 X 44 X 48 CM
Treatment Area: Body, Face
Package Including
1. Main Machine X 1
2. 40K Cavitation Ultrasound Probe X 1
3. Vacuum RF Probe X 1
4. Bipolar RF Probe X 1
5. Tripolar RF with Red Photon Therapy Probe X 1
6. Five Pole RF with Red Photon Therapy Probe X 1
7. Seven Pole RF with Red Photon Therapy Probe X 1
8. Power Cord X 1
9. Full detailed English manual/instructions X 1
Function :
- Repels cellulite
- Strengthens skin elasticity
- Dissolves fat 
- Face shaping
- Body shaping
- Lymph drainage, accelerate blood circulation and promote metabolism
- Wrinkles and fine lines removing
- Lift, tone and brighten the face
- Tighten the skin on the underarms and legs
- Skin lifting
- Skin rejuvenation 
- Muscles firming
- Minimize Pores
- Balance skin tone
- Inhibit the formation of melanin pigment
Features:
1. Adopt the top ultrasonic liposuction technique in the world.
2. Suitable for all kinds of skin.
3. Comfortable, painless, woundless during the treatment.
4. Easy to operate.
5. Obvious results with the lowest cost.
6. Non-anesthetic.
7. Non-invasive.
8. No negative side effects and rebounding phenomenon.
9. Woundless, will not influence the normal working and living.
10. Safe design
11. Small machine with powerful energy; dramatic results can be achieved
12. Warranty
Introduction:
40kHz Ultrasonic Cavitation
Ultrasound cavitation is a relatively new aesthetic treatment. Cavitation is an invasive body-sculpting treatment with no anesthesia, scars, discomfort and down-time. It presents a risk-free alternative to liposuction. The result is instant loss of fat cells. Generally one fat cavitation treatment lasts 35-40 minutes where a single part of the body is treated. 72 hours must pass between each session so that the body can eliminate the fat. The minimum suggested number of fat cavitation sessions is between 6 and 10.
The physical vibrations (up to 1 million per second) will make each body part vibrates that provides unique cell massage, enhancing the cellular metallic function, increasing the vitality of cells, promoting the blood circulation, improving the nutrition of skin tissue and keeping the skin rosy and elastic.
Strong sound wave explodes fat heads with collective strong sound wave head, strong sound wave of 40000Hz may be emitted to the human body for impacting fat cells fiercely and causing friction between fat cells. This may cause effective consumption of calories and moisture in fat cells and reduce the size of fat cells. What's more, sound wave vibration may cause a fierce impact of fat cells to make them explode instantaneously. The liquid is then easily vacuumed out from the body using the lymphatic and urinary system. The amount of fat cells can be reduced and thereby achieve the effects of removing fat.

BIO
BIO Microcurrent is known to be the most effective non-surgical method to take years off the face. It is a low level of electricity that mirrors the body's own natural electrical currents, triggering chemical reactions at a cellular level to enhance the production of natural collagen and elastin, providing circulatory benefits and reshaping the muscles of the face. The result of micro-current treatments are immediate firming, smoothing, and re-hydration of the skin while the fine lines and wrinkles are reduced. BIO Microcurrent lifts, sculpts, and tightens skin. Also, it provides immediate results and has no downtime.
BIO Microcurrent techniques have been proven successful in treating a variety of medical conditions including Bell's Palsy. Bell's Palsy is facial paralysis and usually effects one side of the face only. The cause is unknown, but inflammation of one of the facial nerves results in muscle paralysis to one side of the face. This usually recovers over a period of months, but on occasion can be permanent.
But first, we need to understand what causes our facial skin to wrinkle and sag. As we age, our muscles become accustomed to certain expressions and tend to get stuck in these positions. A great example of this is the furrow between the eyebrows that many people get. At the same time, other muscles in our face are hardly ever used, and they begin to atrophy, which leads to sagging. An example of this can often be seen around our jaw lines, chins and necks, where we tend to develop sagging or loss of definition as we get older. As years pass, our skin cells become less active, which leads to a breakdown of collagen and elastin. By the age of 45, the upper cheek muscles may elongate by as much as half an inch, dragging the skin over the cheeks downward to form plump little pouches at the corners of the mouth. The muscles under the chin become loose and the jaw line loses its firm contour.

There are 32 different muscles of the face that are manipulated during the BIO microcurrent facial treatment. The treatment lifts, smoothes, tightens and tones. Probes are used to physically move the muscle into the desired position to perform muscles lengthening or shortening. BIO Microcurrent treatment allows the muscles the necessary energy to keep their tension in this new contour.
To conclude, BIO microcurrent is a therapeutic treatment that delivers safe, painless, low-level electrical impulses to strategic locations under the skin in order to firm and tone the facial muscles on both an immediate and long-term basis.

Radio Frequency
Radio frequency (RF) is the latest beauty technology. RF skin-tightening treatment is an effective way to rejuvenate skin, reduce wrinkles and enhance skin elasticity. The RF heats the dermis, the deepest skin layer, without damaging the epidermis, the top layer of skin. It stimulates the structural change of the collagen fibers and elastic fibers to its original elasticity, reducing lines and wrinkles. An immediate skin-tightening effect will then be achieved without risk.

Also, radio frequency can promote tissue metabolism, repel cellulite, tighten the skin, strengthen the skin's elasticity, and so on. Its effect will last for a long time. Meanwhile, it can enhance muscle elasticity and improve cell metabolism. It creates effect like internal explosion, meaning that the expansion and compression of waves produce a lot of tiny spaces inside the liquid. The gas and vapours exist in these tiny spaces. In the compression cycle, supersonic waves impose a positive pressure on the liquid molecule, whereas a negative pressure is created through the expansion cycle. There is a cohesion effect inside the liquid or biological tissues. Inside the low-density lipocyte, the cohesive effects are comparatively weak. A negative pressure, which is relative low, can create tissue gaps easily. It is called cavitations in physics. The effects of the explosion inside and outside the cells will increase the molecular movements so as to achieve a high energy state, which then leads to the lipocyte cracking. 

Tripolar RF for face and Eyes' around
The Tripolar probe utilizes RF Energy, which focuses on the facial skin and fat layers of the face. This focused delivery results in improved treatment efficacy that provides immediately visible results from the first treatment. The energy of tripolar RF penetrates the skin and impacts the collagen-rich dermal tissue directly, which makes water molecules in the skin vibrate, thus creating new collagen. As a result, the skin looks tighter and wrinkles are reduced.
Facial RF head capacitive coupling electrode is used for transmitting radio-wave energy and generating an electric field for entering into subcutaneous tissue through the skin surface. In the high-frequency of 1MHz, this electric field changes its polarity for 1M times/second . To reply to the rapid change in electrode, directions of electrical particles the skin are also changed. By this time, natural electric resistance in the subcutaneous tissue moves and generates heat energy. As thepapillary dermis collagen may immediately shrink when the temperature is within the range from 60 to 70 Celsius degree, after wrinkle treatment, client may immediately sense the skin tightening effects as it is being lifted and firmed. When collagen is produced continuously, thickness and density of the skin papillary dermis may be increased to remove wrinkles, eliminate scars, restore skin elasticity and gloss and make it be blonde and smooth. While collagen is increased, fresh skin is generated in the position of operation and wrinkles are removed by large amount of cells. In addition, when cortex without elasticity or that with thick horny layer in the area with wrinkles is separated, surrounding skin will also be renewed.

Seven polar RF for body
The Seven polar RF Body probe utilizes RF Energy, which focuses on the skin and fat layers of the body. This focused delivery results in improved treatment efficiency that provides immediately visible results from the first treatment. The energy of seven polar RF penetrates the skin and impacts the collagen-rich dermal tissue directly, which makes water molecules in the skin vibrate, thus creating new collagen. As a result, the skin looks tighter and wrinkles are reduced.

Being integrated with the most advanced RF technology and radio frequency, the instrument may directly reach the deep-seated fat body and have the excellence of targeted positioning RF. In the fast-active state, fat cell tissue may generate friction heat, increase local temperature and remove excess fat and toxin from the body through sweat gland, enhance lymph circulation and ultimately achieve the effect of dissolving fat. With controlled depth technology, inlaid diamond particles of different sizes may rub skin along its pattern, adjust suction strength by means of vacuum draw and rub with negative pressure strong force to directly explode thick fat.

Red LED photon
The Photon Beauty Device, designed for facial beautification, uses natural light waves, which are transmitted by LEDs into the skin. The light activates photoreceptors in skin cells, producing energy for absorption by skin components, to beautify your complexion. 
Studies show that light enters the body as photons (energy) and is absorbed by the photoreceptors within cells. Massaging with the Photon Beauty balances skin tone and enhances circulation. Light is known for helping with some beauty problems, for instance, inhibiting the formation of melanin pigment, fighting acne and dermatitis, and improving the look of pockmarks, scars and wrinkles.

Red(650 nm)--- One of the most powerful colors to increase blood circulation. Stimulate skin cells to excrete collagen to achieve firm and smooth texture.
The red light penetrating 8-10mm is suitable for any type of skin; it can reach derma to stimulate fibre cells. Heating can improve blood circulation and collagen albumen hyperplasia to reduce wrinkles and make skin more elastic and smooth. The mild wave length is suitable for surrounding eyes and forehead. 

Vacuum bipolar RF
Vacuum Bipolar RF Handle can help dissolve fat, lymphatic drainage, firm skin and enhance skin elasticity. The Vacuum Bipolar RF probe is used for reshaping, especially after fat loss. The probe works by promoting tissue metabolism and repelling cellulite. Since this unit's waves can get deep into the skin, it can rapidly burn the fatty acids and reduce the fat cell size.
It attracts and outspreads the fibrillary connective tissue of different cortexes. Through the rhythmic massage, it effectively breaks down subcutaneous fat and reduces cellular tissue accumulation of fat. It massages different parts of the body and brings up fat layer in dermis. It releases micro-vascular lymphatic vessels, at the same time, and promotes metabolism to break down fat acids. The detoxification is enhanced by the vacuum bipolar RF. At the same time, the skin becomes more elastic and lusterous. It is the "healthy body sculpture management" expert.
Parameters:
Power supply Input: 110V/220V 60Hz/50Hz
Power : 150W

40K cavitation probe:
Power supply output: 150V
Frequency: 40KHz
Power: 25W

Vacuum + Bipolar RF probe:
Power supply output: 66V
Frequency: 1MHz
Power: 90W

Tripolar RF probe for face:
Power supply output: 66V
Frequency: 3MHz
Power: 30W
How to use?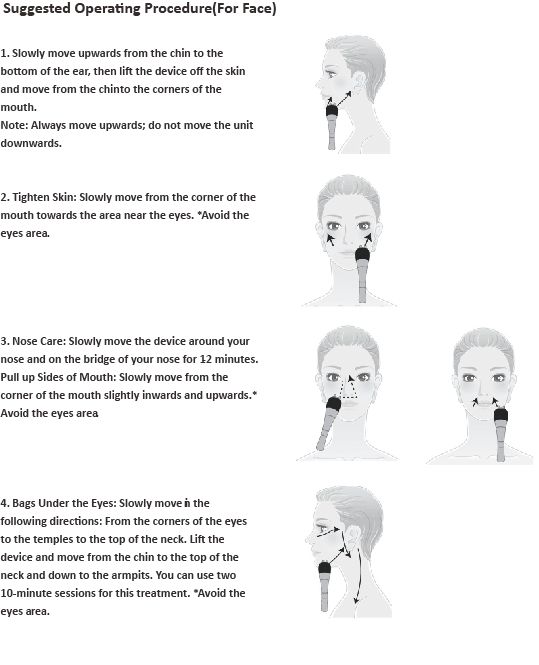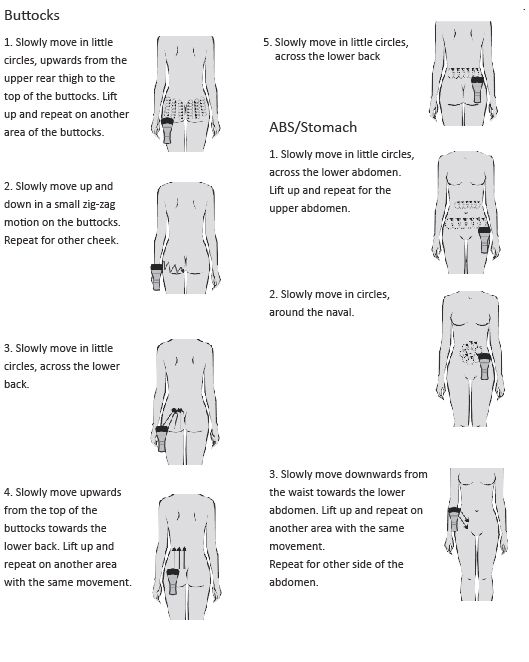 What's more?
The following people should not use radio frequency:
1. Pregnant women.
2. Diabetes patients
3. People who have taken photosensitization agents recently 
4. Patients with chronic hemolytic anemia

Caution for using RF 
1. Beauticians should wear insulated gloves during operation. 
2. Do not wear any aglet, either the beautician or the users. 
3. The electrode probe must be in full contact with skin. 
4. Do not hold the RF electrode at the same position. Slowing move it on the skin. 
5. Since skin around eyes and forehead is very thin, the RF output intensity should be relatively weakened. 
6. Do not contact skin with unipolar when using bipolar or tripolar.
Do you ship to my country?
Yes, we ship all over the world. Shipping costs will apply, and will be added at checkout. We run discounts and promotions all year, so stay tuned for exclusive deals.
How long will it take to get my order?
It depends on where you are. Orders processed here will take 5-7 business days to arrive. Overseas deliveries can take anywhere from 7-16 days. Delivery details will be provided in your confirmation email.
Do you offer warranty for your items?
All the product comes with a full one year warranty against manufacturer defects. It does not include damage caused by misuse, accident, abuse, neglect or other external causes. Buyer pay for the postage on the return item and we pay for all resend postage costs. If the item defect within 30 days, we will also responsible for the return shipping fee.
Can I return my product?
We always aim for make sure our customers love our products, but if you do need to return an order, we're happy to help. Just email us directly and we'll take you through the process.