Two Heads RF Radio Frequency Red Blue Photon Light Facial Anti aging Skin Rejuvenation Machine Device
$51.60 USD

SAVE

$77.40 USD
---
---
Item: Two Heads RF Radio Frequency Red Blue Photon Light Facial Anti aging Skin Rejuvenation Machine Device
Item Code: PE156
Color: White
Size: 21.5x17x9 cm
Weight: 0.95 kg
Voltage: 110V-220V Worldwide
Power: 50Hz/60Hz
Included:
1. Main Unit X 1
2. Blue Head , Red Head
3. Full detailed English manual/instructions X 1
Functions:
1. Promotes tissue metabolism
2. Repels cellulite
3. Tightens skin
4. Strengthens skin elasticity
5. Dissolves fat 
6. Shapes the body
Features:
- Safe design
- Small machine with powerful energy; dramatic results can be achieved
- Warranty
Introduction:
Radio frequency (RF) is the latest beauty technology. RF skin-tightening treatment is an effective way to rejuvenate skin, reduce wrinkles and enhance skin elasticity. The RF heats the dermis, the deepest skin layer, without damaging the epidermis, the top layer of skin. It stimulates the structural change of the collagen fibers and elastic fibers to its original elasticity, reducing lines and wrinkles. An immediate skin-tightening effect will then be achieved without risk.

Also, radio frequency can promote tissue metabolism, repel cellulite, tighten the skin, strengthen the skin's elasticity, and so on. Its effect will last for a long time. Meanwhile, it can enhance muscle elasticity and improve cell metabolism. It creates effect like internal explosion, meaning that the expansion and compression of waves produce a lot of tiny spaces inside the liquid. The gas and vapours exist in these tiny spaces. In the compression cycle, supersonic waves impose a positive pressure on the liquid molecule, whereas a negative pressure is created through the expansion cycle. There is a cohesion effect inside the liquid or biological tissues. Inside the low-density lipocyte, the cohesive effects are comparatively weak. A negative pressure, which is relative low, can create tissue gaps easily. It is called cavitations in physics. The effects of the explosion inside and outside the cells will increase the molecular movements so as to achieve a high energy state, which then leads to the lipocyte cracking. 

The Photon Beauty Device, designed for facial beautification, uses natural light waves, which are transmitted by LEDs into the skin. The light activates photoreceptors in skin cells, producing energy for absorption by skin components, to beautify your complexion. 
Studies show that light enters the body as photons (energy) and is absorbed by the photoreceptors within cells. Massaging with the Photon Beauty balances skin tone and enhances circulation. Light is known for helping with some beauty problems, for instance, inhibiting the formation of melanin pigment, fighting acne and dermatitis, and improving the look of pockmarks, scars and wrinkles.

Functions of different light color:

a. Blue(463 nm)---Excellent effect of curing acne, kill bacteria, improve sensitive skin
The blue light penetrating about 0.5mm has the function of calming against skin rashes; suitable for the skin which is sensitive, oily and with skin rashes. It can adjust skin sebum secretion, effectively get rid of acne and whelk to reach the aim of beautification. Besides, the blue light can astringe and tighten loosened skin. 

b. Red(650 nm)--- One of the most powerful colors to increase blood circulation. Stimulate skin cells to excrete collagen to achieve firm and smooth texture.
 The red light penetrating 8-10mm is suitable for any type of skin; it can reach derma to stimulate fibre cells. Heating can improve blood circulation and collagen albumen hyperplasia to reduce wrinkles and make skin more elastic and smooth. The mild wave length is suitable for surrounding eyes and forehead. 
How to use?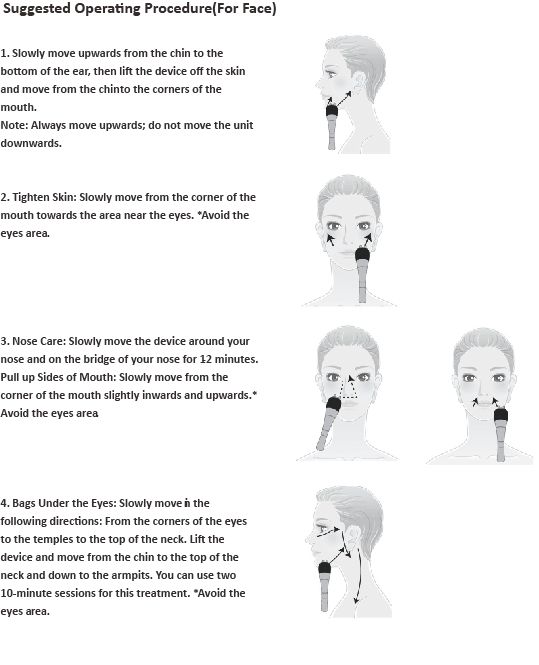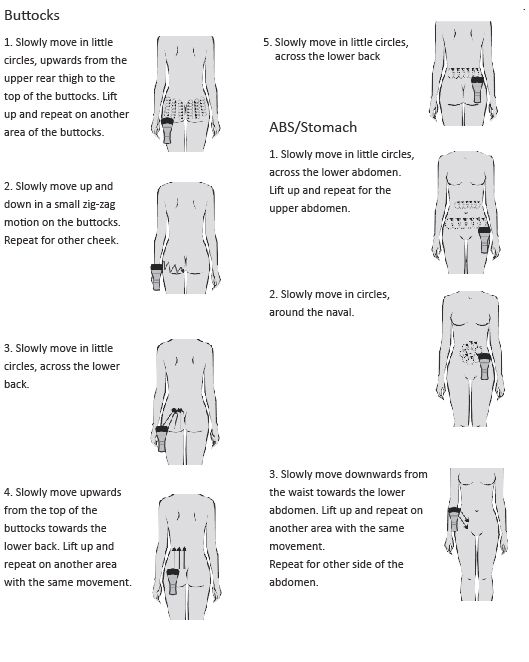 What's more?
The following people should not use radio frequency:
1. Pregnant women.
2. Diabetes patients
3. People who have taken photosensitization agents recently 
4. Patients with chronic hemolytic anemia
---
We Also Recommend
---