Project E Beauty
Beauty Photon LED Light Cold Warm Ionic Positive Negative Ion Portable Hammer Device
SKU: PE129
Item: Beauty Photon LED Light Cold Warm Ionic Positive Negative Ion Portable Hammer Device
Item ID: PE129
Color: Pink and White
Input: 100-240V
Power supply: DC24V
Size: 21.5x21.5x6.5 cm
Weight: 0.47 kg
Included:
1. Main Unit X 1
2. Adapter X 1
3. Goggles X 1
4. Full detailed English manual/instructions X 1
Functions:
COLD 5°C / 41°F
It detoxifies and shrinks pores; soothes and refreshes puffy eyes, swollen face, and large skin pores. The cold therapy approaches facial rejuvenation and shortens time and truly making a "quicker lift." 

1. Relieve tired eyes 
2. Relieves tension headache 
3. Relieves facial fatigue. 
4. Reduces muscle tension and spasm around the eyes, face and jaw. 

WARM 40°C / 104°F
It opens pores, helps deep cleansing, increases circulation, stimulates skin metabolism, facial massaging and firming skin.
For deep clean purpose, please use it before applying facial cleanser.

1. Enhances your skin's absorption of nutrients; removes wrinkles and eliminates spots. 
2. Lightens and firms your skin, while shrinking pores. 
3. Deep heat activates your cells; re-growth and leaves skin glowing and smooth; slows aging process. 
4. Relief of pain, pinched nerves, stiffness, sprains, neck injury; decreases inflammation. 
5. Enhances blood circulation and metabolism while helping you relax. 
6. Treat injuries and bruises. 

Functions of different light color:

a. Blue(463 nm)---Excellent effect of curing acne, kill bacteria, improve sensitive skin
The blue light penetrating about 0.5mm has the function of calming against skin rashes; suitable for the skin which is sensitive, oily and with skin rashes. It can adjust skin sebum secretion, effectively get rid of acne and whelk to reach the aim of beautification. Besides, the blue light can astringe and tighten loosened skin. 

b. Red(650 nm)--- One of the most powerful colors to increase blood circulation. Stimulate skin cells to excrete collagen to achieve firm and smooth texture.
The red light penetrating 8-10mm is suitable for any type of skin; it can reach derma to stimulate fibre cells. Heating can improve blood circulation and collagen albumen hyperplasia to reduce wrinkles and make skin more elastic and smooth. The mild wave length is suitable for surrounding eyes and forehead. 

c. Green(527 nm)---Anti-aging, smooth wrinkle and fine lines, cure wounds
The green light between red light and blue light is suitable for mixed skin. It can improve the function of alternating use of cells and oxygen and activate the microcirculation function of body surface. Meanwhile, calming the skin can make both body and skin relax, and reduce the pain of skin.
Features:
- Natural light waves improving the look of skin
- Each color of light shows beneficial effects on particular skin conditions
- Virtually no side effects
- Non-invasive procedures
- No anesthetic required
- No influence to daily life
- Easy to operate
- Portable
- Warranty
Introduction:
The Photon Beauty Device, designed for facial beautification, uses natural light waves, which are transmitted by LEDs into the skin. The light activates photoreceptors in skin cells, producing energy for absorption by skin components, to beautify your complexion. 
Studies show that light enters the body as photons (energy) and is absorbed by the photoreceptors within cells. Massaging with the Photon Beauty balances skin tone and enhances circulation. Light is known for helping with some beauty problems, for instance, inhibiting the formation of melanin pigment, fighting acne and dermatitis, and improving the look of pockmarks, scars and wrinkles.

As we age, the top layers of our skin loses more moisture. Older skin renews itself every four to six weeks, unlike the three to four weeks for younger skin. This older skin has a dry and dehydrated condition, resulting in fine wrinkles and age spots. People who frequently suffer from sudden tenseness and muscle pain often find that heat compression soothes their discomfort. Meanwhile, physicians and physiotherapists tell us to use ice packs to reduce swelling and aid recovery. 

No one wants the troublesome burden of continuously alternating cold packs----think of the time you'd save if one device took care of both for you! We proudly introduce the cold/ warm therapy to alleviate what ails you; its applications of cold allow the skin's natural rejuvenation processes to be accelerated. Also, painful muscles are treated in a targeted way: either with a concentrated individual application as needed or by combining the various forms of therapy.

It comfortably treats pressure points and hard-to-reach areas for the ultimate in relaxation with its whisper-quiet operation.
The cold treatment function is specially designed for calming the skin after peeling. The skin is sensitive after peeling treatment, so the cold treatment procedure is necessary. The hot treatment function is designed for opening pores before cleaning the skin and accelerating the absorption of nutrition. Cold hammer treats edema, relieves the pain in the part of body, shrinks pores, calms inflammation, and abates hypersusceptibility. The warm hammer accelerates blood circulation and enhances metabolism. It can also smooth wrinkles and make the skin fresh, since cool and hot massage treatments are proceeded alternatively.
How to use?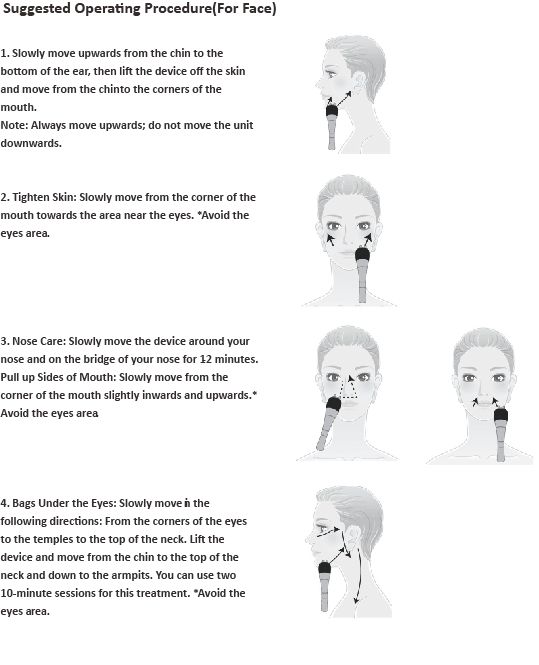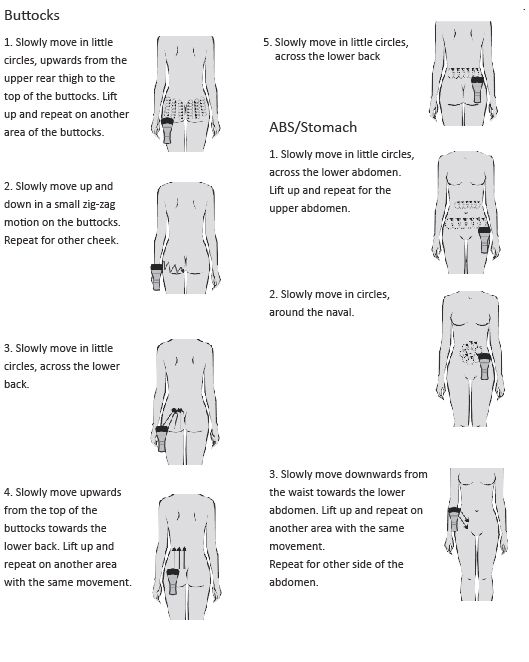 Do you ship to my country?
Yes, we ship all over the world. Shipping costs will apply, and will be added at checkout. We run discounts and promotions all year, so stay tuned for exclusive deals.
How long will it take to get my order?
It depends on where you are. Orders processed here will take 5-7 business days to arrive. Overseas deliveries can take anywhere from 7-16 days. Delivery details will be provided in your confirmation email.
Free Worldwide Shipping on All Orders Over $100
Please be advised that due to the increase on the actual shipping costs, Free Shipping Discount to some parts of Middle East Asia, Eastern Europe, South America, Africa, and other remote islands is not supported. Free shipping for orders above USD100 to affected countries will not be applied. Thank you for your kind understanding.
Do you offer warranty for your items?
All the product comes with a full one year warranty against manufacturer defects. It does not include damage caused by misuse, accident, abuse, neglect or other external causes. Buyer pay for the postage on the return item and we pay for all resend postage costs. If the item defect within 30 days, we will also responsible for the return shipping fee.
Can I return my product?
We always aim for make sure our customers love our products, but if you do need to return an order, we're happy to help. Just email us directly and we'll take you through the process.